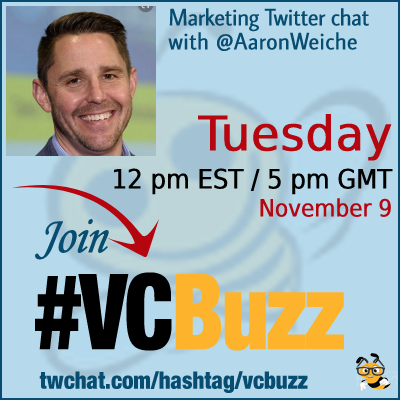 Gone are the days when we could easily track and reverse-engineer any given buying or decision making story.
These days this journey can start on one device, continue on a different device and finalize in days.
It is even more complicated in a B2B niche when this journey can also be shared among several people within a decision making unit.
This is where "omni-channel" lead generation comes into play. Let's discuss!
***Add #VCBuzz chats to your calendar here.
***Please sign in here to follow the chat -> twchat.com/hashtag/vcbuzz
About @AaronWeiche
Aaron Weiche @AaronWeiche is co-founder and CEO of @Leadferno which powers businesses to create conversations and close more leads faster with omni-channel messaging.
Aaron is also co-host of the SaaS Venture podcast.
Questions we discussed
Q1 How did you become a digital marketer? Please share your career story!
Thanks for having me! I started my first business (Sports tours) in 1998 and needed to build a "web page" to help market it. I bought a few books, built my first website … which led to me building websites for other small business owners.
I fell in 😍 love with how fast the web evolves, the ability to create and market in so many new ways. I spent the next 15 years starting & running digital marketing agencies in the Minneapolis area. Web design, mobile apps, search, local SEO, social.
7 years ago I jumped from agency to software (SaaS). I was fortunate to join GatherUp, reputation management software. Ultimately became CEO, led it to being acquired in 2019. Now I have started @Leadferno to convert more leads, faster with text.
Q2 What does "omni-channel" mean and why is this term so hot these days?
Omni-channel is all about providing a seamless experience for consumers to communicate and buy from you. No matter their channel or device. Simply put "Meet your customers where they are". Don't make them do it your way, give them the options they want.
Omni-channel has boomed for a few reasons.
1- Customers WANT options & ease.
2- Channels are expanding with chat, text, messaging & how we can interact with them.
3- The ability to have process & tools to tie channels together is growing.
Q3 How can salespeople be trained to use an omni-channel approach?
Be prepared. Ask your prospects & customers how they want to communicate. MOST IMPORTANT -> Understand your sales process & how ANY channel can support that process at any step. Use the right tool at the right time!
A great salesperson today reads and reacts to process/communication needs and makes it EASY for the customer.
Q4 How can content help in omni-channel lead generation?
Great content can support & feed omni-channel lead gen really well! I love seeing companies/people positioned as experts, researchers, thought leaders. This makes it easy to ask questions because you build trust. You are the go to.
Then make asking questions EASY. You want questions, these are buying signals & opportunities to build relationship. A quick question over text, chat, messaging, email or a call should all be options. Get conversations started!!!
Include, and market that you have easy options to ask questions or engage. Write calls to action that promote the ease of interaction. "Questions? Just text us!" …. We're the one to talk to & it's easy to talk to us!
When using multiple channels, make sure to use link-in-bio tools to make it easier for your followers to find you elsewhere.
Q5 What is @Leadferno and how does it work?
@Leadferno helps businesses generate more website leads & close them faster. Prospects can text you right from your website & your business can respond from our shared inbox to SMS and Facebook messages in one app.
We do this by: 1- Making your calls to action (CTAs) always visible. 2- Make communication easy, 2-way texting and messaging is how more consumers want to communicate now. 78% of consumers want to text businesses.
We feel that SMS / texting is just getting started. Text WITH customers, not AT them. It's a low barrier to entry, a known experience for the consumer, intuitive, quick. @Leadferno makes launching & managing messaging easy!
We're about to publish some updated research. In our other studies we see a bit of swing, but not as much as you might think. Texting has really saturated the market across all groups.
We have customers using across B2B and B2C. The channel of text is powerful and each industry has it's own benefits for supporting sales and service.
Yes, we have a desktop app making it easy for power users to really handle multiple conversations, transfer conversations to other team members and more. For the consumer, they're just in their messaging app they use everyday!
Our previous lead generation chats: