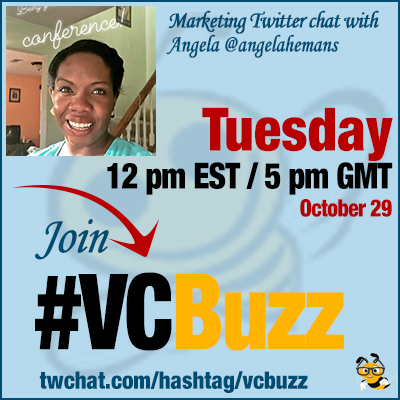 Twitter is one of the most unique social media platforms out there: It's open, real-time and unstoppable. It's the best way to monitor news and connect to the influencers.
But does it work for lead generation and nurturing?
Yes! And let's discuss how!
***Add #VCBuzz chats to your calendar here.
***Please sign in here to follow the chat -> twchat.com/hashtag/vcbuzz
About Angela
Angela Hemans @angelahemans is no stranger to #VCBuzz chats. She already hosted a great chat with us on Twitter marketing.
Angela Hemans @angelahemans is former sonographer with a natural attraction to Twitter and advocate for helping people to become proactive for their health.
Questions we discussed
Q1 Let's talk about your love for Twitter! Why Twitter and when did you fall for it?
Honestly, I didn't always have a love for Twitter. Like so many other people, I was utterly fascinated with @myspace and went kicking and dragging over to @Facebook, where I ended up spending most of my time.
A1: I was a late starter with Twitter as well. It can be a tough place to be online. BUT the marketing and PR communities on Twitter are AMAZING and do some great things! #vcbuzz

— Lisa Shomo (@keenkoncept) October 29, 2019
Over time the dynamic of Facebook began to change, I jumped over to Twitter. I fell for Twitter because it was an opportunity to meet new people who were actually looking to have a conversation. Aug 2020 will make 10 years since I've joined the Twitterverse.
@AngelaHemans Smart! FB just completely shut off all organic traffic for networking. Twitter is a great alternative. #vcbuzz

— Lisa Shomo (@keenkoncept) October 29, 2019
A1 OPENNESS: Search, interact, etc. without having to revealing your real name or even registering. Yes, there are cons to that too but it is the most liberal platform out there ? #vcbuzz

— Ann Smarty (@seosmarty) October 29, 2019
Q2 How can Twitter work for lead generation?
Lead generation is about attracting an audience with the hope of giving them enough value to eventually lead them down the journey to make some kind of purchase or business connection.
There are two ways to make Twitter work for lead generation. Through ads which you can pay for by getting your tweets in front of your audience and either offering something of value. Or by leading them to your profile in which you have your offering in your bio.
A2 Twitter lead generating strategy involves a lot of connection building: Tag people, talk to them take part in Tweetchats + use https://t.co/smsEomu1gs @vcbuzz #vcbuzz

— Ann Smarty (@seosmarty) October 29, 2019
Organic lead generation can be done. This is done through a mixture of providing content, engagement, and attracting your audience to want to learn more about you and therefore drive traffic to your website or content piece.
Q3 How can Twitter influencer marketing help in generating and nurturing leads?
Influencer marketing within the last couple of years has become a popular way of generating and nurturing leads, especially on social media. This strategy can help to attract a new audience or introduce you to your potential audience.
Twitter influencer marketing can help minimize the amount of time to gain the trust of communities within this platform. People are more likely to associate themselves with you when you are connected to someone they already know.
Influencer marketing should really be called "Trust Marketing" because that is really how it works to nurture and generate new leads.
Q4 What are the biggest mistakes to avoid when creating a Twitter lead generation strategy?
Not taking the time needed to understand what are the needs and wants of your potential audience. Unless you are your audience, making assumptions about what they will find valuable is a way to spend time sharing content no one will want to read.
Another huge mistake is not having a strategy in place to see how Twitter marketing will play a role in the overall marketing strategy plan. Or believing that Twitter can't be an asset to the strategy.
Q5 What are your favorite Twitter marketing tools?
My favorite Twitter marketing tools is very basic right now: Twitter (the dashboard for the analytics or ads and the app for convenience.) Hootsuite for any scheduling and for monitoring http://Tchat.io to keep track of conversations on Twitter chats .
A5 Twitter lists! Organize your friends, influencers and peers to be able to meaningfully interact with each group #vcbuzz

— Ann Smarty (@seosmarty) October 29, 2019
A5: a scheduling/listening tool is fantastic to monitor and schedule campaigns in advance. I use Hootsuite, but I've used many others in the past as well. #vcbuzz

— Lisa Shomo (@keenkoncept) October 29, 2019
Many of the other great tools that I use to use, are currently having Twitter API issues and therefore I'm currently re-evaluating and replacing tools I used to use.
A5 Twitter chats! For connecting and relationship building! #vcbuzz

— Ann Smarty (@seosmarty) October 29, 2019
It's a slow process, so I'll continue using the ones I mentioned until I discover others I like for my business.
Good point about using Twitter. Lists have made a resurgence and today are essential for listening and learning. #vcbuzz https://t.co/WvALkQjG3Q

— BizSugar (@bizsugar) October 29, 2019
A5 for Twitter editorial calendar and analytics: @Agorapulse @Cyfe @ContentCal_io – all those three tools are great for cross-team collaborating #vcbuzz

— Ann Smarty (@seosmarty) October 29, 2019
Twitter chats are wonderful for connecting especially in 2019.
We use @zohosocial and really love it! Great scheduling capabilities, team collaboration and more. #vcbuzz https://t.co/vZaNDodIay

— Anita Campbell (@anitacampbell) October 29, 2019
Our previous content marketing chats: