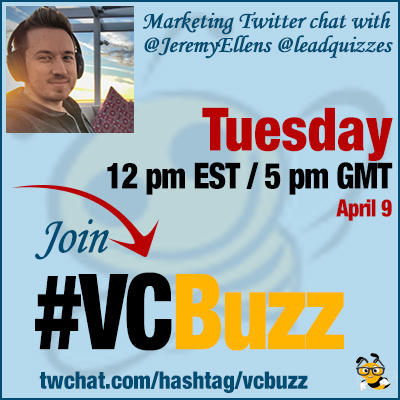 Lead generation is becoming harder and harder nowadays that our audience is getting more and more overwhelmed with content and optin forms.
Lead building and conversion optimization tactics require creativity and experimenting. Here's a new idea for you: Generate leads with quizzes. Let's discuss
***Add #VCBuzz chats to your calendar here.
***Please sign in here to follow the chat -> twchat.com/hashtag/vcbuzz
About Jeremy Ellens @leadquizzes
@JeremyEllens is co-founder @LeadQuizzes, a quiz software to help you capture leads and collect audience data
@JeremyEllens was previously named one of the top five college entrepreneurs in the nation by Entrepreneur Magazine, after which he quit his job to pursue entrepreneurship full-time
Connect to Jeremy on Linkedin
Questions we discussed
Q1 How did you become a digital marketer and founder? Please share your career story!
When I was in college at @ASU, myself and @DornubariVizor started a web development company so we could work for ourselves by the time we graduated.
We started out by closing any client we could and then hiring people off of Upwork to complete the work.
We grew this business for a while until we realized there was a lot more value in helping businesses generate leads so we started providing marketing services.
We grew those services to about $500k a year until it stopped scaling well. We looked back at what worked well and a client that we helped build their email list by 35k people in 6 months.
We decided to repeat this with other clients and ultimately that launched our software @LeadQuizzes.
Q2 How does lead generation through quizzes work? What makes it so effective?
Think about when you go to the doctor. They ask you some questions to try and figure out what your problem is and based on those answers they give you personalized advice.
We are all different, whether we are talking about demographics, our likes and dislikes, and what we care about solving the most right now.
Quizzes enable you to create personalized conversations and solutions at a mass scale with your audience. They get more benefit with a personalized quiz than a lead magnet that gives a generic solution to everyone.
This is why quizzes have increased lead capture for our clients by as much as 500%!
A2.

Interactive content = engaging.

The personalized experience plays into human nature. People want to to know themselves better and want to do in a way that is fun!

??Edutainment ??

Meanwhile, it allows you to gather audience insight + generate leads! #vcbuzz

— Bentley University (@bentleyu) April 9, 2019
Q3 How to set up a successful lead generation quiz (step-by-step)?
Figure out what your goal is with the quiz. What product or service do you want to promote? What kind of email list do you want to build? What information do you want to learn about your audience?
Next, brainstorm interesting and catchy headlines/titles to for your quiz. Most people will never take it if you can't get their attention 😉
Next, create the results you want to give your quiz takers and write the questions and answers. Once you've done that, you'll need to define the logic of how each answer relates to each result.
After that, create a lead capture form quiz takers will fill in prior to getting their results. Create a compelling offer to give quiz takers to buy something at the end of your quiz. Finally, promote your quiz on your website, social media, or paid ads!
You can use an online form builder.
Alternatively, this can all be done simply in @LeadQuizzes without needing to code anything 🙂
?Define the main feature of your quiz (why people would take part).
?Define how you'll promote it.
?Create engaging questions.
?Create shareable results.
?Launch it.#vcbuzz

— Pitchbox App (@PitchboxApp) April 9, 2019
Learn more creating a quiz here.
Q4 How to nurture those leads properly?
When you set up your quiz you should collect customer information to segment them based on your customer personas as well as what they care about right now.
Example: What best describes you? A Marketing Agency B Marketing Employee C Entrepreneur doing my own marketing.
Next integrate your quiz with an email marketing service like @Mailchimp, Infusionsoft, etc. and set up tags to add personalization you collected in your quiz automatically so it's easy to send personalized emails based on their answers.
How many questions should a quiz have, Jeremy? #vcbuzz

— Don Sturgill (@DonSturgill) April 9, 2019
@vcbuzz 8-12 questions! Here's the data to back that up: https://t.co/tGgohv5Hqf #vcbuzz

— Jeremy Ellens (@JeremyEllens) April 9, 2019
Then I recommend an initial welcome sequence based on your personalization (results, demographics, etc.) to warm them up to your business. Send them their quiz results. Introduce yourself and give them value for free. Continue to ask for the sale.
@MLLNNLmotivator video is effective in advertising your quiz or in converting those leads to sales on the results page. Video ad example: https://t.co/J6vA5Kcvsh Sales video example: https://t.co/z1TpVLANrH #vcbuzz

— Jeremy Ellens (@JeremyEllens) April 9, 2019
Q5 Please list some lead generation experts and books we need to follow and read to get better at collecting, nurturing and further converting leads…
I've learned a lot of marketing from these guys: @ericsiu Growth Everywhere –  @AndrewWarner Mixergy
A5 Also great resources: @Ahrefs to increase your traffic – https://t.co/IOf8xcXRu9@NeilPatel Marketing School – https://t.co/actJfAjaRv@leadquizzes Journey to 7 Figures – https://t.co/skku1oGttX #vcbuzz

— Jeremy Ellens (@JeremyEllens) April 9, 2019
Our previous lead generation chats: