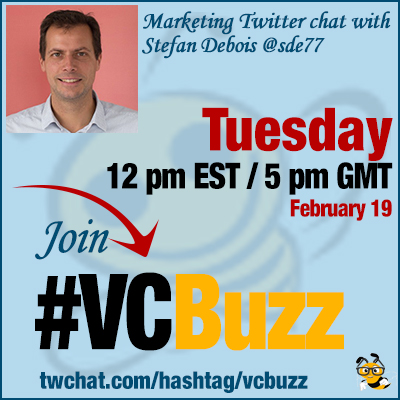 Lead generation is becoming harder and harder: With so much content being published daily, consumers are getting more demanding and harder to impress. You need to always be trying new tactics to catch their attention and turn lurkers into leads and then buyers.
This time we are discussing lead generation through online questionnaires (assessments, surveys, quizzes).
***Add #VCBuzz chats to your calendar here.
***Please sign in here to follow the chat -> twchat.com/hashtag/vcbuzz
About Stefan
Stefan Debois @sde77 is founder of @surveyanyplace allowing to create engaging surveys, quizzes and assessments.
Stefan loves to try out and promote lesser-known marketing tools.
Questions we are discussing now
Q1 How did you become a digital marketer and a founder? Please share your career story! What inspires and motivates you?
I used to work in large consulting companies but I wanted to create something So I started a hobby project: Tabletquiz, an app to make quizzes for iPads. This idea actually originated from a birthday quiz that I created on our first iPad for my daughter 😉
A1 #vcbuzz here is the first quiz: pic.twitter.com/XqGkKIdwXF

— Stefan Debois (@sde77) February 19, 2019
I get to know new people every day – I just had a call with someone in Canada and tomorrow a bunch of other (new) people will sign up on or site -> this is what motivates me: using technology to build relationships at scale.
Q2 How does lead generation through surveying works? What makes it so effective?
You ask a number of questions to your prospects and give back personalized recommendations based on the answers. It should be as close as possible to a face-to-face experience when you're buying something in a shop.
A2 here is an example: https://t.co/8XRMkldrUH #vcbuzz

— Stefan Debois (@sde77) February 19, 2019
It's a win-win: It's valuable for the prospect because you help him to discover his needs and a possible solution. And it's valuable for you because you collect information that you can use for subsequent targeting.
Lead gen questionnaires are effective because it's the online equivalent of a conversation with a (good) salesman: a good salesman will never sell right away, he will start by asking questions and give advice accordingly.
Especially if you design your questionnaire with your conversation in mind! #vcbuzz

— Lisa Shomo (@keenkoncept) February 19, 2019
Q3 How to set up a successful lead generation survey (step-by-step)? How to use @surveyanyplace for that?
If you already have quality content on your site or elsewhere, try to categorize that content into snippets which are relevant for a specific buyer category & maturity combination – I know that sounds complex 😉
Make a questionnaire that determines the category & maturity combination of the respondent and show only the relevant recommendations at the end.
Example: say your domain is email marketing – if you have someone who is not familiar with email marketing (low maturity), you will not recommend him AI based personalization (high maturity); but rather tips to collect emails (low maturity).
It requires a bit of practice, but luckely there are our assessment templates so you don't have to start form scratch!
Was the objective of the home energy assessment to generate leads or inform? #vcbuzz

— 24 Hour Translation (@24hrtranslation) February 19, 2019
Good question: the best questionnaires combine both so there is a win-win – iso 'generate leads', I would say 'move leads to the next stage in the funnel'
Q4 How to nurture those leads properly?
You use traditional channels such as email and social media. It's important to use the info you collected in the questionnaire to make the nurturing more personalized.
If you nurture through questionnaires, make sure that respondents learn something from the questionnaire which is also useful if they don't buy your product.
When creating a questionnaire, quiz or assessment, always make sure that:
You learn something about the respondents
The respondents learn something about you
The respondents learn something about themselves
Q5 Please list some lead generation experts and books we need to follow and read to get better at collecting, nurturing and further converting leads…
I would recommend Conversational Marketing by David Cancel https://t.co/OMmDpxz848 @dcancel -> this goes back to my passion to create relationships with people at scale #vcbuzz

— Stefan Debois (@sde77) February 19, 2019
I think lead gen questionnaires and chatbots will evolve towards each other, powered by AI to serve the user with relevant content.
Other people to follow in the domain of #leadgeneration and #cro are @sujanpatel and @peeplaja
Our previous lead generation chats: