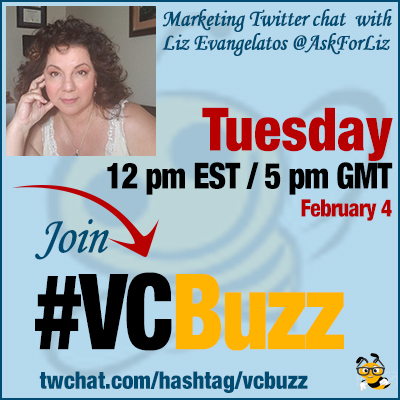 Twitter is one of the most unique social media platforms out there: It's open, real-time and unstoppable. It's the best way to monitor news and connect to the influencers.
But does it work for lead generation and nurturing?
Yes! And let's discuss how!
***Add #VCBuzz chats to your calendar here.
***Please sign in here to follow the chat -> twchat.com/hashtag/vcbuzz
About Liz
Liz Evangelatos @AskForLiz is teaching Twitter to small business owners to keep their sales pipe full of leads. Check out what she has to offer at ConversationalTwitter.com
Liz is also a co-host #SocialBizChat Tues 4pm PST
Questions we discussed
Q1 How did you become a digital marketer? Please share your career story!
Totally by accident! I was a real estate broker and pregnant with my 3rd child and decided to take some time off. I had recently sold a home to a couple who were both 'telecommuters' – very unusual back then. One of them showed up at my door and said they needed help on a computer project and remembered I was 'nerdy' LOL! The project was creating some pages for Wells Fargo in HTML 1.0. When I realized I could make as much money with digital marketing as I did in real estate – I was hooked!
After webdesign came social media and it's been an amazing ride!
A1. By fluke actually. I started out as a graphic designer and started doing banner rotations for a website and from there I was introduced to the wonderful world of "SEO" and I started in the easy domain of the online gambling/betting world 🙂 #vcbuzz

— Michael McManus (@seederguy) February 4, 2020
Q2 How can Twitter work for lead generation?
Because Twitter is so wide open it's the ideal place to engage with your target audience. Engagement is critical. If you find a person that seems interesting, you can @mention them or reply to a tweet they've sent out and begin a conversation in real time.
You don't have to wait for them to friend you or whatever. Start by tweeting them with things you sincerely like about their page, or tweet or about something interesting in their bio. Build a relationship. The next part is crucial.
This is key: Immediately begin making Twitter lists. If you've ever done any target segmenting, it's basically the same thing. You can make your lists private and segment different types of possible leads. Example: Name one list Warm Leads and another Sharing.
As you build the relationship keep in mind where you're trying to get them to. OFFLINE!!! Have a plan in place to get them from that warm fuzzy tweet to a phone call, or a sales page. They have to trust you first before they'll buy from you.
Q3 How can Twitter influencer marketing help in generating and nurturing leads?
If you are the Influencer, this is very groovy. Your tweets obviously get more attention than non-influencer accounts. If, on the other hand, you're looking for an Influencer to help you make sales. Tread lightly.
Just cuz you @mention an Influencer with ur latest sales pitch, doesn't mean you'll go viral or make a ton of sales. Remember that Influencer worked hard to get where they are & many of them make $$ from tweeting things they actually care about (in theory).
So if you keep tagging an Influencer in that way it can sometimes backfire & get you reported as a spammer. Try befriending them in a sincere way & occasionally ask them in a DM if they could RT you. Or ask them to collaborate on a mutually beneficial project.
If the Influencer is on board with you, you can have a very small following and if they retweet you, you're suddenly in thousands of newsfeeds. Something else that's important – does the Influencer have an audience that's also interested in what you're selling?
Q4 What are the biggest mistakes to avoid when creating a Twitter lead generation strategy?
Don't use Twitter as a billboard! If all your tweets are about selling something, that's a big turn off to everyone. You'll not only *not* get leads, you won't get real people to follow you.
And while this isn't as big a problem as it once was, no auto DMs selling something as soon as someone follows you! Before you DM anyone, make sure you have a relationship online.
Being my crazy authentic self on Twitter is what has given me the success I have on this platform. I find it's harder to be myself on other platforms. Don't know why.
It's also a mistake to put energy into finding leads before you have your profile filled out. It may sound silly, but if you don't have a bio, a pic of yourself, cover photo, link, you don't look like a real person. Most ppl would hesitate to interact with you.
Q5 What are your favorite Twitter marketing tools?
I'll admit I haven't tried anything new for a while, but my go to tool is @Hootsuite. Especially if you have a well thought out campaign, it's essential to drip your messages out in a measured pace via their scheduler.
I also find @Hootsuite is the best tool for real-time monitoring. It's what I use when I'm doing social during a natural disaster (I contract with local emergency services).
I've been using Hootsuite too but as of lately I've had to add buffer to my arsenal. #vcbuzz

— Angela Hemans (@AngelaHemans) February 4, 2020
I also use @buffer sometimes. It has a few features @Hootsuite doesn't have
Our previous content marketing chats: