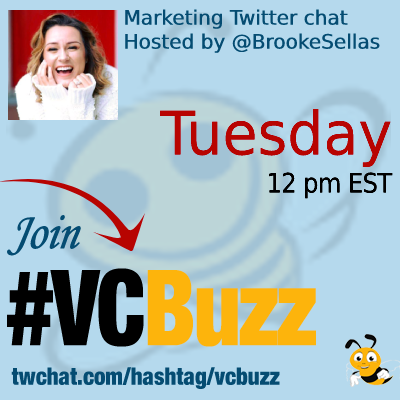 Building connections is key to a successful marketing strategy.
But how to make your connection building strategy more focused and targeted?
Let's discuss!
***Add #VCBuzz chats to your calendar here.
***Please sign in here to follow the chat -> twchat.com/hashtag/vcbuzz
About @BrookeSellas
Brooke B. Sellas founded B Squared Media in May of 2012 with the marketing mantra: Think Conversation, Not Campaign.™
In 2022, Brooke published her first-ever book called, Conversations That Connect. In it, she explains how she's helped billion-dollar brands in consumer goods, finance, retail, and others connect with the online communities that discuss, influence, and buy their brands.
Brook hosted one #vcbuzz chat on social-first customer care.
Questions we discussed
Q1 Please tell us more about your new book!
It's called Conversations That Connect, and it's all about learning how to connect, converse, & convert using social media. It's time we stop saying organic social media doesn't have ROI!
Read chapter one for free!
Q2 How do most businesses misunderstand social networking? How can building connections be done wrong?
Many brands think of connection as a social follow, form fill, or a subscriber. That is NOT connection. True connection is two-way, which is why our tagline is "Think Conversation, Not Campaign."
When we build relationships, psychology says that we build trust using opinions and feelings. However, most branded content is made up of cliches and facts (AKA BORING). You can't connect or build trust that way.
Connections don't have to (shouldn't) be transactional. ASK YOURSELF: How can you interact with your audience, customer, community in a way that supports them and shows your brand as a like-minded "individual"?
Q3 What are meaningful connections and how to build them?
Start by looking at your incoming social media messages & comments. Have you responded to all of them? Have you at least "liked" them to show you're listening?
If you're already doing that, then start to see what kind of opinions and feelings you can glean about your brand/products from those conversations. Where are the potholes? What needs fixing? What's being said that's good/bad?
Q4 Why do businesses need to invest into connection building? How to "sell" this strategy to your company's decision makers?
When you make genuine connections on social, it usually leads to conversation. 💬 And conversation allows you to connect further, to build trust. 🤝 It also allows you to collect voice of customer (VOC) data. 📊
That VOC data leads to better brand messaging and campaigns. 💡 And if you play your cards right, more conversions from social media conversation. 🤑
Perform an audit of your social media messages. See how many of them are acquisition (pre-purchase; thinking about buying) and retention (post-purchase; customer support). You'd be surprised how much of the conversation is about sales/customer retention.
Q5 What are your favorite social networking and community marketing tools?
We love and use @SproutSocial for our customers. 💚 But there are a lot of other great tools, too. @digimindci, @Sprinklr … it all depends on what your budget and goals are. Many of the premium tools connect to your CRM or support platform for seamless customer care. 
Our previous content marketing chats: