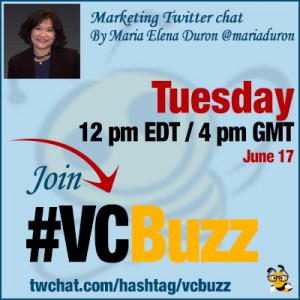 Relationship building is the foundation of social media marketing and certainly it's the most important part. That's what we will be talking today!
Two quick reminders first:
Please enroll and review our VCB Udemy course and we'll give you 100 free ViralContentBuzz credits to promote your content!
Check out our new PRO option: submit by RSS feature – It allows you to promote your content on auto-pilot (all you need is publish great articles and see VCB handle the submission and promotion for you!)
**To join us please sign in here -> Twchat.com/hashtag/vcbuzz
Now let's greet our expert @mariaduron!
About Maria
Maria Elena Duron is the brand relationship and small business marketing coach. Maria is also the founder of #BrandChat (which we'll talk today) and the moderator at @MarketingLand
Follow Maria on LinkedIn and Google Plus!
Questions we discussed
Q1 How did you become marketing and relationship building expert?
Marketing's always been part of me. Started as a 11 year old with my own fundraising efforts for MDA., focus of my degree + lots of certs because we moved so much as an AirForce brat, I learned quickly how to make friends, build relationships, acclimate + associate. Worked in fundraising then Executive Director for nationall nonprofit + learned how to effectively "friend raise" to fund raise for the cause. Then, put it all to use + developed area for a large referral marketing organization, training people + biz on business by referral. Yes, learned lots about people + what inspires them there.
Q2 You are utilizing Google Helpouts (check them out). How are they working out for you? How do you start as a mentor there?
Helpouts is a great community of helpers who are good at what they do best. Fairly new + still rolling out so – lots of learning. I appreciate getting to give the Google Helpout team feedback, learn, connect w/fellow helpers + develop it as a visibility tool. It's also practical in you learn to be succinct w/why ppl do biz w/you+ it makes you scrutinize your sales process. Request an Invite code here. Once you do that, there's a process of describing how you'll help, doing a video, outlining your credentials. And specifically answering the question – what problem do you solve and for whom?
Q3 What's the history of #BrandChat? How and why did you start it?
Selfishly I started #brandchat to connect with others who were involved in some aspect of branding.  I learned how to start a chat from being actively involved in + a part of the behind the scenes of #journchat. Learned so much from @prsarahevans from moderating, to set up, sustaining + maintenance practices + the cadence of a chat. Am so grateful + honored that she now refers to us as "fellow chat queens". #brandchat started Feb 2009.Just 3 ppl chatting every Wed,10am CT. In 5 yrs, growing thru persistency, consistency, + BRANDidos. BRANDido is a term of endearment for someone who's actively participated in #brandchat.
@roxanasoi Fave part of chat – connect w/others, learning + developing relationships ? #vcbuzz

— Maria Elena Duron (@mariaduron) June 17, 2014
Q4 How did you promote #BrandChat? How did hosting a regular twitter chat help you in your career?
#brandchat is promoted strictly through word of mouth. BRANDidos MAKE the chat-sharing their insights, resources, talents + connections. Purposely plan the cadence of chat to provide opps for side conversations which is actual beauty of the chat. I've developed new relationships, met BRANDidos AFK at conferences, connected with people, resources+ co's I would nvr have met on own. People do business with people. And, I've met + chatted with the best people in #brandchat. Developing 'know,like + trust' takes instances when you can sample each other's character + competence. A chat provides a forum for sampling character + competence + developing relationships.  We also have a FaceBook, LinkedIn, Google Plus groups so that people can continue the convos thru the week + share resources (more than 140 chars)
@mariaduron what do you think is the most important asset for someone to build great relatioships w/ fellow industry people? #vcbuzz

— Roxana Nasoi (@roxanasoi) June 17, 2014
@viralcontentbuz @roxanasoi Most impt asset – is listening skills #vcbuzz

— Maria Elena Duron (@mariaduron) June 17, 2014
Q5 What are the key components of business relationship building? How can your coaching help?
Key components of relationship building are:
Know who you know
Know who you need to know
 Know ppl well
Know next steps
When was the last time you did a database cull? Most have old ph #'s + emails in their contact database. You can't connect with someone if you don't know how to reach them. Must assess at what stage/level your connection is to know how to move it to the next level. Need to know strategically how (or if) they fit in your network to know who to invest in. Your Social Portfolio is impt. Make best use of your time by strategically building your network. Other relationships that form will be beneficial but must have core network solidly in place.
@roxanasoi Plus, keeping up w/what's happening+impt to ppl. I refer to that as my daily adventure – so it's a joyful challenge. #vcbuzz

— Maria Elena Duron (@mariaduron) June 17, 2014
I coach+train on creating a solid core network strategy, developing next relationship steps. While many can make friends, many waste time or create as they go + don't know how to develop a solid social portfolio.
@mariaduron @roxanasoi What about time involved in this relationship management? Not too tough ? #vcbuzz

— Jice Lavocat (@Jice_Lavocat) June 17, 2014
@Jice_Lavocat @roxanasoi Not too tough if you know who you're connect w/, the strategy + the next steps to develop relationship #vcbuzz

— Maria Elena Duron (@mariaduron) June 17, 2014
Q6 What's your productivity secret: You do more than your Twitter bio can handle! ?
My productive secret – Strategy, focus, knowing next steps + persistent and consistent action. There are many great tools out there if you know what you're going to use them for and the results you're measuring.
@viralcontentbuz LOL! Yes! In #brandchat we say we're "high velocity". I guess I stay in the mode when I'm chatting ? #vcbuzz

— Maria Elena Duron (@mariaduron) June 17, 2014
Spend time knowing what you're strengths are. Focus on those. Work with others to do the rest.
@seosmarty Appreciating your community! It's exciting to see friendships grow. Ppl may quit businesses but not friendships #vcbuzz

— Maria Elena Duron (@mariaduron) June 17, 2014
Employ yourself every single day. Would you work for you? You have to buy into who you are before others will buy into investing time in/with you. What might take me 4 hrs can take an expert with the right resources 30mins. Need to stay in your strength area. Yes, it's a tough lesson to find out you're not good at something or effective. Know your strengths.
I've never retweeted so much. This is awesome stuff. #vcbuzz

— Yoav Ezer (@YoavEzer) June 17, 2014
If goal's big, break it down to 7 steps that make achieving the goal inevitable + put deadlines to those steps. Works for goal getting in general but definite must in relationship building. Too much time passing between interactions actual slows down relationship building. Here's an outline that will help you start to develop and assess your social portfolio. Interact often in ways that are taking the relationship to the next level.
One more try ? #vcbuzz pic.twitter.com/CBcwMzXc4m

— Ann Smarty (@seosmarty) June 17, 2014