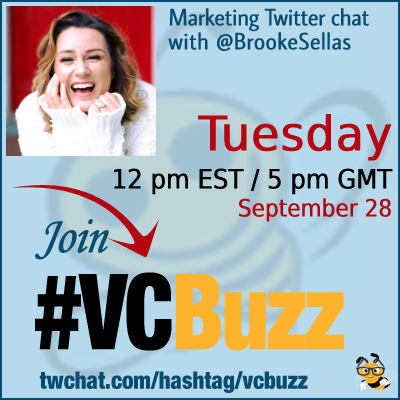 Social media has changed our lives without a doubt, but it has also changed the way we do business beyond recognition.
One of the biggest changes social media has brought about is the way customers can connect to businesses.
Never before was it so easy to connect to any business, and do it publicly.
How to deal with this new reality and what is social-first customer care? Let's discuss!
***Add #VCBuzz chats to your calendar here.
***Please sign in here to follow the chat -> twchat.com/hashtag/vcbuzz
About @BrookeSellas
Brooke B. Sellas @BrookeSellas is CEO @HelloBSquared
Brooke Sellas has 15+ years of marketing experience, with over ten years focused specifically on social media marketing. She has taught social media classes as an adjunct professor at elite universities such as NYU and Baruch College.
Brooke is reimagining social-first Customer Care which is what we are talking about today! Connect to Brooke on Linkedin!
Questions we discussed
Q1 How did you become a digital marketer? Please share your career story!
I started my career in the non-profit sector. I honestly think this is why I care so much about #CX and the customer. In the NPO world, your donors are EVERYTHING. They are at the center of your universe so every move you make involves donor impact & implications.
The SPT says that we form trust based on disclosures & revealing information. There are 4 types of disclosures: Cliches, Facts, Opinions, and Feelings. Looking at SPT & social media, I wanted to see if we form relationships with brands online in a similar way.
Turns out: we do! However, most brands are communicating with their communities with Cliches and Facts – which is why they aren't forming a bond & gaining loyalty. Conversely, the brands who communicate with Opinions & Feelings tend to have large, loyal communities.
This is why at @hellobsquared our marketing motto is "Think Conversation, Not Campaign." 💚 Using social intelligence to learn about your audiences & communicating regularly with your community is the best differentiator there is. (And so few are doing it!)
Q2 What is social-first customer care and why care? Will it work for just about any business?
Social-first customer care is actively following your would-be and current customers through the customer journey (on social media) & caring for their needs – whether they tag your brand directly or not. It's responding in real time (or as real time as possible).
A simple search on social will show your business if people are talking about you. Search your brand name, product/service names, hashtags/campaigns, and stakeholders. You're likely to see that you're being mentioned.
Such a great way to discover your reputation too. Once you learn what people are saying about your brand, you can take steps to improve your customers' experience. #vcbuzz

— Jennifer Bridges (@JenBridgesRD) September 28, 2021
Free tools you can use to monitor brand mentions: Google Alerts, @Mention, and @Talkwalker offers a free brand search.
Obviously, it's easy to see when would-be or current customers tag your brand on social. But there are a LOT of instances where consumers are talking about a brand & its products w/o tagging them. These convos are just as important to monitor and respond, when warranted.
#VCBuzz A2.2

There are numerous reasons for companies to consider such, including:
1) Reduced costs (platforms prebuilt)
2) Audience ease (many already on the platform)
3) Comms blend (marketing and servicing)
4) No tie-ins (no 3rd party contracts)

>>>

— Lyndon NA (Darth Autocrat) (@darth_na) September 28, 2021
Customer Care is one of the ONLY marketing strategies that both acquired AND retains customers. Think about that. 🤔 #vcbuzz https://t.co/qO73JUoOj6

— Brooke B. Sellas (@BrookeSellas) September 28, 2021
Q3 How to create a social-first customer care strategy for your business?
We ✨always✨ start our customer care strategy by LISTENING.👂 We use social listening tools to achieve this, and we uncover social data around audience analysis, brand sentiment, share of voice, campaign analysis/differentiation, and more.
Next, you want to document the FAQs (frequently asked questions) your brand receives online. Are these already being addressed? Yes: great, keep documenting! No: Who should be?
A3: Staff your customer care team appropriately. If you're spending a significant amount of customer care time on social, put your team there. We tend to expect herculean results from social, including customer care, with no resources. #vcbuzz https://t.co/mT3WULP2VC

— Jaime Shine 🖋️ (@jaimeshine) September 28, 2021
Then, we get to tagging, which is something you can do with a social listening tool. We like to tag (or label) both incoming and outgoing convos to see what themes pop up. This helps with trending topics, share of voice, and sentiment (pos/neg/neutral feelings).
#VCBuzz A3.

By rights, it should only be a minor adaptation/extension of existing plans/processes for care/complaints/rep etc.

The same goals and values, you just happen to be using a public 3rd party platform.

This ranges from monitoring/listening …

>>>

— Lyndon NA (Darth Autocrat) (@darth_na) September 28, 2021
For example: perhaps your coffee machine (product) is getting tagged a lot in convo. Add to that the fact that it's negative sentiment. Dig in – WHY is this happening, WHAT is the issue, and HOW can we do internally fix to attain positive sentiment?
A3 Play with a lot of search options: Exact match, one word, several words, your public reps and CEO name, even a product name! #vcbuzz

— Anna Fox (@manifestcon) September 28, 2021
#VCBuzz A3.3

Ideally, people with certain personalities/traits (such as calm, non-aggressive etc.) should be put at the "front line", with support systems in place for flagging/alerting and getting information/response permission,
as well as topic flags/style-guide/brand etc.

— Lyndon NA (Darth Autocrat) (@darth_na) September 28, 2021
Q4 Are there any examples of this strategy well-set-up? Are there businesses that get it?
There are the well-known greats, like Zappos and Nordstrom. But there are plenty of other brands – big and small – that show up regularly online to be helpful. Sephora is always quick to reply and strives to be helpful.
The brands doing it well have a few key traits: 1) they're quick to respond – likely immediate or less than 30 minutes on social 2) they respond to ALL mentions (pos/neg/neutral) + are proactive for when they're not mentioned, too 3) they have empathy while helping
A4 Brands that regularly respond when I mention them in a tweet: @BuzzSumo @SEMrush @serpstat

Sadly, my favorite product brands don't appear to monitor social media even when I tag them.

I think @OchoCandy does.

But I do tend to tag brands I know. #vcbuzz https://t.co/3VY7FH5nqL

— Gail Gardner (@GrowMap) September 28, 2021
Quick response is so important! I've heard people say they turn off notifications while they're working to avoid distractions. Understandable, but make sure someone else is watching & responding as needed. #vcbuzz

— Dana Lemaster Author (@LemasterAuthor) September 28, 2021
Absolutely. Customers (and their complaints or questions) aren't interested in your "quiet time."
You can usually get a faster response via social media. And if you have a lot of followers, some brands are more likely to respond to you.

I've advocated a few times for people who were being ignored on Twitter and got them a response. #vcbuzz https://t.co/mAFW6Rz4A3

— Gail Gardner (@GrowMap) September 28, 2021
Absolutely. But they do use tools that flag or highlight people with higher than average followings or engagements.

Sadly, some brands will ignore people when they can. But those don't like to ignore someone with 100k+ followers. 😀 #vcbuzz https://t.co/y40udz2fRw

— Gail Gardner (@GrowMap) September 28, 2021
While many companies are adjusting with this mindset, I can say from personal experience that the mere idea of working outside of "normal hours" often not only gets ignored, it verbally gets scoffed at. #personalquip #vcbuzz

— Krystal Blais 🤘🔮🔥🤘🏳️‍🌈 (@krystalblais) September 28, 2021
#VCBuzz A4.

That depends on your definition of "good", and from what perspective.

In our sector, companies like @Semrush and @screamingfrog etc. are good.
They not only have promotion, but interaction, personality, fast to identify issues and respond, personally!

>>>

— Lyndon NA (Darth Autocrat) (@darth_na) September 28, 2021
Agreed! AND something to think about it making sure your social customer care and internal customer care match. You can't have 10-min response times on social and 10-days for email/phone. #vcbuzz https://t.co/4s7mv2KRXk

— Brooke B. Sellas (@BrookeSellas) September 28, 2021
Q5 What are your favorite social media listening and management tools?
We are HUGE (like, really really BIG) fans of @SproutSocial – and that's our tool of choice for clients who don't currently have a social listening or management tool. But we also like and have used/use many other tools.
DO YOUR HOMEWORK. What are you trying to achieve by using a listening tool? What are your specific use cases? Then, when demo'ing tools, tell them what you are trying to solve for with your use cases and make them SHOW you how their tool will do that for you.
@Awario is awesome! I also like @agorapulse for its cool task management feature allowing to assign mentions to specific team members to reply or act upon RT @vcbuzz: Q5 What are your favorite social media listening and management tools? #vcbuzz

— Ann Smarty (@seosmarty) September 28, 2021
UX is also a biggie. We've used tools that can do things we need, but the interface is clunky. The tool's own customer care is important, too! How quickly do they respond when there's an issue? These are critical for success.
A5 It really depends. Sometimes I've found the best way to social listen is to simply be on social.

However depending on your brand size, goals, platforms, customers, etc… I always strive to have demo appointments with as many programs as I can. #vcbuzz

— Krystal Blais 🤘🔮🔥🤘🏳️‍🌈 (@krystalblais) September 28, 2021
We recently produced a report on the pandemic and how it has affected/accelerated #CustomerCare. 💚Read it here: https://t.co/i9AIbOTCrX #VCBuzz

— Brooke B. Sellas (@BrookeSellas) September 28, 2021
Our previous content marketing chats: