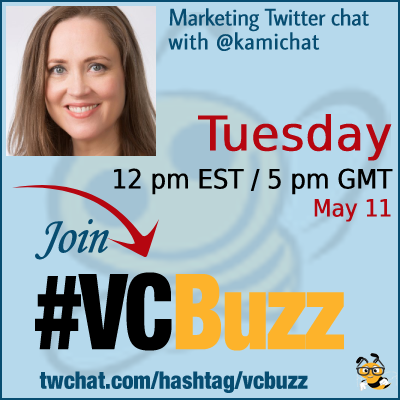 At every step, your customers need different kinds of engagement and nurturing from you.
How to take more of your customers through each step of the buying cycle, from attraction to connection to commitment?
Let's discuss!
***Add #VCBuzz chats to your calendar here.
***Please sign in here to follow the chat -> twchat.com/hashtag/vcbuzz
About Kami
Kami Huyse @kamichat is CEO of @ZoeticaMedia and Smart Social Secrets.
Kami is social media and PR strategist, community builder, social media instructor, and keynote speaker.
Questions we discussed
Q1 How did you become a digital marketer? Please share your career story!
When I started my career in PR there was no digital marketing.
Job #1 I snagged the charities.org URL for my ORG
Job #2: Set up external email for the biz An early adopter is an understatement.
When I moved to San Antonio in '02 I started my agency @ZoeticaMedia. I was feeling isolated, so launched my first PR blog to connect and expanded from there to work with enterprise brands on social media marketing.
I had always wanted to do it. It was an opportunity to do it when I got married and moved. Why not change everything at once? 😂 #VCBuzz

— 🟣 Kami Huyse | Social Media Strategist 🎯 (@kamichat) May 11, 2021
Q2 What is a buying cycle and how to understand (and optimize it)?
In addition to thinking about what YOU will do to get more sales, you need to understand where your customer is on the buying cycle journey. At each step, there are specific actions you can take to bring them along.
Building a deliberate customer pathway is one of the best investments you can make in your business. Take your customer from attention to awareness, to action, and then to attitudes about your brand.
Such a good point and question! #vcbuzz https://t.co/BoA3QEPb02

— Jessy Troy (@jessytroy) May 11, 2021
My approach with apprentices is to remind them there are several funnels – yours, and those of your competitors. When starting, you can snatch people out of the competitor's funnels where they've probably seen some information already. #vcbuzz

— Don Dingee (@don_dingee) May 11, 2021
Great thinking there. I think of it more as looking at what is being offered and adjusting to offer something that fills a GAP
Q3 How to help your site visitors complete their buying journey and become your customers?
A3. I use a 6-step process that I follow to bring customers into my world🌎. #VCBuzz
1: Visibility content 🎥📷📔
2: A quick win! 🎉
3: Collect email, sms 📧
4: A no-brainer offer 🧠
5: Solve the problem 💁🏽‍
Step 6: Get social proof 👏🏽 pic.twitter.com/o6o8xukpTw

— 🟣 Kami Huyse | Social Media Strategist 🎯 (@kamichat) May 11, 2021
#VCBuzz A3.2.

And the information may not just be limited to problems and solutions. That can include aspects such as Trust (are you safe to buy from, are you reputable etc.).

Which leads on to aspects such as Consumer/User Experience (not just trust, about friction etc.)

>>>

— Lyndon NA (Darth Autocrat) (@darth_na) May 11, 2021
#VCBuzz A3.4

In the real world, you wouldn't advertise, get people to your business, then force them to walk around the carpark 3 times before letting them in.
Nor would you say "no, you can't buy this today".

Don't let your site do similar stupid things 😀

— Lyndon NA (Darth Autocrat) (@darth_na) May 11, 2021
Q4 What are the steps to increase your sales funnel effectiveness?
The process to get customers is simple, but there are a lot of places that they can fall off of the pathway. I look at each one individually. Check the thread of this tweet for a diagnostic at each step
#VCBuzz A4.

By understanding that in many cases, the term "funnel" is a misnomer, and that consumer journeys are often not linear nor instant.

In many cases (esp. organic, high-value, high-risk etc.), the journey tends to include wandering around and looking at different things

— Lyndon NA (Darth Autocrat) (@darth_na) May 11, 2021
Visibility content – If no one is engaging.

Metrics: Watch time, engagement
Questions:
• Does it solve a problem for a specific audience?
• Does it need a little targeted ad spend?
• Are you engaging with them?
Collect email, sms
Metrics: Open, Click-Thru, and Churn
Questions:
• Low open rate: Check subject line and deliverability
• Low click-thru rate: Check messaging
• High Churn: Are you attracting the right ppl and solving their problems
A no-brainer offer
Metrics: Conversions
Questions:
Does it solve a major, can't wait, pain point?
Is it priced to sell?
Does it have an anchor price for comparison?
Does it have any social proof?
Solve the problem. Invest in customer service.
Metrics: Net Promotion Score, Repurchase/Loyalty, Customer Lifetime Value, Referrals
Questions:
• Do customers refer others?
• Do they mention us?
• Are they loyal?
Get social proof
Metrics: Testimonials, online referrals/mentions to others
Questions:
• Do I have a system to collect testimonials?
• Am I using them in messaging?
• Am I scanning for mentions and engaging?
#VCBuzz A4.3

Once you realise that users may bounce around the site, page to page – you see why having strong navigation systems (main nav, site search, in-content links between related pages, suggested pages etc.) is so important (not just for SEO, but for UX and CRO).

— Lyndon NA (Darth Autocrat) (@darth_na) May 11, 2021
Q5 What are your favorite engagement analytics and optimization tools?
There are so many tools I love, but here are just a few: @ContentStudioio for social media @ConvertKit for email @Funnelytics to track my funnels Also, good old Excel or Google Sheets to track progress
Rebrandly and Cuttly are two of my favorites. Great link shorteners.
As long as it's not bitly, I'm all for it 😜 #vcbuzz

— Brian Kato (@katobkato) May 11, 2021
#VCBuzz A5.

Mine.
I got so sick and tired of limited data, partial data, incorrect data etc. – I ended up building out my own JS for enhanced tracking.

But, for those looking to plug and play,https://t.co/U0jrWhIqYA is worth looking at.
So are tools like HotJar & using GTM GA

— Lyndon NA (Darth Autocrat) (@darth_na) May 11, 2021
Great suggestion from @StaceyHood for keyword research. In addition to the heavy tools, I like @answerthepublic
Our previous conversion optimization chats: