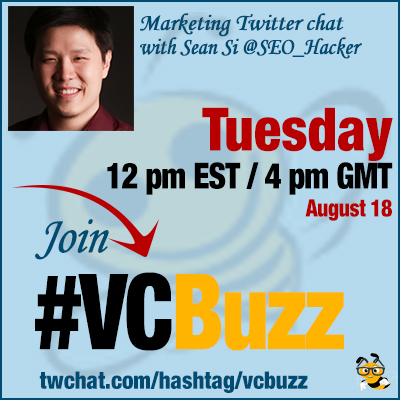 One of the most important goals of content marketing should be to engage: catch the reader's eye and provoke an action, be it a comment, a social media share or a newsletter sign-up.
Today we are featuring one of the newer tools helping you to engage your readers, @Qeryz and its founder Sean Si aka @SEO_Hacker
***Please sign in here to follow the chat -> twchat.com/hashtag/vcbuzz
***Important: Join this event on Google Plus to be notified of upcoming chats (It's easier with daytime savings and different time zones!)
About Sean
Sean Si is the author and editor-in-chief of SEO Hacker.
Sean is blogger, writer, web developer and SEO specialist in profession.
Sean is the founder of @Qeryz, an easy and innovative survey software we recommend taking a look at!
Questions we discussed
Q1 How did you become an online marketer? What's your career path? Who had you planned to become prior to discovering Internet Marketing?
Long story really. Studied IT in the PH where I've lived all my life, worked at HP for 5 mos – while doing SEO on the side. Learned SEO from my first blog h3sean.com because no one was really visiting my site. I had to learn how to get traffic
Before becoming an internet marketer, I wanted to become an IT consultant and get paid per hour. It's every IT graduate's dream. That dream is actually not so far from where I am now – only I'm able to do what I love and get paid $$ per hour for it ?
@SEO_Hacker when did you start your first blog? #vcbuzz

— Jessy Troy (@jessytroy) August 18, 2015
I started August of 2009 if I'm not mistaken. That's my first WordPress blog ? Before that, I blogged in Multiply – had no idea how to start my first site back then
What are you focusing on these days in terms of SEO? #vcbuzz

— 24 Hour Translation (@24hrtranslation) August 18, 2015
Do you mean what specific strategies I focus on for my clients? ? I focus more on content marketing, linkbuilding (I get a lot of interview requests) and technical SEO (love it!)
love your personal site @SEO_Hacker ? Where do you get the time to balance personal and marketing content? #vcbuzz

— Darren DeMatas (@DarrenDeMatas) August 18, 2015
Inspiration mostly. You could say that it comes and goes. When it comes, I write on my Evernote. Immediately. Then I clean it up and publish it. Most of the personal stuff are now at seansi.org though. A Secret blog
What is your favorite list building strategy? #vcbuzz

— Nancy Seeger (@SeegerN) August 18, 2015
Right now? I went with Sumome's Welcome Mat Pro. Noah Kagan was too compelling. Turns out he's right. Of course, welcome mats only do as well as the copy in it and your content which users first land on. Converts at almost 2% for me – which is a lot like chutzpah.
Q2 How did you come up with the idea of @Qeryz? How can it help improve content marketing strategy?
I hold a yearly conference here called SEO Summit and I was looking for a way to survey people. Unfortunately there was no alternative to Qualaroo and their pricing was really high – which sucked for a small guy like me. So I scratched my own itch and developed an alternative. Suited for people like myself who are on a very limited budget.
With content marketing, use Qeryz to ask people for feedback on your article – which is the foundation of your CM campaign.
RT @seosmarty: My favorite strategy… No tool you need? Create your own! @SEO_Hacker #vcbuzz

— Ron Sela (@ronsela) August 18, 2015
It cost me almost 2million php though. And it's just starting to rake in revenue. We're getting there – slowly
It's always slow with self-funded tools BUT you get prepared for more this way! @SEO_Hacker #vcbuzz

— Ann Smarty (@seosmarty) August 18, 2015
Yeah. We already have the next tool in line. Just need investors to fund it which sucks here in the PH.
Q3 Aside from @Qeryz, how can one improve content engagement? How to prompt your readers to take action? What are your favorite tips?
One look at my site and you'll see about the most important thing for me in blogging. Audience retention.
There are numerous studies on retaining audience through email marketing. I use Sumome's welcome mat. It's huge getting emails.
@SEO_Hacker Makes me wonder – do you keep standard office hours normally? #vcbuzz

— Nancy Seeger (@SeegerN) August 18, 2015
Haha good question ? I do – virtually. I'm online from 930am-630pm and accountable at Hubstaff and Slack ?
Hubstaff is SUPER awesome. Helps me keep track of my team. Every1's accountable – up to their time w/every URL.
The CMO of Hubstaff, Dave Nevogt is a great guy too. Easy to get along with. Hubstaff increased our team's efficiency ?
Slack is awesome for fun and to keep everyone in the loop real-time. It makes us more of a team – w/o physical presence
@seosmarty I highly recommend @slack my entire team of 20 from SEO Hacker and 4 from Qeryz – all there. Communicating daily. #vcbuzz

— Sean Si (@SEO_Hacker) August 18, 2015
I used FB audiences. Retargeting. And Google Adwords retargeting. Youtube too. ? So far Google Adwords is cheapest w/ most impressions. Facebook audiences is good for user recall. Youtube is… ok :)) I'm seeing the best numbers from Adwords. Banner ads though, not search ads.
@SEO_Hacker why Aweber? #vcbuzz

— Jessy Troy (@jessytroy) August 18, 2015
The reason being: Filipinos work differently than others. Most need supervision and accountability ?
Aweber form on the sidebar, on the header bar and after content. I'm all-in for the long haul so I really encourage ppl to sign up. Aweber is paid up-front so their servers are used only by ppl serious enough to pay unlike Mailchimp. The send rate is higher.
Copywriting is critical to asking people to sign up. Copyblogger's Magnetic Headline ebook is a goldmine.
Q4 Running a marketing company and marketing a startup, how do you find the time to combine both? What's your productivity tips for entrepreneurs?
I'm blessed with an awesome team at SEO Hacker which is my 1st startup. They're on autopilot except for things I can't delegate yet.
Things I'm still running with SEO Hacker: sales, marketing, accounts management, improving operations efficiency, accounting and legal.
@SEO_HackerI think thats my issue, I get the inspiration and dont execute on it bc I want it to be perfect. #vcbuzz

— Darren DeMatas (@DarrenDeMatas) August 18, 2015
Perfect is a false-positive online. Why settle for perfection when you get fast, infinite feedback loops? Perfect is also relative – it depends on the target market/person/company. Technically it's never achievable.
@SEO_Hacker I like your take on perfection that iteration is better #vcbuzz

— Phil Turner (@The5Currencies) August 18, 2015
I do lots of automation. I love Zapier. I have a lot of Gmail zaps in there. I also use Teamwork for project management: pivotal tracker for product roadmapping for Qeryz, Hubstaff for time tracking and accountability, and Slack.
I teach all these tools and how to use 'em to my team. That takes a huge load off my back.
Add yours: Today's #productivity tools: Teamwork, Zapier, Slack, Hubstaff, pivotal tracker #vcbuzz

— Ann Smarty (@seosmarty) August 18, 2015
How important do you find Twitter when promoting Qeryz? #vcbuzz

— JeffreyRomano (@JeffreyRomano) August 18, 2015
It depends. I use this Twitter account for SEO tweets mostly and reaching out to influencers. That's effective. The Qeryz Twitter account is for support mostly. I prefer promoting Qeryz over other channels.
I promote from Buffer which is integrated with my Startafire account so all my Tweets are wired. Well not really all – just those that come from Buffer ? like this one.
You can't build lots of traffic traffic from Twitter but it's great for starting a relationship, engagement, feedback… #vcbuzz

— Ann Smarty (@seosmarty) August 18, 2015
Actually Twitter is the SEO Hacker blog's best source of social traffic for 3 straight years ?
Just put in your email add there in startafire and I'll email the owner to let you in ? Socialoomph is the key. It recurs my evergreen content in my chosen Twitter accounts – practically forever. I also put in a hose of RSS feed from popular search blogs and mounted it in socialoomph so I always have good stuff.
@seo_Hacker how do you prioritize email in your day? #vcbuzz

— Nancy Seeger (@SeegerN) August 18, 2015
I use Streak and I'm testing out Sortd for Gmail. I'll link you to them ?
Oh, and here's the tools we use at SEO Hacker, there are some affiliae links there. Tools are awesome. It's a big part of how I could manage 2 startups at the same time.
Our previous content marketing chats: