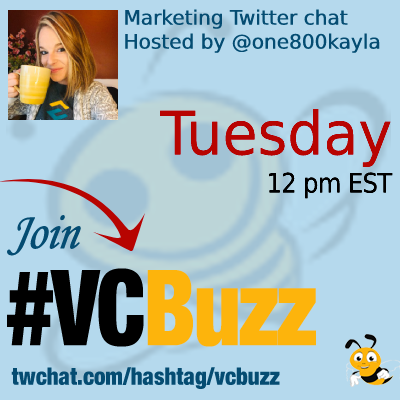 Sales process is a complicated one: There are a lot of pieces to put together, decision makers to talk to, lead funnels to analyze.
And yet, there's one component that can really boost the performance of the SEO strategy: relationship building.
How to utilize relationship building in a sales strategy?
Let's discuss!
***Add #VCBuzz chats to your calendar here.
***Please sign in here to follow the chat -> twchat.com/hashtag/vcbuzz
About @one800kayla
Kayla Kurtz is the Director of Sales at @ClosedLoop, a digital marketing agency specializing in paid search, social, and display/programmatic advertising.
Over the course of her decade+ career in the space, she's found herself especially attracted to the world of venture capital and providing marketing education to those firms that they can then apply to their entire portfolio.
Kayla spends her days driving meaningful conversations with folks looking to work with an expert team of cool people (when she's not catering to her animals or looking for her new favorite rosé, that is).
Connect to Kayla on Linkedin!
Questions we discussed
Q1 How did you become a digital marketer? Please share your career story!
Fun journey! My college degree is in Education & I love to teach. I found a job shortly after graduating from IU in digital marketing, and it had the potential to be client-facing once I completed training.
Within my first year, I was offered a role in sales, which gave me the opportunity to teach a fresh roster of brands how their online strategy could be better every week/month/quarter.
I always wanted to see something start, grow, and succeed – so whether it wound up being teaching or digital marketing sales (or a combination of both, in reality), I find a ton of enjoyment in what I do!
Speaking of what I do – I'm the Director of Sales for @ClosedLoop. We specialize in paid search, social, and display/programmatic advertising, plus a full creative studio and capability set. Excited to be here today!
Excellent strategy — similar to what I did for #ecommerce stores when I was doing #PPC for them.

I looked at previous year's sales and ramped up visibility and ads for products just before they would be expected to trend upward.

Should tie that into #emailmarketing #vcbuzz https://t.co/pl4tH9N72Y

— Gail Gardner (@GrowMap) November 15, 2022
Q2 What is relationship building in the context of sales?
Patience & intent are the table stakes, for me. I'm never trying to reach out completely cold or with little-to-no value to provide the conversation from the jump.
This looks like staying in touch with folks when there may be a slim (to zero) chance of there being an opportunity currently, or truly customizing when/how I reach out to folks based on content my team has recently developed.
For example, if we publish a piece on connected TV, I'm going to build messages to those brands we know who are more consumer-centric if/where that tutorial better lends itself to that kind of industry.
#VCBuzz A2.

I view it as a kind of blend between CRM and ABM.

Rather than purely outbound, cold sales,
you keep prospects "warm".

You network, you build rapport, you keep in loose contact, and go a little beyond "just business" in communications.

That way …

>>>

— Darth Autocrat (Lyndon NA) (@darth_na) November 15, 2022
Or (especially this time of year) aligning insightful content, from the @closedloop team or other trusted sources, that could help lift performance. People remember that, and that's actual relationship-building.
A2: Take an interest in the lives and careers of buyers, and establish a personal connection with them by showing you care. This process builds trust, which is essential in business today! It's a long-term commitment that yields personal and professional benefits. #vcbuzz https://t.co/RxP5S5kz7S

— Jaime Shine 💬 Marketer | Writer (@jaimeshine) November 15, 2022
Do I hope you think of @closedloop when you eventually have a need? Sure. But most importantly, my goal is to help my connections and their businesses be better, no matter what.
#VCBuzz A2.3
>>>

I think it differs a little from "lead nurturing",
which would kind of come afterwards.
LN is once you have a prospect and a proposition, and you encourage the conversion.

The relationship stuff happens prior to that,
and increases the odds.

— Darth Autocrat (Lyndon NA) (@darth_na) November 15, 2022
Q3 How to master or improve relationship building skills to become better at sales?
If anyone out there knows how to 'master' this business, please let me know! (jk)
The best way to improve your relationship-building skills is to keep your scope of learning open. It's super easy to 'accidentally' narrow your view and forget to consider fresh perspectives.
A3 Learn to focus on people who are ready, willing and able to buy from you #vcbuzz

— HAGGLETHIS.COM (@hagglethis) November 15, 2022
I could wax poetic on all of the previously mentioned, so feel free to ask me specific Q's, but the vibe is – keep your tool set sharp, do your homework, leverage technology, and test everything.
#VCBuzz A3.2
>>>

Add to that active listening, keeping records, being genuinely interested in hearing/helping,
and you're pretty much there
(mix sales with services :D)

Then it's down to practice, confidence and being approachable/in touch.

>>>

— Darth Autocrat (Lyndon NA) (@darth_na) November 15, 2022
#VCBuzz A3.4
>>>

And you should send them the odd sales offer,
but it's stuff they are likely to find interesting.

Not blanket product lists.
Not general clearance etc.

Part of your job is to act as a filter,
and help them find the value.

— Darth Autocrat (Lyndon NA) (@darth_na) November 15, 2022
Q4 Which one single sales tactic can really make a huge difference and boost your sales strategy performance?
I can't give you one, and it actually goes against my relationship-building strategy to act like a single magic bullet or tactic is what gets the job done.
You need to commit to the ebb and flow of sales to drive a consistent pipeline. I've found success in setting aside dedicated time each week to every aspect of my own funnel, inclusive of the research & discovery phases.
A4 Qualification, because it helps you to focus on people who are ready, willing and able to buy from you #vcbuzz

— HAGGLETHIS.COM (@hagglethis) November 15, 2022
Start your Monday with a few hours to follow up on existing deals. Wrap your first day of the week with a bit of LinkedIn research to see who may have changed jobs, shared big company news, etc.
I call this my 'squeeze list' – who I need to make sure to chat with. From there, split your time on Tues & Weds responding to what you've sent out & building new messages for those custom conversations you're working on.
Make time every week to help your team with existing business growth. Whether it's discovery for new opportunities, answering q's about current terms, or providing pitch guidance…a rising tide lifts all boats!
I feel "lost" when there is no plan, like I am staring off into space with a blank look on my face – probably because I am!

Need that momentum! #vcbuzz https://t.co/5oUl5LzwnT

— Deborah, Pro Videographer, #SocialCafe Host (@socialwebcafe) November 15, 2022
I'm always learning – what tactic seems to really resonate with your audience or work well to fill your relative pipelines?
#VCBuzz A4.2

Temp.
Keeping a record of their receptivity and any prior purchases (dates/quantity/value) …
… so you can cycle through, not chase when they've spent etc.

Smiling
Whether talking or typing, it can make a difference in your tone and how they perceive it.

— Darth Autocrat (Lyndon NA) (@darth_na) November 15, 2022
A4. That's the start phase. Where the greatest challenge lies in the period AFTER you get the process right, after you set up the site and creative, and have the proof of concept ready. Nobody likes to buy from strangers, and friends are all talk, or are discount basterds #vcbuzz

— Neil Patel (parody) (@RemcoTensen) November 15, 2022
Q5 What are your favorite sales and relationship building tools?
Without a doubt, and also only when done properly…LinkedIn! Especially in a business where referrals and trusted references are so valuable, that platform allows me to keep in touch with folks who are moving companies or being promoted to different roles.
It also gives me a view into what topics are important to folks, based on their shares/posts/etc. You still need to be authentic in your reason for reaching out, but LinkedIn can tell you so much about what a brand (or person) might be looking for.
#VCBuzz A5

Directories, business network lists, email lists, social scrapes etc.
Then social, email and phone.

— Darth Autocrat (Lyndon NA) (@darth_na) November 15, 2022
If you're sending the same message (or pretty close) to everyone…you're doing it wrong!
A5 I am currently entertained by the CRM by Jetpack (Automattic, WordPress) #vcbuzz

— HAGGLETHIS.COM (@hagglethis) November 15, 2022
And don't be afraid to get back out there (literally & figuratively)! I've met many clients at conferences years before they actually signed. Keep your intention clear but find ways to give your team visibility wherever you can!
Our previous relationship building marketing chats: