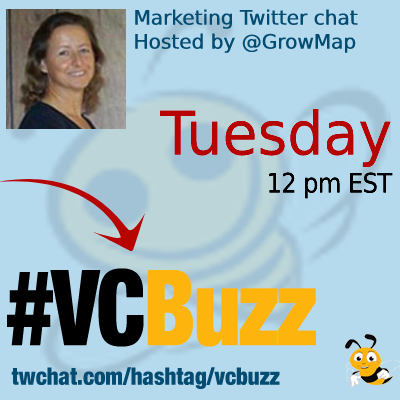 The Internet has opened one huge opportunity for us: An ability to easily find partners and collaborators.
We all have different strengths. Collaboration enables us to share and combine our strengths and resources to become more successful.
How to build strong collaborative relationships? Let's discuss!
***Add #VCBuzz chats to your calendar here.
***Please sign in here to follow the chat -> twchat.com/hashtag/vcbuzz
About @GrowMap
Gail Gardner is a small business marketing strategist, social media influencer and community manager of the BizSugar Mastermind Community
@GrowMap is no stranger to our chats! She comes to most of them and hosted two: on getting help for your business and building a marketing strategy for your small business.
Questions we discussed
Q1 Why should we seek collaboration? What can we achieve through collaboration?
Collaboration is a much faster way to get established, achieve your goals, and learn new skills. Why reinvent the wheel if someone else has already figured out how to do it and is willing to share that knowledge with you?
A1: Through collaboration you can achieve anything. It lets you work on the things your good at and others pick up where you are lacking. #vcbuzz https://t.co/RTvjIMDXe5

— Joey Trend (@joeytrend) August 9, 2022
You really can't get much traction on social media or in the search results without collaboration (unless you're already famous). Collaborators who support your efforts multiply your results!
A 1. Collaboration allows you to do things that are beyond your reach. @GrowMap #vcbuzz We can't be available everywhere, we can't do everything alone – but if we Collab, we can leverage other people's network and skills to achieve ends. @vcbuzz

— Uttoran Sen (@uttoransen) August 9, 2022
An example of this for me is that early on, @thekristihines shared with me some of her processes. Having processes to get things done efficiently is the difference between success and failure!
A1 Collaboration makes the world go round! It's the best form of social – we help each other with multiple tasks and are active sounding boards for idea generation/implementation. #VCBuzz

— Amy.M.Anderson (@snippetsbyAmy) August 9, 2022
A1: I believe there is exponential power in collaboration.
I love how @VizwerxGroup took my words and created this visual.

Collaboration expands your communities. It's a Win-Win. #VCBuzz pic.twitter.com/m6bObuXglc

— Lori Anding 👑 🇺🇦 || Introverted SoMe extrovert (@southbaysome) August 9, 2022
A1: Check out the collaborative book #TheCarbonAlmanac with forward by none other than Seth Godin. This was a global initiative. Completed remotely.

🌟 He knows how to create effective communities. #VCBuzz #BookLoversDay #Collaboration https://t.co/3HaXskOfzm pic.twitter.com/gqCyVLubly

— Lori Anding 👑 🇺🇦 || Introverted SoMe extrovert (@southbaysome) August 9, 2022
Q2 Do you have a few examples of effective collaboration to share?
This is my favorite question because I hope our buzzers share their ideas with all of us. #vcbuzz Collaboration has long been the best way to multiply traffic to websites. Support each other by linking to relevant content and interacting on social media.
Ann @seosmarty Deb @SocialWebCafe @Ileane and many others collaborated early on using Twitter. We were recognized by Cornell University and Yahoo! Research as early influencers here because of it
We all need to understand how the algorithms work that choose to show what you're doing to a larger audience. The best way to get that to happen is to collaboratively focus on supporting specific shares on social platforms.
A2: I mean heck look at the agency @HumJAMSEO me and @josephskahn were able to create via collaboration. One person can't do everything no matter how talented they are. #vcbuzz https://t.co/XKpcAxUbyl

— Joey Trend (@joeytrend) August 9, 2022
When you want to increase your income, collaboration is the best driver. For example, @TheKristiHines referred some writing work to me and I sent clients to her based on our workload at the time and who was a better fit for a topic.
Writers tend to know each other, so if you want more work, collaborate with #writers in your niche. SEOs know each other. If you want a job, let your collaborators know the details to get tips on opportunities. This works for any specialty. Need more clients? ASK!
A2. I guess the Roundups are the ultimate example of effective collaboration. @GrowMap #vcbuzz @vcbuzz I have also launched it as a service and here's the link to what we have done so far – https://t.co/TqmxKTQpA0

— Uttoran Sen (@uttoransen) August 9, 2022
Roundups done really well are a great way to drive traffic to a website. The hope is that everyone who participates will promote the content and join in the discussion. We'll be doing this in the BizSugar Mastermind Community very soon.
A2 One example of a great collaboration piece is when @jroakes wrote about how Google treats company navigational brand searches.

He used People Also Asked data collected by @nozzleio and came up with a great blog post. #vcbuzzhttps://t.co/FT3MxdnhuM

— Boyd Norwood – nozzle.io (@boydnorwood) August 9, 2022
Q3 How to find people to collaborate with?
Twitter chats like #vcbuzz are a good way to meet people to collaborate with and so are social media, live events, and communities like our BizSugar Mastermind Community. We also have Skype groups where we collaborate.
Yes, and participating gets more fun, interesting and easier once you've done one anywhere.

If you answer a roundup, other writers will invite you to respond in theirs.

When you join a group or a Twitter chat, you get to know people you enjoy interacting with! #vcbuzz https://t.co/l3zAuBZuvp

— Gail Gardner (@GrowMap) August 9, 2022
A3 I've found people to collaborate with in all the following places: past and present coworkers, conferences, engaging with industry related tweets, and twitter chats.#vcbuzz

— Boyd Norwood – nozzle.io (@boydnorwood) August 9, 2022
A3: Since we're on Twitter, let's make it easy: tweet chats.

I know people who've published books, started businesses, collaborated on initiatives, and more through meeting like-minded ppl here. #vcbuzz https://t.co/3WdDdTVCHy

— Lori Anding 👑 🇺🇦 || Introverted SoMe extrovert (@southbaysome) August 9, 2022
Yes! We've done collaborative ebooks in the past. I had forgotten about that. Who knows YOU from activities anywhere is where your next big opportunity will originate! So even introverts like me can find a way to collaborate online.
Q4 Who is the best person to collaborate with? Should it necessarily be a social media influencer?
The best collaborators for you aren't necessarily social media influencers. Collaborate with people in a position to send you referrals or teach you new skills or just to socialize. The people who help you the most are those who KNOW YOU BEST!
A4 The best person to collaborate with is whoever can challenge, entertain you and keep you from going overboard #vcbuzz

— HAGGLETHIS.COM (@hagglethis) August 9, 2022
A4: Not to sound like a Disney movie, but listen to your heart! Listen to your feelings. If you like someone and you could see yourself working well with them great! If not no worries and move on. #vcbuzz https://t.co/1U8E83F156

— Joey Trend (@joeytrend) August 9, 2022
A4: You have to find the right fit. Look for someone who wants to collaborate, works well with you and has the same end goals for your current project. It could be a client, fellow small business owner or influencer. #vcbuzz https://t.co/0k8yW6mEFk

— Jaime Shine 💬 Marketer | Writer (@jaimeshine) August 9, 2022
Q5 What are your favorite collaborative tools?
We use a lot of tools to collaborate. They include shared platforms like @Trello, project management systems like @Wrike and social media of course. We have groups on Skype. And the Mastermind Community runs on @ZohoConnect.
A5 Collaborative Tools
I know this is so "old school" but I still ❤️basecamp.
Slack
Google Docs #VCBuzz

— Debi Norton (@BRAVOMedia1) August 9, 2022
A5: Trello is a wonderful collaboration tool! #vcbuzz

— Jaime Shine 💬 Marketer | Writer (@jaimeshine) August 9, 2022
Our previous collaborative chats: