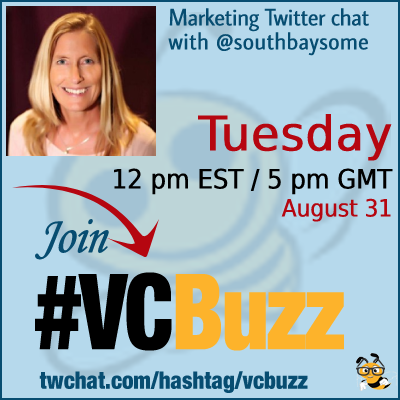 Any digital marketing guide would tell you that you need to start building a community.
But what's the real value of community building and how can a busy small business owner find the time to invest in building a community?
***Add #VCBuzz chats to your calendar here.
***Please sign in here to follow the chat -> twchat.com/hashtag/vcbuzz
About Lori Anding @southbaysome
Lori Anding @southbaysome is a social media consultant and founder of Southbay Social Media who grows businesses through creating community, collaboration, and connection.
She has done one-on-one consulting (in-person and remotely), creating engaging communities for her clients.
Her clients tend to be small business owners who have too much on their plate and recognize that delegating will create the capacity to grow their businesses.
Lori calls herself a social media extrovert.
Questions we discussed
Q1 How did you become a digital marketer? Please share your career story!
It was 2011. I owned a translation agency. I became one of the 1st businesses in the @GS10KSmallBiz program to grow my biz/stimulate the economy. Social media was presented in a compelling way. Fast forward two years I left that business & started a SoMe business.
I am 100% extroverted on social media. I really identify as being an introvert the majority of the time.
A1 Have always been in marketing support functions – the digital part just grew around me. Initially it was artwork and design for print and that then got digitised – yay QuarkXpress! I jumped over to web full time in 1999 – it's been a ride!#vcbuzz

— Simon Cox (@simoncox) August 31, 2021
Q2 What's the real value of community building? Why would a small business owner need to invest in community building?
Everything is better in Community. There's more support, camaraderie, and connection. Church, synagogue, school, sports, book and other clubs, etc all benefit from community.
A2. [1/2] It's a competitive marketplace and consumer trust in brands is dwindling. People look to their friends and family for product recs long before (if they ever do) they look to a brand's own sales pitch. ⁰⁰#VCBuzz

— Cure Media (@curemedia) August 31, 2021
Community building is how you grow your business. Everybody focuses on numbers, naturally. The bigger and more supportive your community, the more brand reach you have. It helps with word of mouth marketing. It helps with relationship marketing.
@vcbuzz A2:) Rapid feedback allows for continuous product & customer experience development. Customers have a voice in digital communities. This helps shorten innovation cycles & allows organizations to make rapid adjustments, especially when it comes 2 digital products. #vcbuzz

— Salman Saleem (@salmanlashkari) August 31, 2021
A2 Your community is what will bring sales, trust and motivation. It's what will carry you through any Google updates or economic downs #vcbuzz

— Ann Smarty (@seosmarty) August 31, 2021
A2 Brand building – if you have the right product/service. You cannot buy loyalty or advocacy so building a community is a fantastic way to do that.#vcbuzz

— Simon Cox (@simoncox) August 31, 2021
A2: Building a community gives small business owners the support they need—collaborators, brand advocates, customers, connectors and more—to succeed in a competitive marketplace. No one does it alone! #vcbuzz #SmallBusiness https://t.co/QZ6lhzttus

— Jaime Shine 🖋️ (@jaimeshine) August 31, 2021
A2. Being part of a community makes it possible for you to have access to a wider variety of resources-and it's a lot more fun than doing everything on your own. #vcbuzz

— Dana Lemaster Author (@LemasterAuthor) August 31, 2021
A2 Communities are where collaborations are born and many businesses generate brand loyalty and sales!

You are far more likely to get the best results when someone who has done business with a company recommends them. #vcbuzz #SmallBusiness https://t.co/zmJ2mX3SUK

— Gail Gardner (@GrowMap) August 31, 2021
When you land a new customer and they join your community, they will receive all kinds of tips and ideas from community members.

Those can turn them into repeat buyers and loyal customers — and much of the "work" was done by volunteers who have more credibility. #vcbuzz https://t.co/LN6bVG2EPm

— Gail Gardner (@GrowMap) August 31, 2021
The larger your community the easier it is to rally people around you. People feed off people and people feed off people in larger numbers. If you have a small group and you're trying to make that work, it's harder. It's doable, but it's harder.
In any community, you have 1-3% passionate and inspire others.

Another 9-10% who are active, and 87-90% who are lurking or inactive.

That seems to hold true regardless of the type of community you have or where it was built.

Lurkers can be customers, too. #vcbuzz

— Gail Gardner (@GrowMap) August 31, 2021
Q3 How can a busy small business owner find time (and money) to invest in community building?
If you're a small business and you're wondering how you're going to "find time in your biz" you will never FIND it. You've got to MAKE TIME. Easy as that. You need to make time to work on your business not IN Your business.
A3 cont. [2/2] And then the surest way to build a loyal community: make sure your offering current customers your very best! Customer ambassadors will do half the work when it comes to building community around your brand IF they feel invested in your success. 🙌#VCBuzz

— Cure Media (@curemedia) August 31, 2021
Just like you schedule a meeting, you need to schedule community building. If you don't personally have the time to do it, find someone in your business, or hire someone.
In our time of instant gratification do not expect community building to be a fast process. ➡️This is a long-tail investment in your business⬅️ The sooner you get that the better off you are.
If you're finding someone to do this job or hiring someone, they must have empathy, compassion, and passion for this type of work to be successful.
Q4 Where to start? How should a small business owner launch their community building strategy?
Fish where your people are. Focus there. Don't spread yourself too thin. Pick 1-2 platforms.
A4. [1/5]⁰ Oof! What a question. We reckon it comes down to five fundamental considerations🥁…

WHO – Define your customer persona. Don't talk until you know who's listening.⁰⁰#VCBuzz

— Cure Media (@curemedia) August 31, 2021
You don't have to invest a lot of time at first, but you do need time. Community building is part of relationship marketing and in order to establish relationships with people you need to INVEST time.
But as that community grows you need more time to nurture it. If you don't nurture your community it's going to die.
I manage an 85K account on Instagram that keeps me pretty busy. Again, not all of those people are engaged but we have a very engaged community. Especially when we run campaigns it can get kind of crazy.
Absolutely. That is why consistency is important. You can't neglect it even for a week or it will die out.

Also, plan ahead in case it gets super busy. It takes a lot more time the more people who are active in it.

We have 34k members in @BizSugar Mastermind Community #vcbuzz https://t.co/xpOLZ9RWN2

— Gail Gardner (@GrowMap) August 31, 2021
A4: Start where your customers are—if you have any. Focus on one or two platforms to start building an active community and then expand as necessary. Look for collaborators, fellow small business owners and early supporters to help you grow. #vcbuzz #SmallBusiness https://t.co/vczyxZkzS5

— Jaime Shine 🖋️ (@jaimeshine) August 31, 2021
Just like starting a quality relationship you don't go from not knowing someone to marriage, right? Invest time. LISTEN Ask questions. LISTEN Ask for feedback. LISTEN Adjust what you post after reviewing analytics. Don't give up!
A4 cont. [3/5]⁰

WHY – What's in it for the community? Advice? Discounts? People? Make sure you understand your community's value proposition or no one else will. 🤷‍♀️#VCBuzz

— Cure Media (@curemedia) August 31, 2021
A4 Think about it, a lot. Join some community initiatives – especially any that competitors are running – and list all the things that will suit your target market – keep that in focus. Don't go for something because its trendy!#vcbuzz

— Simon Cox (@simoncox) August 31, 2021
A4 cont. [5/5] And finally…

⁰WHO – Back to where we started. This is no small task. Make sure you understand who will be running the show and trust them to make the big calls.⁰⁰ 👀#VCBuzz

— Cure Media (@curemedia) August 31, 2021
A4. I'd say you are always in community building mode, though it may take time to find the members of your long-term community. Not complicated, just the Golden Rule. #vcbuzz

— Dana Lemaster Author (@LemasterAuthor) August 31, 2021
A4: Share your brand voice with different form of content. Narrow down your audience and start engagement. #vcbuzz

— Hiren vaghela (@hirendream) August 31, 2021
True. My recommended #smallbusiness strategy is having an account on every major social platform, but use most of them for branding, SEO insurance, and to send people to the 1-2 platforms you are active on. #vcbuzz https://t.co/uYBDBTyMSv

— Gail Gardner (@GrowMap) August 31, 2021
Q5 What are your favorite community building tools?
Right now, it's @Community. I first discovered the idea through @garyvee. If there's anybody who understands community, it's Gary V. It's a text community app.
Since we're on Twitter, my favorite platform, I'd say #tweetchats too. I've created a worldwide community, personally, over the last nine years. That personal community feeds my professional community. Tweet chats have been the number one way to do that.
A5 @twchatcom @TweetDeck @Agorapulse are my three favorite tools! #vcbuzz

— Ann Smarty (@seosmarty) August 31, 2021
I am very organic. Truly the best way to build community is in real time.
✨💫Your energy attracts people💫✨
That's why I say get someone with passion because that helps create a positive community.
I'm not saying don't use technology but definitely use technology as a supplement to your work. If you only use technology you come across like a bot IMO.
Definitely the way to go! Don't focus on tools! Just use them to supplement your process, NOT own it! #vcbuzz https://t.co/e3PxvLWUvT

— Anna Fox (@manifestcon) August 31, 2021
Exactly! People seem to want to go all in but you really have to have balance.
A5 Anything that has User Generated Content at the heart of it. I have heard the term flywheels a lot lately – most used incorrectly – but UGC really can be your community flywheel. You will need to get it going and give it a push occasionally.#vcbuzz

— Simon Cox (@simoncox) August 31, 2021
You really have to be careful with UGC. Lots of big accounts get people to give away rights to photography that isn't even theirs. It's a slippery slope.
We find in our industry that most people don't even understand the copyright rights. Working with different photographers have helped us educate. We've learned a lot in the last five years.
Twitter is how many of us know each other and have for over a decade.

Ann @seosmarty and I and others in #vcbuzz were early adopters.

Twitter chats are the best way to meet more people with common interests. #vcbuzz https://t.co/3zFb0JNlP4

— Gail Gardner (@GrowMap) August 31, 2021
Second this about Twitter chats. I've met so many amazing people here-a huge surprise, since I only made an account to help a friend who started a chat. It's long gone; I'm still here. #vcbuzz

— Dana Lemaster Author (@LemasterAuthor) August 31, 2021
Our previous community building chats: