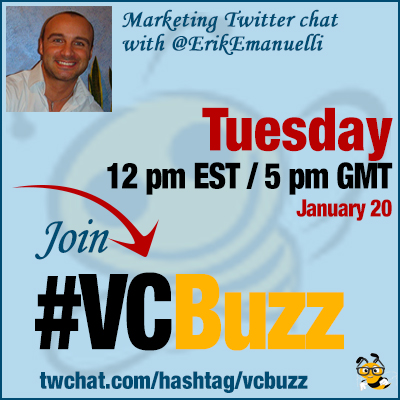 Today at #VCBuzz Twitter chat we are learning an important lesson: How to build your own (mini-)community. I hope we'll be able to use some of the tips to build @MyBlogU as well!
Meet our today's expert: @ErikEmanuelli
***Please sign in here to follow the chat -> twchat.com/hashtag/vcbuzz
About Erik
.@ErikEmanuelli is blogger, traveler and freelance writer. Erik is also an extreme sports lover and he is now learning how to skydive.
.@ErikEmanuelli is founder of @klinkkdotcom and owner of Nopassiveincome.com
Erik also published two great reviews: MyBlogU review (our sister platform) and ViralContentBuzz review
Questions we discussed
Q1 Erik, please tell us how you ended up being a blogger and online marketer? What's your story?
After 6 years in banking field and 7 as Export Manager, I was "forced" to search the net for "making money opportunities" (Economic crisis + recession = latest company I worked for in serious difficulty). So I started blogging!
And was there someone who inspired you? RT @manifestcon: Q1 For how long have you been blogging? #vcbuzz

— Ann and Gerald (@vcbuzz) January 20, 2015
I've been blogging since 2010. Learned so many things along the path. And even now! I've met many bloggers during these years, some of them really inspired me: @RyanBiddulph @AdrienneSmith40
Q2 Are you earning your life online or do you also have a day job?
I'm a blogger since 5 years. Professional since 2. Freelance writer since last year. Now earning full time income online.
@ErikEmanuelli which monetization and services have you tried / liked along the way? #vcbuzz

— Anna Fox (@manifestcon) January 20, 2015
Selling banners works for me, plus sponsored posts are a great way to monetize a blog. Lately freelance writing.
@ErikEmanuelli have you tried to find writing projects through #freelancing platforms, i.e. @elance and @odesk? #vcbuzz

— Roxana Nasoi (@roxanasoi) January 20, 2015
Yes, at beginning. But that's a blood bath! Luckily I collaborate now with a content marketing agency.
Q3 Why did you decide to start building your own community @klinkkdotcom? What inspired you? How is it going? How are you building it?
I founded @klinkkdotcom in October 2013:the idea was creating a meeting point for bloggers of different niches. Built on PLIGG CMS, @klinkkdotcom is going pretty good. +2500 users, natural backlinks flowing, good social signals. Let's see if @klinkkdotcom will take off! You know better than me,a lot of work is needed to launch a new project!
A simple to use platform is needed + engagement with users. Gamification really works!
@ErikEmanuelli We totally support you! Building a community is like building a home, it takes sweat and hard work and tons of fun #vcbuzz

— Roxana Nasoi (@roxanasoi) January 20, 2015
Q4 How can a blogger build a community around his/her blog? Why building it is so important?
Engaging with readers,answering to comments,learning from each other,creating new connections with bloggers.
@adriennesmith40 taught me the importance of building a community around my blog: traffic, loyal fans, friendships.
@vcbuzz A4 My motto : Be Honest, Be Real, Be Yourself. #vcbuzz

— Erik Emanuelli (@ErikEmanuelli) January 20, 2015
@ErikEmanuelli Love that! SO true! #vcbuzz

— Angel Balichowski (@Angelcbali) January 20, 2015
Q5 Being extreme sports lover, how do you maintain balance between your hobbies and online career? What are your productivity tips?
I do gym 3 times a week, jogging once, skydiving once every 2 weeks : "mens sana in corpore sano" ?  I've set working hours, upon reaching daily goals.
It is! RT @roxanasoi: @ErikEmanuelli skydiving? That's very COOL. ? #vcbuzz

— Anna Fox (@manifestcon) January 20, 2015
I just love that! So much adrenaline! Free falling is the maximum expression of liberty! I
I work on priorities: first most important. I'm old school:sticky notes on desktop+organized folders in PC/email.
I'll try it tomorrow morning. RT @seosmarty RT @DonSturgill: Simply obey the alarm, and you will come to love the alarm ? #vcbuzz

— Erik Emanuelli (@ErikEmanuelli) January 20, 2015