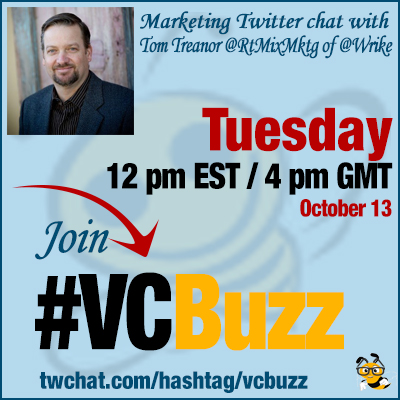 Best ideas come from brainstorming; best content is created through collaboration. MyBlogU is one free content collaboration platform to check out but there are more!
Today we are chatting with Tom Treanor @RtMixMktg, Director of Content Marketing, Social Media @Wrike
***Please sign in here to follow the chat -> twchat.com/hashtag/vcbuzz
About Tom
Tom worked for @Wrike as the Director of Content Marketing & Social Media. Wrike is a leading Project Management and Collaboration SaaS
Tom is the author of the Search Engine Optimization Boot Camp, co-author of Online Business Productivity and he has been quoted in the Investor's Business Daily and is a previous Google Adwords Professional and Microsoft adExcellence Member.
Questions we discussed
Q1 How did you become an Internet Marketer? Please share your career story?
I was at @hp and realized I needed to move from operational roles into something growing, more exciting. So I moved into SEO, SMM and #ContentMarketing. Best move I ever made
Did anyone else make a similar move? #vcbuzz

— Tom Treanor (@RtMixMktg)
@RtMixMktg me, I did this in 2003. I moved from advertising to SEO, SMM #vcbuzz — Janette Speyer (@websuccess)
They work well together – like peanut butter, chocolate (and banana?) RT @DonSturgill SEO, SMM, and Content Marketing #vcbuzz

— Tom Treanor (@RtMixMktg)
Q2 How do you make collaboration and project management interesting for your content marketing?
We like to have fun with content. Fun with #contentmarketing keeps the team interested. And followers, prospects and current customers too.
Use @MyBlogU to collect fun questions and quotes! RT @websuccess: A2: How do you write fun content that engages? #vcbuzz

— Ann Smarty (@seosmarty)
---
Research? @SEMRush @buzzsumo Adwords tool, Google Trends
We love Flipboard! We have a few magazines.
Make sure to have your whole team install Aura. Data security is key when it comes to working together. You want to ensure your whole team is protected from cyber-crime.
Q3 How does @Wrike help in content collaboration and improve content marketing efficiency?
Wrike allows teams to 1) Edit live together 2) Have hreaded discussions 3) Capture all ideas 4) Plan dates, responsibilities
Wrike keeps conversations out of email, texts or Skype chats and into one system. Manage the "work chaos"
We use Wrike – it's a PM, Collaboration and Workflow tool RT @websuccess A3: What system do you use to manage convos and workflow? #vcbuzz — Tom Treanor (@RtMixMktg)
Q4 What other features of @Wrike would content and social media marketers find useful?
Notifications for @mentions, time slider to "rewind the clock" on content, time-tracking to show work-time spent
There is a free version as well as paid options MT @manifestcon @RtMixMktg is it freemium or paid only? #vcbuzz

— Tom Treanor (@RtMixMktg)
Q5 Please list more of your favorite blog management and social media marketing tools!
Some favorite marketing tools: @buzzsumo @hootsuite @semrush @trackmaven @virtalcontentbuz @buffer @myblogu @wrike
Those tools help with research, tracking,
promotion
and management of #contentmarketing SMM and SEO
@RtMixMktg I also prefer @evernote to keep track of my to-do list Then of course @Impactana @ninjaoutreach @scoopit #vcbuzz — Manpreet (@manpreet1011)
Too expensive for me… couldn't justify the cost. You? RT @websuccess: Anyone use @sproutsocial? #vcbuzz — Anna Fox (@manifestcon)
@manifestcon yes, you are right by the time we subscribe to everything, there is nothing left in the bank ? #vcbuzz

— Janette Speyer (@websuccess)
Our previous content marketing chats: