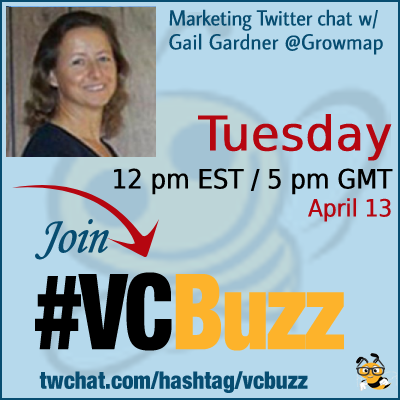 Owning a small business is overwhelming: You have to figure out the way to generate sales, pay taxes, comply to marketing requirements, and so much more.
Where can small businesses get reliable help they can trust?
Let's discuss
***Add #VCBuzz chats to your calendar here.
***Please sign in here to follow the chat -> twchat.com/hashtag/vcbuzz
About Gail Gardner @GrowMap
Gail Gardner is a small business marketing strategist, social media influencer and community manager of the BizSugar Mastermind Community
Gail is no stranger to #vcbuzz Twitter chats. She already hosted a Twitter chat on creating a marketing strategy for small businesses.
Questions we discussed
Q1 We haven't chatted for a while! What have you been up to, on a personal and professional scale?
I've been doing more writing recently. But mostly, I'm focused on keeping the @BizSugar Mastermind Community active and launching our new BizSugar Live Webinars every 2nd and 4th Wednesday.
Q2 What are some best places for a small business owner to find help online?
There are plenty of #freelance sites, but it is important to find QUALIFIED people to work with you. That is why personal recommendations are best. And also why @BizSugar created our Advisors Directory where I can personally recommend the best.
Yes, this is especially easy for writers. I encourage writers to collaborate. We do share clients often. Maybe a request isn't a perfect fit for you, but is for someone you know. Pass it along.

Then when one writer gets too busy, they can share their overflow. #vcbuzz https://t.co/LIOCvO0wd5

— Gail Gardner (@GrowMap) April 13, 2021
Yes, fake reviews can be bought at Clutch and other places, I hear.
Also fake testimonials on websites is a common thing. Always do a background check . #vcbuzz#vcbuzz

— Zen Ameer (@Zen_Ameer) April 13, 2021
Yes, fake reviews abound everywhere. But they're fairly easy to spot. Look at what else each account reviewed. If they review businesses all over the world that aren't remote, they're getting paid. Ignore those. Real reviewers will have related reviews or some local
Q3 How can a small business owner tell fake help (scam, outdated tips, etc.) from trustworthy advice?
The best way is by only working with someone recommended by a person you know who has actually done a project with them before. You never really know for sure until you've worked together. So word of mouth recommendations are best.
Yes — and sometimes, what's scary is when you have a great experience and that person doesn't do as well with the person you referred them to#VCBuzz

— Ivana Taylor (@DIYMarketers) April 13, 2021
Yes, that can happen. There are no absolute guarantees. But at least if someone you know has completed interactions that went well, the odds are greatly increased that yours will, too.
In any niche, there are people that others in that niche look up to so they are the best sources of trustworthy advice. If you're looking to hire someone, ask the best known and if they're too busy, ask them to recommend someone they respect.
A3 I like to have video calls with people too. A short conversation lets you know if a person is genuine and knows what they're talking about. #vcbuzz

— Shawn Hessinger (@Shawn_Hessinger) April 13, 2021
Always do more research and don't just take the word of any content writer even on many major sites. Many of them are jacks-of-all-trades who research and write on topics they don't personally know. So their content is only as accurate as their sources.
A3. Small business owners should try to remain active parties in any collaboration. You're not hiring someone and then forget they're there. You follow up, ask for weekly reports, keep an eye on what folks are doing with/to your biz. It's part of the job. #vcbuzz

— Teodora Ema Pirciu (@emapirciu) April 13, 2021
Yes, too many hire someone and don't provide any direction or specifics and then wonder why they didn't get the results they expected!

The more specific and IN WRITING, the better. Have deadlines and deliverables. #vcbuzz https://t.co/goojmnGAZh

— Gail Gardner (@GrowMap) April 13, 2021
You can trust the content on @SmallBizTrends because it is reviewed by people who know small business and marketing. Their site is a great place to start and the largest small business site online.
exactly my feeling! I meet companies at conferences that ask me to recommend them for referral. But how can I do that??? I'd feel responsible for everything that would happen to those people's sites! #vcbuzz

— Ann Smarty (@seosmarty) April 13, 2021
Q4 What are some best resources for a small business owner to read and keep handy?
@BizSugar#smallbusiness Mastermind Community is an exceptional resource. Every AskMeAnything and Q&A, all the advice our members offer is available to members 24×7. Members request new discussions, ask for advice and get quick answers there.
The first site any #smallbusiness should check for resources is @SmallBizTrends For example, they've published about the most profitable small businesses.
And you can see small business Ideas for Beginners.
If you're redesigning your website or creating marketing materials, you might want to know more about The Psychology of Colors.
Maybe you need to get better at sales or hire someone to do sales for you. Then see What Makes a Good Salesperson.
Need a side-gig or want to turn your hobbies into income? Try Crafts to Make and Sell for Profit
Do you want to make money from anywhere? Did you know that people will hire you to build them a website on a free website builder? Not everyone wants to build their own site! See this.
Maybe ecommerce is more your style? Find ecommerce suppliers at smallbiztrends.com
And we all sometimes make mistakes. So save this in case you ever need it: 10 Business Apology Letter Examples. It is better not to wing it when you are already in a tough spot.
Q5 What are your favorite digital marketing tools, especially those helping small businesses?
It really depends on what kind of #smallbusiness. But you always need to be organized. @Trello is a visual, free way to do that. And I give away templates that are pre-populated with what you can put there. See here.
A5 I like using Fresh Books for managing finances #vcbuzz

— Jessy Troy (@jessytroy) April 13, 2021
Having a CRM is essential so that you don't miss important messages or deadlines. I really enjoy using @Bigin by @ZohoCRM because it has a pipeline feature for tracking leads. The deal is over, but read about it.
Having just a project management solution like @Trello or @Wrike + a #CRM like @Bigin will get most #smallbusiness started inexpensively & easily But you can integrate everything using @ZohoOne including accounting, email marketing – you name it. Everything is in it.
Trello has quite a dedicated following. Among those who want a visual way to manage projects or deliverables, it is very popular. It is pretty intuitive to use. #vcbuzz https://t.co/EFr2XU5zUc

— Anita Campbell (@anitacampbell) April 13, 2021
Remember to use Viral Content Bee to promote your #content so #influencers see and share it. I use it all the time! @vcbuzz #vcbuzz https://t.co/uFIKaLVIGR

— Gail Gardner (@GrowMap) April 13, 2021
Our previous business marketing chats: