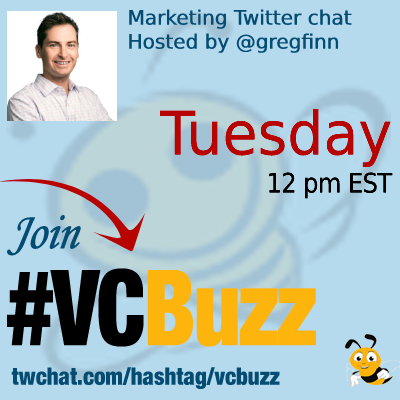 Google advertising platform is one of the most effective ways to generate quick sales.
It is also one of the most affordable options.
Let's chat on how to make it even more affordable…
***Add #VCBuzz chats to your calendar here.
***Please sign in here to follow the chat -> twchat.com/hashtag/vcbuzz
About @gregfinn
@gregfinn has been managing internet marketing campaigns for more than a dozen years and is a certified Google Ads partner.
He is a co-host of @MarketingOClock, a weekly digital marketing podcast.
Greg has been a featured speaker at some of the largest search engine conferences like Search Marketing Expo, eSummit & @Pubcon.
He is head of the marketing team at Cypress North.
Questions we discussed
Q1 How did you become a digital marketer? Please share your career story!
I went to college for marketing and got my first job doing sales support. I made friends with the Ads Manager at the time and went above and beyond to help him with reporting in my spare time…
I continued to help them with spends and budgeting and eventually took his role when he moved to his next location! I jumped around quite a bit after that from in-house to agency, before starting my own (@cypressnorth) 12 years ago!
Q2 How to optimize your Google Ads budget?
So, there is really no *one* good way. I think it really comes down to the different personas and folks that you are targeting.
Are you looking to spend more mid/bottom of funnel than top? We'll need to allocate budget for those campaigns. Are there certain demos that we want to hit? Let's lay that out.
To me, the most important part of a successful Google Ads effort is the planning and making sure you have the correct budget outlined for each persona/targeting type, then building campaigns around each.
This is critical as you set budget at the campaign level and will need to plan the number of campaigns accordingly. Once you have your setup in line, then it is all about your bid type.
Google does quite well nowadays with smart bidding, but you'll want to make sure you have it really dialed in. If you are using a target based setting (tROAS or tCPA) you'll want to make sure that your campaigns have data to work off of.
If you have no data, you could attempt eCPC bidding or Max Conversions or Max Clicks temporarily with a *lowered budget*. This will allow you to get some data flowing in, so you can use Smart Bidding more effectively!
A2b Do not bid like everyone else: do not end your bids in 10, 20, 25, 30, 50, 1.00, etc.

By simply bidding a couple pennies more, you are outbidding most others.

But focus on CTR and conversions because those can be more important than your bid amount. #vcbuzz

— Gail Gardner (@GrowMap) November 29, 2022
Search is great for intent. I would also say that Google Ads has very good remarketing capabilites that I would also put right up there at the top of effectiveness if executed properly (make sure the "optimized targeting" setting is turned off)
Do not make the #ppc mistake many do of cutting out all the top of funnel keywords because they do not immediately convert.

Do that and you may eliminate future conversions because you're not on the buyer's radar later so they ignore your ads. #vcbuzz https://t.co/eYlKgoYTOp

— Gail Gardner (@GrowMap) November 29, 2022
Great point! I have been liking Discovery campaigns with custom audeinces as well. There are still PLENTY of ways to get taregeted ToFu clicks in Google Ads!
Q3 What is a good ROI on Google Ads and how to improve it?
This is a loaded question, so bear with me. First up, y'all probably know how important the different types of conversions are and most companies outside of retail struggle when figuring out how much to value each.
It is a long process, but you can find out how much each conversion type converts down the funnel and then backtrack to find an ideal CPA.
For example – If a company's new customer LTV is worth $1,000 and they have simple lifecycle stages you can do the math to see how much the traffic from a campaign is worth. Not all clicks or conversions are created equal!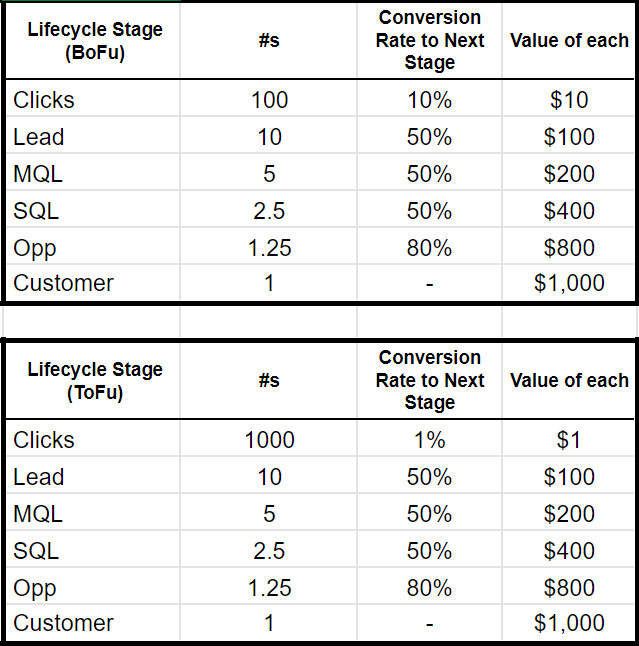 But you can see differences in how to bid properly across different campaigns types based on personas/place in the funnel! You can also work back and find out how much each Lead/MQL/SQL/Opp etc is really worth and then work to bring them.
But you can see differences in how to bid properly across different campaigns types based on personas/place in the funnel! You can also work back and find out how much each Lead/MQL/SQL/Opp etc is really worth and then work to bring them.
So it is hard to tell exactly what the ideal ROI is as each vertical is so different, but you should figure out what number YOU are profitable at and if you are looking for volume or better margins – and work towards each.
Q4 If you were to name one – best – Google Ads tip, what would it be?
If you've stayed away from broad match keywords of the past few years – you've probably had success! Now, I would go ahead and recommend re-testing broad match.
Since Broad Match Modified matching went away, Google has worked hard to improve Broad match terms. We would NEVER use broad match terms in 2018, but for most accounts, we now use in most every account successfully (even b2b!).
A secondary broad-match adjacent tip is that when setting up *highly-targeted* RLSAs, feel free to use very liberal broad match (with Smart Bidding)!
Remember – Broad match looks at more than just the current keyword and if you are targeting something like "avid purchasers" you want to make sure you do whatever you can to hit them. Especially when they are searching for something you don't have in your keyword list that could trigger a competitor's ad!
A4 For 95+% of all sellers using #PPC, you DO NOT need to bid for 1st place.

Most #Smallbusiness can bid positions 3-5 for maximum profitability.

If you have a tiny budget, aim for the bottom of page 1 and take what you can afford. #vcbuzz #ppcchat https://t.co/iuMbWH0zaL

— Gail Gardner (@GrowMap) November 29, 2022
Google Ads has really become tough for small biz owners. I agree that you don't want to blow all of your money on a few clicks. You may be better with very low budgets and max conversion bidding. But in all honestly other platforms may be better options.
Things like Boosted or Promoted posts on FB or IG can be much more cost effective than Google Ads – esp when going after BoFu keywords. @GoogleAds doesn't have any real options for Small Businesses at the moment cc @GoogleSmallBiz
There is a chance that Performance Max could change this. But at this time there is no way that it can be recommended as you cannot remove brand terms (unless you do for the whole account) and the data you get back is non-existent to unhelpful.
This one bugs me. I wish we could put negatives in PMax campaigns still.

If you could it would open up more options for us. I know why they don't allow it, but I still wish we could. #vcbuzz

— Lawrence Chasse (@lchasse) November 29, 2022
Q5 What are your favorite Google Ads marketing tools?
OK, so I am not fancy here 🙁 When looking for initial keyword ideas, I think that @SEMrush and @ahrefs and @GoogleAds keyword planner are great!
I have to add to this, Excel (my most used tool easily).

I would also say @Optmyzr because that is one of the few tools I pay for as well. #vcbuzz

— Lawrence Chasse (@lchasse) November 29, 2022
A second tool that I use hourly is: Looker Studio (the artist formerly known as Data Studio). It is fantastic for custom reports – but you'll need a connector like SuperMetrics or Funnel.io for other sources.
Another thing that people don't use enough that is native are: Experiments – Test different bid types! Try different targeting! Get out and test. Experiments can really help you dictate how to best use Google Ads in a way that fits YOU the best!
And lastly, you need good Landing Pages. I love @unbounce as it makes it easy and hooks into everything. Can just set up on a subdomain and be on your way!
Our previous advertising chats: