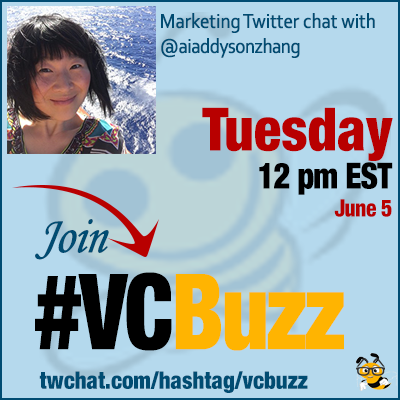 Live videos have been on the boom for years now, yet, very few people -and even fewer brands – achieved success using live streaming
Let's learn the secrets of a successful Facebook live video campaign today!
***Add #VCBuzz chats to your calendar here.
***Please sign in here to follow the chat -> twchat.com/hashtag/vcbuzz
About Ai Addyson-Zhang
Ai Addyson-Zhang, Ph.D @aiaddysonzhang is digital learning consultant and professor.
She is hosting a weekly Facebook Live show on Education and technology. She launched the show called Classroom Without Walls: Using Technology to Reimagine Education in June 2017. Every Wednesday 5 pm EST she interviews leading professionals and educators regarding issues related to social media, technology, education, and innovation.
Questions we discussed
Q1 What gave you an idea of starting a Live Show on Facebook?
@garyvee has discussed the importance of operating like a media company for both individuals & brands. An essential component to operating like a media company is producing content. – Live video is a more interactive way to create content & to co-create content.
According to @Cisco's annual Visual Network Index forecast in 2017, video will represent 82% of all IP traffic in 2021.
Also predicted that live video will grow 15-fold, from 3% of internet video traffic to 13% by 2021. Video is going to dominate.
64% of customers are more likely to buy a product online after watching a video
Digital marketing expert, @jmcquivey, estimated that a single minute of video content = 1.8 million words.
Read more here
In terms of Facebook, Mobile videos on Facebook are:
2.9x more likely to help people feel connected to friends & family
1.9x more likely to give people something to talk about.
Learn more here
On the other hand, my live video journey didn't start on Facebook. I was a heavy user of Snapchat which trained me to be comfortable with digital storytelling via videos. Start with a platform that you are comfortable with and slowly incorporate live video.
A1 I am very active on YouTube and when they made it easier to go live I decided to #livestream at least once per week. I look forward to my weekly shows #vcbuzz

— Ileane Smith (@Ileane) June 5, 2018
Well said. Love that last point. Not everyone is comfortable with video. But the best thing is that we don't have to start with videos right away. We can take things slow until we become more comfortable with a platform. #VCBuzz

— Narmadhaa (@s_narmadhaa) June 5, 2018
Exactly, Narmadhaa! Take baby steps and go slow!
Q2 What types of results did you see since you started? What can business / person expect when they decide to start a live show?
I started my Facebook live interview show in June 2017.
Several of my interviews gained 1.3K to 1.4K views, hundreds of comments, & dozens of shares.
My show has been viewed by people from 14 countries.
My FB live show has helped me:
Expand community
Create a virtual & global classroom
Establish myself as a micro-influencer
Grow my email list
Bring opportunities to me
Cultivate deeper relationships with guests on my show & people in my community
Ironically, the process of running my Facebook live show has helped me understand my mission, vision, & business goals better. Has also helped me understand my audience better – action creates clarity.
Absolutely!

We can only plan so much; at some point, we have to take actions.

Actions help us gain clarity. #VCBuzz

— Ai Addyson-Zhang, Ph.D Digital Learning Evangelist (@aiaddysonzhang) June 5, 2018
People do business with people. Live video allows you to be more human & relatable to your audience. It empowers your audience to be part of the content creation process. It's cost-effective. All you need is a phone & wifi connection.
A2. I actually grew my audience bit by bit since I started live streaming and I allow them to be a part of the recording process of the podcast #vcbuzz

— Cheval John, Social Media Professional (@chevd80) June 5, 2018
Live video brings more excitement & emotions to product launches, exclusive offers, etc. My live audience has purchased products from my FB guests even though it was their first time to meet. My audience's trust in me has helped them trust my guests.
People love unedited & unfiltered content. In this video by Airbnb, they asked their audience to guess the location of the scene. Nobody was even talking in the video. Yet, it generated 617K views & 800+ comments. – Watch it. (That's a 7-minute video by Airbnb! They didn't even talk during the entire 7 minutes… frankly speaking, it is a kind of "boring" video. but look at the engagement. crazy. no text msg can do that.)
Q3 What are essential steps for starting a show and then succeeding in it?
Do NOT start with producing content first. Instead, start with the end in mind, ie, your business goals
Understand WHY you want to start a live show
What are your business goals? How is your show going to move you closer to your business goals?
Where does your audience hang out?
Are they on Facebook?
Can you keep up with running a show consistently?
How large is your team?
How much is your budget?
Knowing the why is so important. Otherwise, it's just too easy to give up. #VCBuzz

— Narmadhaa (@s_narmadhaa) June 5, 2018
Exactly! need to know your "why" -> to get you going and to help you be more strategic with your content creation.
Develop a community before you need one to support your content => This is very important. Understand your audience's needs & pain points => this will help you provide content of value to your community.
No need to invest in fancy equipment right away. Give yourself a few months to test out your ideas before you make a heavy financial investment in equipment. Don't let equipment be your excuse to not live stream.
Fail to plan; plan to fail => Have a content calendar & book your guests in advance
Research your guest
Send your Qs & logistics to your guests
Send reminders to your guests at least 1 week in advance
Help your guests get comfortable with camera
Live show is interactive & immersive. Invite your audience to help you select guests & interview topics. Give your live audience shoutout. Co-create content with your live audience: ask Qs & inviting them to join the live video chat (possible with BeLive).
BE CONSISTENT => this is the most important one probably. Develop a frequency that works for you and show up! Push the damn button as @iSocialFanz and @ChocolateJohnny say.
In this blog post, I shared 7 tips that can help one launch & succeed in facebook live videos.
I am an introvert and I find it easy to interview people who are experts in their respective career fields #vcbuzz. It helped I had a podcast before launching to a live stream format

— Cheval John, Social Media Professional (@chevd80) June 5, 2018
You can practice within your facebook group and then delete it afterwards. That way you get the necessary practice #vcbuzz

— Cheval John, Social Media Professional (@chevd80) June 5, 2018
Exactly. Like Cheval who has a podcast, i was video chatting everyday on snapchat, which truly helped me. you really have to practice a little bit before you feel comfortable going live on FB.
I also love another tip that @ChocolateJohnny shared with me when he was on my show. You can let people know that it's your 1st live show. And you are new! People understand.
Q4 How to promote your show (inside and outside of Facebook)?
Promote your show on multiple channels including stories.
Send personalized reminders via DM or PM to people who have expressed an interest in your show
Promote your show before, during, and after your live show is over.
Before: share graphics on multiple channels
During: invite people to share, comment & live tweet
After: share highlights of your show on multiple channels w/ a replay link
Repurpose your live show: video clips, blog recaps, quote images
Don't spam people. Only tag people who might be interested in the topic
Create a Twitter list of people who have shown interest in your show
Create a facebook group linked to your public Facebook page
Encourage your guests to promote your show
Upload your Facebook show to YouTube, your website, etc
Don't expect people to come to you to discover your content; make your content accessible to them
Do blog recaps of your show & insert the live video links in your blog
Make your live show educational + entertaining
Do giveaways & prizes
When I had Mark Schaefer on my show, i selected a lucky winner to get a copy of his book, known. When I had Chocolate Johnny on the show, John did a giveaway of his chocolate
A4 I promote my YouTube live by expanding into other platforms. First I set up a @Patreon page and next I started #streaming on @Twitch #vcbuzz

— Ileane Smith (@Ileane) June 5, 2018
@aiaddysonzhang Chocolate Johnny is amazing. I started watching him on Periscope #vcbuzz

— Ileane Smith (@Ileane) June 5, 2018
Me too and Snapchat! He is so real and authentic. I had the honor to see John speak in person. LOVED it.
A4. I basically convert the show into a podcast, then I edit it on youtube for a snippet and then I post the snippet, the podcast episode and the quotes from the show on my business blog #repurpose #vcbuzz

— Cheval John, Social Media Professional (@chevd80) June 5, 2018
I love how you combine your show with a podcast, Cheval! That's SO brilliant! Great idea.
Yes! These are amazing additional tips. Thank you, Narmadhaa. #VCBuzz https://t.co/F9XVyx8Q6B

— Ai Addyson-Zhang, Ph.D Digital Learning Evangelist (@aiaddysonzhang) June 5, 2018
Q5 What are your favorite Facebook marketing tools?
I tried going live on Facebook natively. Also tried using third-party tools such as Zoom & BeLive – BeLive is my favorite one to go live. Read my blog here.
A5 EcammLive from @EcammTweets is my favorite tool for live streaming on Facebook, YouTube, Twitch and Periscope. It is incredible #vcbuzz

— Ileane Smith (@Ileane) June 5, 2018
Yes. That's a great tool. I heard lots of good things about it. How much does it cost?
@aiaddysonzhang It's $79 but you only have to pay once. No monthly fees. It's Mac only #vcbuzz

— Ileane Smith (@Ileane) June 5, 2018
That's not bad at all. With BeLive, you do have to pay a month fee.
Use Facebook insights, Facebook's built-in analytics. It has several metrics: engagement rates, clicks, impressions, etc.
Rely on your data to make informed & strategic decisions regarding guest & topic selections.
Develop a habit of creating content and auditing your content.
Make strategic adjustments based on your auditing results.
Your content evolves as you evolve
A5d. Check out these amazing livestreamers
– @marioarmstrong
– @ChrisStrub
– @owenvideo
– @chocolateJohnny
– @iRossBrand
– @MadalynSklar
– @heystephanie
– @winniesun
– @chevd80
– @pressplaypres #vcbuzz

— Ai Addyson-Zhang, Ph.D Digital Learning Evangelist (@aiaddysonzhang) June 5, 2018
+Zoom and BeLive: https://t.co/bpY4O17ALi RT @seosmarty: Tools for live-streaming today: @BlueJeansNet @ecammtweets @vimeo (live) ANY MORE? #vcbuzz

— Ann Smarty (@seosmarty) June 5, 2018
@seosmarty I thought the price was too steep. If I want to stream to multiple platforms I use @CrowdcastHQ #vcbuzz

— Ileane Smith (@Ileane) June 5, 2018
@seosmarty Another amazing platform is @Stagetentv Great for multi-streaming #vcbuzz

— Ileane Smith (@Ileane) June 5, 2018
I tried to use Zoom to go live on Facebook. It definitely takes some practice to figure it out.
Our previous Facebook marketing chats: