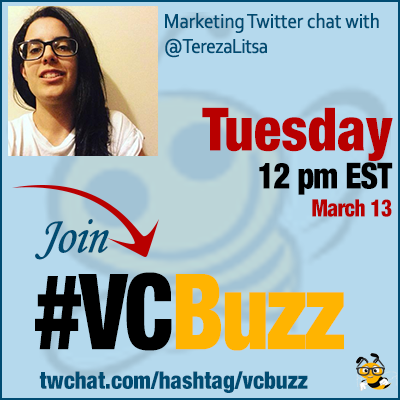 Facebook is a marketing platform businesses cannot ignore: It's huge, it beats any other social media network when it comes to the effectiveness of its ads and your competitors are probably already there.
Facebook offers a robust marketing and analytics solution called Facebook Insights. It's a shame not many marketers take the full advantage of it. Today we'll try to change that.
***Add #VCBuzz chats to your calendar here.
***Please sign in here to follow the chat -> twchat.com/hashtag/vcbuzz
About Tereza
Tereza Litsa @TerezaLitsa is social media manager @Lightful.
Tereza loves blending social media and content and it's always exciting keeping up with the latest trends in content marketing.
Questions we discussed
Q1 How did you become a digital marketer? Please share your career story!
I was always passionate about content and digital technologies. So the combination of these two led me to digital marketing. I really enjoy keeping up with the latest trends, as challenging as this can be! 🙂
Q2 What are the first steps a business (manager) should take to better understand how to use Facebook Insights?
Facebook Insights allow you to explore the performance of your Page and your Posts. They can help you learn more about your followers and which content types work better.
A2: There's no shortage of organizations and small companies more than happy to let you handle their digital marketing. Cut your teeth on those who can't afford very experienced people and learn by fire. #vcbuzz

— Josh McCormack (@joshmccormack) March 13, 2018
Start spending time on Insights to understand all the metrics. Explore all of them and discover which ones make more sense for your business. Focus on what matters and start measuring your Page's performance.
Outline your objectives, focus on the measurements for this, it's so easy to get lost down a rabbit hole of data without a clear goal #vcbuzz

— POLLYANNA WARD (@Pollage) March 13, 2018
A2: Amazingly, many businesses never even look at the freely available demographic data such as through Facebook Insights. #vcbuzz

— Josh McCormack (@joshmccormack) March 13, 2018
That's true, Josh!
Which metrics do you think are the most valuable there? #vcbuzz

— Anna Fox (@manifestcon) March 13, 2018
I'd say it depends on your goals. If you focus more on the awareness, you'll pay more attention to the reach for example, but it's also important to monitor the engagement and how your audience reacts to your content.
@manifestcon Try to find a social media marketing company that knows how to leverage data to know your audience, rather than one that just knows buzz words and talk about viral videos. #vcbuzz

— Josh McCormack (@joshmccormack) March 13, 2018
Q3 After the most recent Facebook algorithm change, how can business adapt?
Facebook wants you to focus more on the engagement. Blend organic and paid activities to reach your target audience. Favour quality over quantity. And don't forget to get creative with video content!
@terezalitsa Engagement is where it's at. Likes, shares, follows, reach and all of that are not truly meaningful. #vcbuzz

— Josh McCormack (@joshmccormack) March 13, 2018
Exactly, likes or the number of followers don't tell the right story comparing to the engagement 🙂
So you advise against paying per engagement? I think it's their default ad setting… #vcbuzz

— Anna Fox (@manifestcon) March 13, 2018
It can help to boost your most engaging content, provided that it's still part of your strategy. It's better to boost the content that's more engagement to make sure you use your budget wisely.
A closer look at data can help you optimise your social strategy. You can create more successful campaigns that are meaningful and drive actions.
Q4 Other than ads, are there any other marketing goals Facebook Insights can help with?
Facebook Insights can help you learn more about your followers. You can understand their habits, their reactions to your content. You can create a more successful marketing strategy by focusing on analytics.
A4 Shout-out for @Buzzsumo Facebook Analyzer here. While FB Insights help learn from your own campaigns, @Buzzsumo allows you to learn from competitors! #vcbuzz

— Ann Smarty (@seosmarty) March 13, 2018
@terezalitsa Your followers are your marketing long game. Ads are the short game and ways to boost what isn't happening organically. #vcbuzz

— Josh McCormack (@joshmccormack) March 13, 2018
Test and learns, it's a great platform to A/B test due to its scale and cheaper costs than other platforms #vcbuzz

— POLLYANNA WARD (@Pollage) March 13, 2018
Q5 What are your favorite Facebook marketing tools?
I'd love to hear everyone's favourite #Facebook marketing tools. It's great testing new ones!
I love trying out new tools but my favourite ones the past year, especially when combined, are @quintly, @Buzzumo, @CoSchedule, @Brand24, @Hubspot, and of course, @Lightful's social media platform.
A5 My tool: @Cyfe: You can create a separate dashboard for your Facebook insights to see lots of stats for lots of accounts in one place #vcbuzz

— Ann Smarty (@seosmarty) March 13, 2018
Ads Manager is super powerful, the Campaign Planner is great for clients and agencies, audience overlap tool when buying ads, the Pixel analytics etc – essential for that final part of marketing funnel #vcbuzz

— POLLYANNA WARD (@Pollage) March 13, 2018
A5 @hootsuite and @CoSchedule here #VCBuzz

— Anna Fox (@manifestcon) March 13, 2018
A5 Two more tools to mention here: @drumupio and @MavSocial for easy scheduling FB updates to many places #vcbuzz

— Ann Smarty (@seosmarty) March 13, 2018
Our previous Facebook marketing chats: