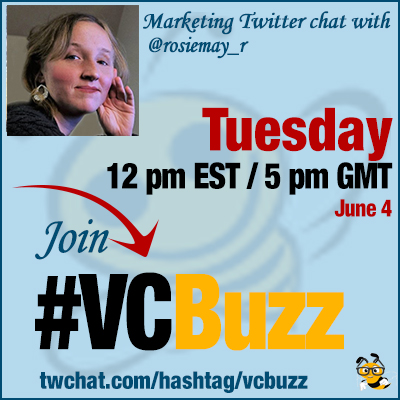 Earning money blogging is everyone's dream. Isn't it nice to be able to write on interesting topics and get paid for that?
It is really nice but not easy at all. Blogging your way to income takes time and effort. Let's discuss exactly how to use blogging as a revenue building tool.
***Add #VCBuzz chats to your calendar here.
***Please sign in here to follow the chat -> twchat.com/hashtag/vcbuzz
About Rosemary Richings
@rosiemay_r
Rosemary Richings @rosiemay_r is blog audience outreach and engagement specialist. She also a podcaster and ebook writer.
Connect to Rosemary on LinkedIn
Questions we discussed
Q1 How did you become a content marketer? Please share your career story!
10 years ago I started my 1st blog. By college, it became an obsession.
Then I started to get work with a variety of not for profits when blogging was just starting to be popular. At work, they loved my blog, so I started to write posts for them.
Then I graduated college and my blog was evolving enough that people hired me to work on their blogs. So I made it a biz and haven't stopped since. 
A1. I used content as a way to compel somebody to take a commercially-valuable action. That is the ONLY way you become a content marketer #contentmarketing #vcbuzz

— LYNDON [COMMS.BAR] JOHNSON (@THINK_Lyndon) June 4, 2019
A1.) I was a vegetarian and decided to chronicle my journey through blogging. Created the #1 vegetarian blog in Google and after some time – sold it. And that was my web and content marketer start. #vcbuzz

— Missy Diaz (@ChicagoGeekGal) June 4, 2019
Q2 What's the first step one should take to turn blogging into a revenue source?
It's important to think of it as not a one size fits all process. Different revenue models work for different people.
You need to pick 1 option that works best for your audience. Maybe it will be ads, maybe it will be services, or perhaps it will be affiliate links, etc.
How you know what works best: ask your audience and don't be afraid to try things.
Because worst case scenario is silence.
As I mentioned earlier, what works best for you also matters. There are different pros and cons of all options.
#vcbuzz – Decide on the revenue model. Affiliate marketing, Adsense, service offerings, digital products, sposnpored posts, etc. Decide which, how and what.

— Missy Diaz (@ChicagoGeekGal) June 4, 2019
Consider your strengths and weaknesses when choosing an option, how much time you want to dedicate, and what makes sense with your resources and branding.
Q3 Realistically, if you work very hard, how fast can a blog start producing real income? And how can one achieve success?
It depends on 2 things: the reach of your content and how much of an audience you already have.
If you're already reaching plenty of people on other platforms, it will take less time than someone starting from scratch.
Build trust and make people willing to take action through being transparent about what you're actively selling.
Producing content where you offer relevant value and then offer what you're selling as a solution you believe in.
Don't see it as a sales pitch, consider how and why it relates to your content.
Someone mentioned something about real income. Well that depends on your goals really. Not everyone is going to make 100 K on affiliate sales.
Q4 What are some biggest mistakes bloggers make when trying to make money?
They expect results too soon. No matter how you make money off blogging it will take time and a lot of consistent content publishing and promotion for results.
I also see a lot of people put quality before quality with their content, which is a huge mistake. Because quality matters more than most realize when trying to make $ off blogging.
Quantity before quality? #vcbuzz

— Don Sturgill (@DonSturgill) June 4, 2019
@DonSturgill Yep, so important! #vcbuzz

— Rosemary Richings (@rosiemay_r) June 4, 2019
The problem with not putting quality first is that the most important way to sell is to win over your audience first. 
Lack of consistency and not enough content= lack of credibility.
A4 (5/6): It's why I'm not a big Adsense fan. It looks out of place and as @JuliaMMcoy put it: "most modern consumers are wise to the modern sales pitch & uncomfortable with traditional sales tactics": https://t.co/Op32RlUHCk #vcbuzz

— Rosemary Richings (@rosiemay_r) June 4, 2019
So if you want people to buy from you, you need to be in control of what is advertised and endorsed.
Q5 What are your favorite blog analytics and monetization tools?
I'm a huge @buzzsumo fan. They're a tool for measuring content engagement. It will help you figure out what is the most popular with readers.
Other analytics options I can think of: not "tools" but good to keep tabs on what's popular.
In incognito mode on chrome you can search for a topic on Google and see what other others are interested in without the influence of your search history.
Then, of course, there are your Google social media analytics, and blog analytics. This helps get a detailed view of what others like.
Monetization trick: start by making a list of brands you love, that are also applicable to topics you cover and find out if you can do a brand partnership with them. The biggest selling point: a niche, like-minded audience.
Our previous monetization chats: