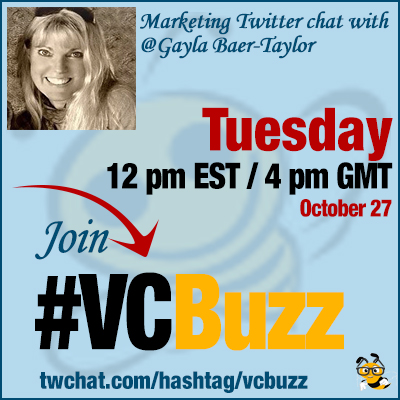 For big brands, content marketing is about influencer outreach, interactions and brand awareness. But if you are an independent blogger, monetizing content is as essential: After all, we all need to earn our living!
Today we are discussing monetizing your content and doing that effectively with @Gayla Baer-Taylor
***Please sign in here to follow the chat -> twchat.com/hashtag/vcbuzz
***Important: Join this event on Google Plus to be notified of upcoming chats (It's easier with daytime savings and different time zones!)
About Gayla
@Gayla Baer-Taylor is an experienced freelance writer, blogger, community moderator, and social media professional.
@Gayla Baer-Taylor is founder of Gadabout Media.
Please connect to Gayla on Linkedin!
Questions we discussed
Q1 I know you have an impressively long career… But just in a few sentences, please tell us how you got where you are now! We love inspiring career stories!
I began working from home in 1999 on a leap of faith to work for a micro-niche dating site as community manager. I was a single mom of twins – so I had to at least try. I've been working from home since.
@seosmarty it was tough but a blessing too #vcbuzz

— Gayla Baer-Taylor (@Gayla) October 27, 2015
In 2003 I began working w/ Darren Rowse aka Problogger and the b5media blog network. My career just keeps evolving.
@Gayla That's still A1 isn't it? #vcbuzz

— Tadeusz Szewczyk (@onreact_com) October 27, 2015
For about 3 years. My biggest claim was selling a site for 6 figures
Q2 What are your favorite content monetization tactics? Please share your secrets! ?
I tend to be a lazy when it comes to monetization. The simpler the better.
Many programs have bookmarklet tools make it easy to link to a product page, from your browser.
A2 I love monetizing my sites with my own products: Udemy courses and actionable ebooks = best for that! #vcbuzz

— Ann Smarty (@seosmarty) October 27, 2015
The same goes for optimization. While I still do some things manually, I have learned to automate much of my optimization.
Details on my favorite tools are here
@Gayla So you monetize with Amazon? #vcbuzz

— Tadeusz Szewczyk (@onreact_com) October 27, 2015
Yes I do some.
Many affiliate programs are not friendly to new or lower traffic bloggers. I've found Viglink to be a great way to still earn, even when I've been rejected from some programs.
I detail my use of VigLink here
A2 NICE one "Test Driving the ShareaSale Product Discovery Bookmarklet Tool" -> https://t.co/jbhTDK0fwr #vcbuzz

— Ann Smarty (@seosmarty) October 27, 2015
I highly recommend programs/clients offered through this.
AM also works with you to provide custom banners, custom links, etc. They brainstorm with you to develop campaigns
Q3 What should content providers stay away from when planning their monetization strategy?
The first thing I would recommend is staying away from duplicate content. The difference between duplicate content & syndicated content – something every blogger should know.
Next I would recommend doing your research into affiliate programs. Major platforms like CJ and Shareasale provide details of low budgets, etc.
Try @myblogu ? RT @smhackapp: @Gayla How do you come up with new ideas for your content? #vcbuzz

— Ann Smarty (@seosmarty) October 27, 2015
I find inspiration through news feeds, Alltop, Amazon best sellers lists and through friends on Facebook.
It's tough joining a program, promoting them and then go back and remove them. However, that's where PrettyLinks comes in handy.
When you have an affiliate that's been cancelled, it's easy to update links in one place to change all links in blog.
You can usually pick up the buzz topics through your friends. Ask questions, get their feedback on what they want.
Q4 Any examples of great monetization tactics? We'd love to see those who do it right!
Deborah Ziegler is the amazing blogger from the website. She presents a unique perspective on Hancock Fabrics because she has a connection to the store from childhood.
She's posted countless blogs about her Hancock Fabrics projects & has driven many new impressions & clicks from them. But I would have to say my favorite is her blog titled "Hancock Fabrics…My Fabulous Getaway
She has recently been asked by Hancock Fabrics to be a featured reoccurring blogger on their site's blog.
A4: @vcbuzz VigLink shows some good case studies. #vcbuzz Design Milk is my fav: https://t.co/lLUDjEYRcG

— Tadeusz Szewczyk (@onreact_com) October 27, 2015
australian-shepherd-lovers.com is another.
Sends a bi-weekly newsletter, different from their main newsletter, w/ puzzles, photo / week, and a cartoon of the week. He's a top performer for Best Bully Sticks & Cherrybrook.
The highlight about this affiliate is that they monetize old content about bunions and plantar fasciitis a long time ago.
Q5 Being a freelancer with such a huge experience, how do you keep yourself productive? Share your favorite productivity tips and tools!
I am very frugal and simple. I don't use costly gadgets or programs. I automate where I can with WordPress plugins, love using Google Docs spreadsheets to organize my content and calendar. I schedule posts and take advantage of extra time when I have it to work ahead.
@Gayla A5: I agree, you can get lots done with all the good tools out there! #vcbuzz

— Janette Speyer (@websuccess) October 27, 2015
I rely on my affiliate managers and their newsletters to keep me abreast of what is hot and when. Affiliate Managers are one of the greatest, untapped resources available. They love to help.
It's important to know that when there is a product you use, like & purchase over and over is an opportunity to market.
My loyalties have grown for the clients managed by affiliatemanager.com -they are all so helpful.
I put together a handbook with all the goodies and tutorials. You can download a copy here.
I am happy to brainstorm with anyone who needs inspiration on how to monetize better or affiliate programs to join.
Are all the affiliate programs about the same, @Gayla, or does one stand out as best supported? #vcbuzz

— Don Sturgill (@DonSturgill) October 27, 2015
One in particular is Amoils – essential oils. The manager worked with me to fully optimize my site. They know what works and what doesn't. They're a treasure chest of information.
My personal favorite network is Shareasale. I mix & match quite a bit across several blogs.
RT @ePrussakov: 20 Critical Criteria for Choosing Affiliate Program: https://t.co/2lEpQ1tAQL & https://t.co/72ZzjlMWtu #vcbuzz

— Gayla Baer-Taylor (@Gayla) October 27, 2015
Our previous content monetization chats: