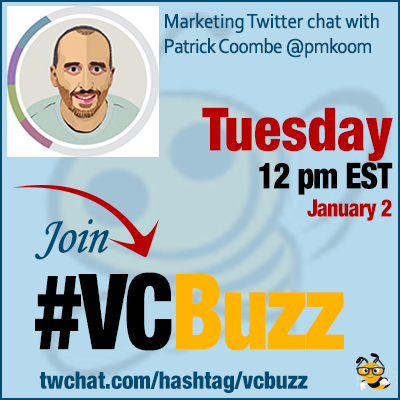 There's never such a thing as too much experimenting or too much money, so we continue bringing you ideas of new Internet ventures you may want to check out.
Today we are talking about setting up a new eCommerce project to give you an idea of how you can create a new digital source of scalable income.
***Add #VCBuzz chats to your calendar here.
***Please sign in here to follow the chat -> twchat.com/hashtag/vcbuzz
About Patrick
Patrick Coombe @pmkoom is an internet marketer by profession, and has been self-employed as an SEO since 2009.
Past accomplishments include US Navy veteran of the USS Boxer also studied Computer Science at McCann School of Business in Pottsville, PA.
Currently Patrick is founder of an SEO company called Elite Strategies @elitestweets
for anyone wanting to see a real world example of a site Patrick has built check out: https://t.co/REeRWUIsUg #vcbuzz

— Elite Strategies (@elitestweets) January 2, 2018
Questions we discussed
Q1 How did you become a digital marketer? Please share your career story!
I started programming and building PC's when I was 8 years old thanks to my Father. From there it was all I ever wanted! I learned HTML in the 90's then "caught the bug" … MySpace themes was my first hustle only making a few bucks but full blown addiction.
In the 2000's I started building websites as a hobby, lots of other interweb stuff. In 2009 I started @elitestweets and launched affiliate marketing campaigns.
Q2 When someone wants to set up a new eCommerce site, where should they start? What are the first steps?
Choose a niche! Choose something you are knowledgeable about. Find something you truly love and are passionate about. If you love to say crochet, or ride unicycles, or go hiking, find a niche you can personally relate to… I know people that don't do this and just hire writers, but its much easier if you do
I can't tell you how many people I see making websites for e.g. "blenders and smoothies" when they have zero knowledge of the industry.
From there, knowledge of HTML. Learn to make a website top to bottom with only HTML. If you already have exp. I recommend #WordPress / @WooCommerce make it so easy from there.
For new users: buy a new domain and hosting and setup a "test site" on your own. IMO the easiest way to LEARN is to DO
@vcbuzz A2. I think that you should start with your website if you have already built a subscriber base #vcbuzz

— Cheval John (@chevd80) January 2, 2018
A2. Make sure you're ready! Consider all the things that go into setting up a website, like cost, SEO, reputation mangement, etc. https://t.co/FFsdyVLlQY @vcbuzz #vcbuzz

— Netsertive (@Netsertive) January 2, 2018
Q3 How to effectively optimize, monetize and market a new eCommerce site?
Optimize – ensure all on-page SEO is on POINT (our on-page SEO guide) make sure your site loads FAST and is mobile friendly (very key)
Monetize – this will vary, if its #eCommerce than obviously product sales but you can add in ad impressions or affiliate links as well, build traffic and a following, and monetization will ALWAYS work itself out!
Market – the fun part about eCommerce is once you start getting sales you can use your customers to promote the products you sold to them. want 10% off? can you tag yourself in a photo with the product you are using? (just one example)
A3. Make it easy for others to find you. SEO, paid advertising, social marketing, etc. Make sure you're where your audience is. @vcbuzz #VCbuzz https://t.co/FFsdyVLlQY

— Netsertive (@Netsertive) January 2, 2018
Q4 When it's built, how much time commitment are we talking about here? What should and can be scaled? What should be delegated? What should we keep an eye on daily or weekly?
Like any business, the more you put into it the more you get out of it. I know people that do 1 hour daily, and those with a full team doing it full time. SEO and social are super important. Making sure you are connecting with your audience and customers.
As for time commitment, one hour per day minimum I would say, the more the better! On a daily basis you need to respond to people on social, do outreach, add new products, respond to emails, deal with people
A4. You must be committed for the long run and not look for the quick sale #vcbuzz

— Cheval John (@chevd80) January 2, 2018
A4 I have yet to start an ecommerce site, but with blogs and communities, it's about 12 months of hard work before it can get easier… #vcbuzz

— Ann Smarty (@seosmarty) January 2, 2018
Q5 What are some digital marketing (design, testing, affiliate, SEO, etc.) tools you use on a regular basis?
Ok here we go:
Notepad++ (everything from coding to regex),
Screamingfrog for on-page SEO,
Photoshop CS6,
#WordPress and @WooCommerce obviously,
Google Keyword Planner,
Google Keep (drafting content ideas)
ShareX (making cool screenshots and screen share videos),
Excel,
piwik for analytics (it's more of a "support small open source projects than Google' for me but Google Analytics is a solid option too!),
spyfu for competitor insight
More from buzzers:
A5 to add to SEO tools: @serpstat for kwd research and @netpeaksoftware for auditing https://t.co/1tcdNvMzDI #vcbuzz

— Ann Smarty (@seosmarty) January 2, 2018
@vcbuzz A5. I basically use @bluejeansnet for recording my podcast which can help you market your ecommerce website #vcbuzz

— Cheval John (@chevd80) January 2, 2018
Our previous eCommerce marketing chats: