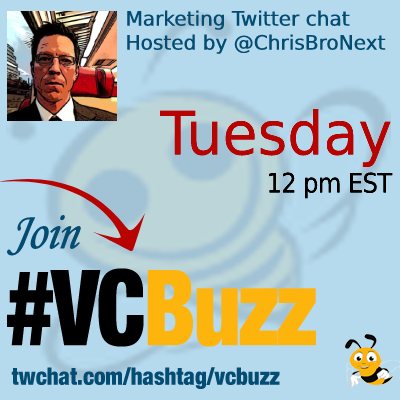 Long gone are the days when Artificial Intelligence (AI) was merely a topic of sci-fi movies.
AI is now part of our lives, and it's taking the marketing industry by storm.
How to utilize AI in your social media strategy to empower it? Let's discuss!
***Add #VCBuzz chats to your calendar here.
***Please sign in here to follow the chat -> twchat.com/hashtag/vcbuzz
About @ChrisBroNext
@ChrisBroNext is customer experience account executive at @LatelyAI, AI powered social media platform.
He is also an award-winning music curator and rock 'n' roll podcast host.
Connect to Chris on Linkedin!
We also hosted another chat with @LatelyAI team: How to Create an Effective Social Media Calendar with @LatelyAIKately of @LatelyAI #vcbuzz
Questions we discussed
Q1 How did you become a digital marketer? Please share your career story!
This is a very long story. One probably best shared over beers.
Short answer: Many moons ago I sent a tweet. I was a stay at home dad. My kids needed less of me – I was looking for work. The tweet "who wants to take a chance on a stay at home dad with a 15 year gap in his resume?"
Kate, Lately's CEO, called me – we chatted and she offered me a job.
I had known Kate through a new music show I host on the radio and Spotify. I;ve been an elementary school teacher. A radio DJ, Worked at a bookstore, 1st job – a paper route. I think all of this has helped me in marketing #VCBuzz playing soccer in college too.
I've learned so much from @LatelyAIKately and her team like @kristenshed6 @nessajbaker Especially @cadijordon she's brilliant. It's been fun. And challenging.
Q2 What are some of the best practices of using AI in social media marketing?
I'm going to start with a Prince quote: "Technology is cool, but you've got to use it as opposed to letting it use you."
There is a right way and wrong way with AI. Think of AI as a co-pilot. AI takes away the busy work. AI takes away the fear of the blank screen. AI starts you on 3rd base.The key is teaching the AI by making it look/sound/feel the way you want.
PS: When in doubt come back to that Prince quote. I bet you didn't think you'd be hearing from the Great Purple one today during AI chat on.
Remember AI is only beginning. It's going to get bigger, smarter, faster. AI right now is NOT pressing a button and being done. The AI starts you off. You need to finish it.
There are many brilliant aspects to @LatelyAI. The key is that we combine the AI with the human. We want/need that human touch. And with AI having "a moment" I think a lot of people have realized that AI needs help.
Q3 Are there any don'ts? What shouldn't AI be used for in marketing?
Don't forget the human element. You are the key.
Do edit. Do read it out loud. If it doesn't flow when you read it – it will sound bad when you post it.
Remember you can't just press a button and have the AI do everything.
Q4 Let's talk about @LatelyAI: How does the tool utilize AI?
Remember that Prince quote? That's Lately!!!
I've touched on this. The key is YOU. Our AI creates a custom writing model based on you, your followers, and your engagement. Then our AI uses that custom writing model everytime you upload a new piece of content.
You connect Twitter, LinkedIn, FB, and/or IG and our AI goes back about a year and starts building YOUR custom writing model. And you continually teach the AI every time you post.
Content can be yours, earned, or found. The AI then breaks down the blog/article/Podcast/Video into engaging social media posts. Giving you the ability to quickly drip out the post in a frequency that makes sense for you and the platform and your followers.
Q5 What are your favorite digital marketing tools?
We use @slackhq I'm not very "arty" so I like @vistacreate and/or @adobespark to create good looking graphics.
Oh and @loom it's a quick and easy way to record my screen. @zoom it's one thing to talk about what our AI does. It's another to see it. Zoom meetings help a lot.
@calendly I hate back and forth. Here's my calendar – pick the best time for you! And/or give me yours and I'll pick. #VCBuzz and @hubspot having a great CRM with everything in one place. Quite handy.
This year I really want to journal. I have in the past and that helps.
Our previous social media marketing chats: