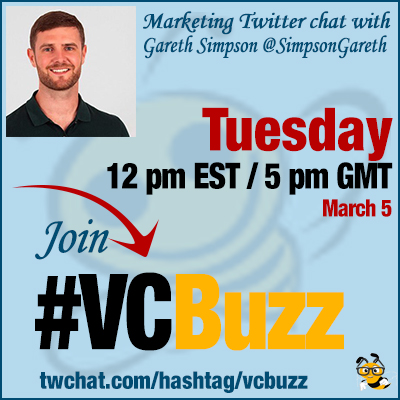 "Build it and they will come" tactic doesn't really work, unless you "built it" on already well-discussed well-known brand.
To get people talk about and link to your content, you need a carefully-set up outreach campaign for each of your assets.
Let's discuss how to do that!
***Add #VCBuzz chats to your calendar here.
***Please sign in here to follow the chat -> twchat.com/hashtag/vcbuzz
About @SimpsonGareth
@SimpsonGareth is co-Founder of outreach agency @SeekerDigital
@SimpsonGareth is also running an advanced outreach and link building training course at @BrightonSEO in April 2019
Connect to Gareth on Linkedin
Questions we discussed
Q1 How did you become a digital marketer? Please share your career story!
I first started doing SEO back in 2005 when my father handed me one of the only books around on 'internet marketing' — he said 'this SEO thing is going to be big', guess he was right 🙂
A1 by accident: I loved writing and I loved digital writing and research even more! #vcbuzz

— Anna Fox (@manifestcon) March 5, 2019
I started my career in IT. I was a network engineer then transitioned to the web industry. SEO was a natural fit with its focus on data, networks, and systems. I also liked the fact that I got to work with the more visible elements of a brand.
A1: Funny one…kind of fell into it! Studied Media and Comms at Swansea Uni and fell in love with the industry, now i've been working in digital marketing for almost a year #vcbuzz

— Daisss (@_daisysawyer) March 5, 2019
I'm fascinated by complex systems, SEO allows me to build and interrogate systems whilst also satisfying my entrepreneurial side.
A1 Resigned from IBM after 23 years as a tech/project manager. Fell into doing PPC for 5.5 years; left to develop strategies for #smallbiz to survive Google https://t.co/ZVcuGzmun1 #vcbuzz

— Gail Gardner (@GrowMap) March 5, 2019
A1 I went to school for FILM production, if you can believe it! Was an out of work actor and fell right into marketing! #vcbuzz

— Lisa Shomo (@keenkoncept) March 5, 2019
A1 We started in digital marketing by being the lowest priced domain registration service provider in the world for a week and then in the U.S. up until GoDaddy came on the scene 😉 Fun times… #vcbuzz

— Deborah (@socialwebcafe) March 5, 2019
Q2 How to set up a successful link acquisition outreach campaign (step-by-step)?
First, identify your objectives. Look at your goals and what you want to achieve with your outreach campaign: think about volume, types of coverage, team setup, budget, timelines. Bad planning is planning to fail in outreach.
Look at search data to help you ID outreach target pages. I like to do a competitor gap analysis to figure out how much outreach we're going to need in order to close the gap. Look for pages that are going to be easy to push up & pages that drive conversions.
A2 Create *useful* content that is worth of links (and use social media and outreach to show it to the world) #vcbuzz

— Ann Smarty (@seosmarty) March 5, 2019
Profile the types of sites you want to get on: think about what you need to do to get onto those sites. Create a seed prospect list and grow from there. Tier your outreach prospects and organise by theme & location.
A2 Too many people are still paying to publish total crap content. What is the point of that? No one will read it. No writer will ever link to it, so how could it have any #SEO value? #vcbuzz

— Gail Gardner (@GrowMap) March 5, 2019
Run an ideation session to get to grips with the target pages and identify any niche crossover. People don't think broadly enough when it comes to outreach: be creative. Find all the different angles you could use and identify your outreach value proposition.
Choose your channels for pitching. Email is good, but social media is also another great relationship-building building channel for outreach. Try to break the mould and do something different like your subject line or using GIFs.
R2 Most email pitches are terrible. If they don't include your LinkedIn profile, examples of work, and some alternate way to confirm who you are and reach you – especially if you use gmail – expect to not get a response. #vcbuzz

— Gail Gardner (@GrowMap) March 5, 2019
Yeah it's surprising how bad most pitches are! The biggest mistakes I see are being too selfish (no value) and not being legit, like you say.
Pitching is essential for a great link outreach campaign. Put a lot of effort into creating super targeted, high-quality pitches. Know what they want to hear, then deliver on that.
A2: In short:

? Create a list of blogs and authors you want to reach out to.
? Write a clear, short, and personalized email.
? Track your results.
? Follow up, if needed.
? Profit! 😀#vcbuzz

— Pitchbox App (@PitchboxApp) March 5, 2019
Follow ups are important, but focus on building a relationship, not just bugging people and asking for a link. This has to be about value. Campaign lifecycles can be long, so be patient and be ready to pivot.
Q3 What are common outreach mistakes and how to avoid them?
Bad data and targeting: you lose 100% of the pitches you make to the wrong people. Find the best person to speak to before you waste your time. Get the data pipeline sorted.
A3 Do not pitch using email from gmail (easily impersonated) with no way to confirm who you are, why we would care, or whether you can even write. ALWAYS include another way to reach you + Linkedin profile + examples of your writing! #vcbuzz

— Gail Gardner (@GrowMap) March 5, 2019
An unclear value proposition will confuse people (and not having one is a big turnoff). Be clear on what you're offering & why. We actually wrote about this recently 😉
A3 I'm no expert, but I can't imagine copying template emails without even trying to customize them works well. #vcbuzz

— Mike Allton (@mike_allton) March 5, 2019
Bad reporting and not being clear on outcomes make for a bad client experience. Not getting buy-in from clients sucks. Build good systems and use clear communication from day one. Constantly communicate value and use data to justify outreach efforts.
Yes, outreach is getting harder because of the spam. You need to build relationships to get noticed in the sea of spam RT @davidhartshorne: @SimpsonGareth Why are so many outreach emails spammy! People are getting turned off by these now. #vcbuzz

— Ann Smarty (@seosmarty) March 5, 2019
Being too selfish: don't fixate on the links. Losing sight of the human aspect of this work is dangerous. Listen and be genuine
A3: Research, research, research. Make sure you're reaching out to the right person, someone who is involved in what your reaching out about. Know their title, their responsibilities, etc. #vcbuzz

— Kristen Vaughn (@kristen_vaughn) March 5, 2019
In outreach, I find people aren't being strategic enough when it comes to reading a situation. Zoom in on outreach convos to see what's going on. Even if it's not going your way, cultivate vision & you'll find a route in with a 2nd approach. Don't give up!
A3 Read the guidelines on a site. 700 word minimum means something. So does "no sales pages". And editorial content is NOT promotional. If you want promotional, that should be clearly marked "Sponsored" and the links nofollowed. #vcbuzz

— Gail Gardner (@GrowMap) March 5, 2019
Yeah it makes it harder to stand out and not be tarred with the same brush

— Gareth Simpson (@SimpsonGareth) March 5, 2019
A3 I am so tired of bad email pitches that I changed my guidelines to say DO NOT pitch using email. https://t.co/PwenZGzDKb If they don't have Skype, LinkedIn, Facebook or Twitter I don't take them seriously. #vcbuzz

— Gail Gardner (@GrowMap) March 5, 2019
A3: Mispelling peoples' names and writing "Hello, Name!" in the email introduction 😀 Spend time on checking grammar and spelling before you send your pitch.

Another big mistake is making the email too long. Be clear and short and you'll succeed. #vcbuzz

— Pitchbox App (@PitchboxApp) March 5, 2019
A3 Yes @PitchboxApp Relevance is the most important factor in link building. Focus on pitching only the most relevant sites – not all sites or all sites that are DAxx or whatever your criteria are. #vcbuzz

— Gail Gardner (@GrowMap) March 5, 2019
Q4 How to develop relationships with your linking prospects?
Links come from good karma! Think about how you can help other people achieve their goals. Offer something in return, or find out what makes them tick.
A4 Developing relationships is so easy now. You just have to do it. Use Twitter first. Participate in Twitter chats. Connecting on LinkedIn. Joining groups on Facebook and LinkedIn. Joining Mastermind Communities like @BizSugar https://t.co/2o23E04aXX #vcbuzz

— Gail Gardner (@GrowMap) March 5, 2019
Have empathy for their position. Don't just push a one-sided agenda. See if you can change what you're offering to better suit the site at hand. Change your pitch as the conversation evolves if you need to.
A4: Start engaging with them on other channels before reaching out directly. I've seen much better success when establishing a relationship via social media beforehand. #vcbuzz

— Kristen Vaughn (@kristen_vaughn) March 5, 2019
Show up on their radar before you show up in their inbox!
Depends on the site and prospect. Mirror their language and keep it direct but friendly. If you have done your prospecting right, your pitch should be bang on the money for them. Show up on their radar before you show up in their inbox.
A4: The secret is pretty simple:

✨Connect with them on social media first. It can be LinkedIn or Twitter (or any other, it depends on the audience). And just…engage with them! ?#vcbuzz

— Pitchbox App (@PitchboxApp) March 5, 2019
Let's stop with the link building stigma! The web is built on links, they are a channel in their own right, (called 'Referral' in Google Analytics). It's ok to ask for a link 😉
Q5 What are your favorite link building outreach tools?
For the logistics of outreach, I just love @pitchboxapp – it's got everything you need in one tool. The recent @zapier integration has been a game changer for us as we automate the data heavy lifting.
A6 If you decide to use a #linkbuilding platform like @Vazoola, YOU are responsible for building your links safely and for the quailty of the content that mentions you. #vcbuzz

— Gail Gardner (@GrowMap) March 5, 2019
For data, I like @ahrefs: it is a data powerhouse for link profiling. And it integrates with @pitchboxapp.
A5 I use @Buzzsumo all the time to identify influencers and then @nimble helps me manage those contacts. #vcbuzz

— Mike Allton (@mike_allton) March 5, 2019
.@BuzzSumo is great for influencer and content marketing – it's also a great campaign ideation tool. @Nimble looks cool.
A5: I prefer using @BuzzSumo to keep track of outreach efforts and targets, simple interface that keep everything in one place. #vcbuzz

— Kristen Vaughn (@kristen_vaughn) March 5, 2019
There are also some classic tools like @scrapeboxhelp which are super powerful.
However: tools are there to HELP with outreach and build relationships that might then lead to links: they WON'T do your link building for you. You can still do great outreach with an email client, a spreadsheet + Google search.
So, we are adding @Trello to our #tools list today! Thanks Gail! #vcbuzz

— Sana Knightly (@SanaKnightly) March 5, 2019
RE: Tools like @ahrefs @SEMrush, @Moz, @Majestic , etc. If someone can only afford one at a time, which do you recommend they start with (or stick with)? @SimpsonGareth #vcbuzz

— Gail Gardner (@GrowMap) March 5, 2019
This is a tough one! If I had to choose one, well you can't do much without good data so it would have to be @ahrefs for me. It offers the most bang for buck imo.
Our previous link building chats: