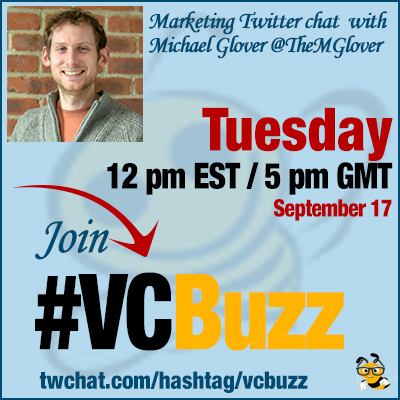 Digital marketing is one of the fastest moving industries out there. A short decade ago all we had was Google and look at us know: We deal with dozens of platforms, virtual reality, artificial intelligence and more
How to effectively connect all the dots? This is where the concept of omni-channel marketing comes from: the sales approach providing a customer with a smooth buying experience through multiple channels, including desktop or mobile device, via phone, or in a brick-and-mortar store.
***Add #VCBuzz chats to your calendar here.
***Please sign in here to follow the chat -> twchat.com/hashtag/vcbuzz
About Michael
Michael Glover @TheMGlover is content editor at @Veeqo, an online platform helping omni-channel retailers provide an epic customer experience by handling their inventory and shipping.
Questions we discussed
Q1 How did you become a digital marketer? Please share your career story!
To start, thanks for having me on!! Sooo… I kind of fell into it a little bit. I started back in 2012 when I owned my own fitness business, quickly realising that I had to learn how to market myself online in order to gain any kind of success.
I did that for about five years, building up a lot of first-hand experience on digital marketing. Then came to the realisation that I very much preferred the marketing side of things to any of the actual fitness stuff!
So I decided to segue my career into copywriting and content marketing. I did a bit of freelance and independent stuff, then found my current role at Veeqo – a platform for omnichannel retailers to manage orders, inventory and shipping in one place.
I've been working remotely as part of a small, but successful marketing team here at Veeqo for over two years now. It's been great helping to spread the word about all things omnichannel, something that's at the very core of what Veeqo does.
Q2 What is omni-channel marketing and what kinds of business models might find it useful?
A lot of people have the misconception that omnichannel is simply about having both a physical presence or store as well as online presence. But this is a major oversimplification, and in some circumstances simply just untrue.
Omnichannel is about: a) being 'everywhere' your customers are b) integrating it together on the back end to provide a seamless, unified experience.
So your customers should receive the same high-quality, consistent experience whether they're engaging with you in-store, on your website, on a smartphone app via social or anywhere else you sell.
If you think of it in terms multichannel vs omnichannel… Multichannel would be about providing different channels on which people can buy from you. So you might sell on your own website, on Amazon, a Facebook store and via a small brick-and-mortar store.
Omnichannel, however, assumes that modern day consumers may start on one channel, before completing their transaction on another. E.g. they might want to browse your Insta page, add to cart on your mobile store then complete their purchase via desktop site.
If you sell a physical product, there's also the fulfilment side of omnichannel. People don't just want multiple browsing and buying options, they want multiple delivery and returns options too.
So someone can have an item delivered to their home, return it by dropping off in a store and then have a replacement delivered to a locker near their work – regardless of where the initial purchase took place.
Retail and ecommerce brands would obviously be perfect fits to benefit from omnichannel. But I think it can suit many different types of business – basically anyone who sells anything in more than one place. The key is all about the integration.
So just to summarise, omnichannel is about giving customers the opportunity to: Buy anywhere. Deliver anywhere. Return anywhere. And for them to mix and match for these things according to whatever option suits them at any one particular time.
Q3 Where to start? How can a new business embrace omni-channel marketing?
So I totally get that on first reading all this sounds like a heck of a lot to think about. And maybe it's reserved solely for big brands with huge budgets. But it's not quite as complicated as it might seem on the surface…
It all starts with research. You need to know what your customers want, and where they actually hang out. Because the 'buy anywhere' side of omnichannel isn't literally about being absolutely everywhere. It's about being everywhere your customers are.
There's no point going hard on Instagram if your target market simply doesn't hang out there. Or perhaps more specifically, doesn't hang out there to engage with the kind of products or services you sell.
Know where your target market is, go there, make it a shoppable channel, and integrate it with the rest to create a seamless experience.
There's also plenty of solutions to branching out into the 'physical world' for online businesses, without having to actually open up a mass network of expensive locations…
Pop up stores can be great to test the waters and/or take your brand 'on tour'. And there are plenty of physical locations to utilise for things like click-and-collect (E.g. UPS stores in the US, and Collect Plus in the UK).
The trickiest part can be the whole integration thing. This will come through using high-quality selling platforms (Shopify Plus, BigCommerce) and management systems (Veeqo) to connect everything together on both front and back end.
A3: Start with your customer's portrait, make surveys to get as close to the point as possible. Find out which are his/her shopping habits, where they would go online/offline & focus your efforts on these channels, don't try to be everywhere, provide well-thought variety #vcbuzz

— Maria Sereda (@Maria_discovery) September 17, 2019
Q4 With so many things going on, how to keep marketing organized?
Not talking strictly omnichannel here for the moment, but from a pure organisational marketing point of view I just couldn't live without Google Sheets. Pretty much every strategy and plan I have is drawn up and shared with the appropriate people in a Google Sheet.
But when it comes to managing all the different arms of omnichannel, it's crucial to simplify. Reduce the amount of login screens you need to see each day by as much as possible – ideally to just one if possible.
This can be done by integrating your platforms together directly. Or using tools like Zapier and Automate if necessary.
Both are paid? #vcbuzz

— Jessy Troy (@jessytroy) September 17, 2019
Zapier definitely has a free version, but also a very low cost version (all the way up to a very expensive version) 🙂
A4: You need to set up goals you want to achieve, metrics you'll use to evaluate your success or failure and build up your strategy and distribute roles within your marketing team to enhance your efforts #vcbuzz

— Maria Sereda (@Maria_discovery) September 17, 2019
Q5 What are your omni-channel digital marketing tools?
I'm going to work on the assumption that you're selling physical products, seen as omnichannel is highly relevant to this and is what I've experience with. But a lot of these should also be very useful to anyone interested in general omnichannel marketing.
A5 I recommend @Cyfe for everything digital as it is able to connect all the dots in your omnichannel marketing campaign #vcbuzz

— Ann Smarty (@seosmarty) September 17, 2019
First off, you need a highly capable and customisable online selling platform that has omnichannel as one of the key drivers in its development. There may be others, but from my experience the top ones are:
Shopify Plus
BigCommerce
Enterprise
Magento
Going omnichannel also means you'll be dealing with inbound customer queries from a bunch of different places. Tools like Zendesk are obviously industry leaders in a solution for this. But I also like Gorgias, Freshdesk and xSellco eDesk, especially for ecommerce.
Omnichannel with physical products is, frankly, impossible without a quality operation management solution to handle all your backend processes (like inventory, picking, packing, shipping, orders). I honestly don't think there's anything better than Veeqo for this.
There are also more niche tools for specific arms of omnichannel marketing. Omnisend and Klaviyo for email automation. Chatfuel and ShopMessage for Messenger marketing. PushOwl is a great little app for push notifications. Gatsby and HypeAuditor for influencers.
Again, the key is integrating all these. So whatever you use – also use tools like Zapier, your ecom platform and (like Ann suggested) Cyfe to bring as much into one screen as possible!
Is @Veeqo Zendesk alternative or do they compliment each other? #vcbuzz

— Jessy Troy (@jessytroy) September 17, 2019
This is very essential! I'd recommend @wave_video for doing that productively! You optimize your videos for various channels with one click of the button! #vcbuzz

— Ann Smarty (@seosmarty) September 17, 2019
You can connect Veeqo to Zendesk via Zapier. Veeqo is especially built for retailers to handle your inventory and shipping across multiple channels. Zendesk handles inbound customer queries.
Our previous digital marketing chats: