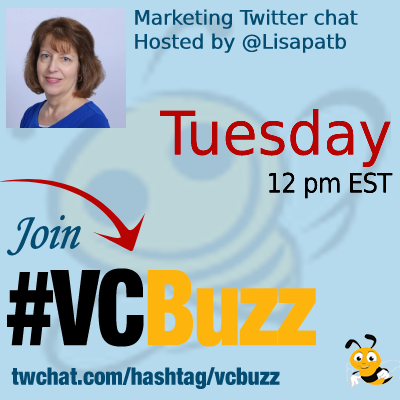 Creating a strategy is key to blogging success because consistency is all that matters for blogging to work.
How to create and implement a blogging strategy?
Let's discuss
***Add #VCBuzz chats to your calendar here.
***Please sign in here to follow the chat -> twchat.com/hashtag/vcbuzz
About @Lisapatb
@Lisapatb is a social media time saver, consultant, blogger.
Lisa is the owner @InspireToThrive
Questions we discussed
Q1 How did you become a digital marketer? Please share your career story!
It's a long story, may take a thread. I started as a teenage delivery a weekly newspaper, I then became a typist, typing classified ads. Before I knew it I was taught how to become a graphic artist. Years later I went to college for an Arts degree.
I found I could easily sell what I had been creating. I went through all kinds of sales and marketing courses at my past job and on to college for marketing. I remained in that industry for over 30 years and started a medical scrub website part-time.
That's when I started on Twitter and learned that the biggest sale came from a tweet to a doctor about medical scrubs for the NCAA teams. I then began blogging about Twitter and started Inspire To Thrive. I thought it would be easier to blog.
Lisa has been on Twitter from the beginning (April 2009).

So we have all known each other for 13+ years now. #vcbuzz https://t.co/5LQDByGRqb

— Gail Gardner (@GrowMap) July 19, 2022
Q2 What should a blogging strategy include?
Research keywords/topics/competition for every post
Write the best piece for every blog post
Update old blog posts often and change the date as well in WordPress, schedule them vs. update
Add a call to action in almost every post
@vcbuzz Your target audience(s), your voice, content planning, posting schedule, business goals, etc. #vcbuzz

— Courtney Rogers (@CourtneyMRogers) July 19, 2022
Have a calendar for your blogging strategy, topics to write about, dates to share, dates to guest post, etc. All should be planned out.
A2 Blogging Strategy:

1) Choose your niche
2) Know your target audience
3) Do keyword research so each page/post targets a specific phrase (to keep you on topic)
4) Decide how often to publish
5) Focus on improving existing content often
6) Promote! #vcbuzz https://t.co/Rm4FGrzCgu

— Gail Gardner (@GrowMap) July 19, 2022
Don't forget to plan promotions, when your blog is no longer new you need to spend more time promoting it than writing it. Hard to believe, right?
I've been updating a lot of older content over the past year+, but I hadn't thought of publishing them as new posts. What are the benefits to scheduling them as new posts vs. updating older posts? #vcbuzz

— Jaime Shine 💬 Marketer | Writer (@jaimeshine) July 19, 2022
There is more SEO value when you do that. And it puts the post on the front page of your blog. For example this post was originally written in 2013 but with many updates.
#VCBuzz A2.2
>>>

* Audit of existing content
* Notes on performance of existing content
* Potential promotion/distribution channels/sources

Such information/data allows you to objectively see the battle field(s), and plan accordingly.

>>>

— Lyndon NA (Darth Autocrat) (@darth_na) July 19, 2022
A2: In addition to content creation (i.e. audience & keyword research, topic selection, content calendar), your blogging strategy should also include plans for content distribution and updating existing content. #vcbuzz #blogging https://t.co/ruUndd5Sv2

— Jaime Shine 💬 Marketer | Writer (@jaimeshine) July 19, 2022
Great #vcbuzz Twitter chat with @Lisapatb 👇

A2.
A strong blog content strategy starts with:
👉The audience
👉The problems they need to solve.
👉Your product, and how it solves those issues.
👉Your content, and how it answers problems to solutions. https://t.co/TeYsGnZm4N

— Jeannie Hill (@essentialskill) July 19, 2022
A2 Having a fast and secure infrastructure to build upon. It's not fun having a blog that is down all the time due to server issues and security breaches. #vcbuzz

— Joey Trend (@joeytrend) July 19, 2022
No, you don't have to unpublish it (although maybe that is what was suggested earlier so maybe they have a plugin)? @Lisapatb

I wouldn't want to do that because you could lose incoming links while it is offline.

Personally, I just republish them with new dates. #vcbuzz https://t.co/53i5ZvON3s

— Gail Gardner (@GrowMap) July 19, 2022
Right, I don't unpublilsh either, because the of broken links it would cause. I just schedule once I do the updates in WordPress, after doing most of it in word doc prior to safe time.
There are different strategies for that. Some major posts are updated and use the same URL for #SEO purposes.

Personally, I do not put dates in URLs or the number of whatevers so that I can update them as needed.

Sometimes you might want to keep the old post. #vcbuzz https://t.co/Ej6EzXOAqC

— Gail Gardner (@GrowMap) July 19, 2022
A2. Do proper, in-depth research before creating a content plan, make sure you have set of keywords based on the target of the business. Focus initially on long tail keywords, keep posting quality contents regularly.#vcbuzz

— Amal Ghosh (@AmalGhosh3) July 19, 2022
#VCBuzz A2.4
>>>

Having things like calendars and possible topic/title lists will only get you so far … then it's down to luck.

The more you research, analyse and plan,
the luckier you will be 😀

— Lyndon NA (Darth Autocrat) (@darth_na) July 19, 2022
Q3 How to go from planning into action? How to start implementing your strategy one step at a time?
To go from planning to action, I have a checklist on paper and pencil! I love being able to check things off. I also use Google calendars for important things as well so I don't miss anything.
A3. Too many great strategies get waylaid.

♦️Make sure approvals are in place
♦️Make sure talent is onboard to execute
♦️Ensure adequate budget
♦️Keep actions agile to platform changes/opportunities
♦️ Track, research, and revise plan as needed#vcbuzz

— Jeannie Hill (@essentialskill) July 19, 2022
#VCBuzz A3.

Accept the facts:
* there is likely no "perfect time"
* that your first few efforts will suck
* that you probably won't get links to start with
* that you'll be lucky if 50 people read it
* that you won't get social traction

And that's OK!

>>>

— Lyndon NA (Darth Autocrat) (@darth_na) July 19, 2022
Yes getting over fears. Something one of my mentors @RyanBiddulph always writes about. #vcbuzz https://t.co/3l6VwIXyoq

— Lisa Sicard 👩‍💻🙂💭 (@Lisapatb) July 19, 2022
#VCBuzz A3.4
>>>

It's also important to remember, you rarely win a fight with the first strike.
Usually, it takes multiple, and you take a few hits too.

So, be brave, embrace the suckiness, and keep pushing.

— Lyndon NA (Darth Autocrat) (@darth_na) July 19, 2022
@vcbuzz Your content plan is the link between your strategy and action. Having supporting web resources for calls to action in place and ready to go is also important. #vcbuzz

— Courtney Rogers (@CourtneyMRogers) July 19, 2022
Q4 Should monetization be part of a blogging strategy? What are some monetization methods that worked for you?
Yes, but not in the beginning. You need some blog traffic first. I found the best was social media management, consultations, courses, ebooks, affiliate marketing, and sponsorships. So do what you do best for clients first, then teach.
A4 As an experiment, Bee, I once offered a blogger or two commissions for all sales referred by their posts, which they wrote on the blog of the same website that sold the products. I will do this again, but will be more picky this time #vcbuzz

— HAGGLETHIS.COM (@hagglethis) July 19, 2022
Of course, having your own product is fabulous too. I'd love to have an app developed someday for Inspire To Thrive.
Additional Ways to Monetize a Blog

✍️Selling eBooks can be an ideal way for bloggers to monetize their blogs. They are relatively easy to create and is usually priced adequately enough that most visitors can buy.

✍️Offer consulting/coaching

✍️Accept donations#vcbuzz https://t.co/dNn3gukALL

— Jeannie Hill (@essentialskill) July 19, 2022
Everything things affiliate marketing is easy but it takes time, traffic, and dedication. People have to trust you first.
#VCBuzz A4.3

Doing it later can be a bit more of a headache,
as you may need to adjust/change theme/templates,
or avoid certain topics/words etc.

— Lyndon NA (Darth Autocrat) (@darth_na) July 19, 2022
Q5 What are your favorite digital marketing tools?
There are quite a few of my favorite tools. Text optimizer to be sure my content is rich, Ubersuggest for some SEO, Jasper AI for writing, Grammarly, Viral Content Bee for sharing, Agorapulse, and MissingLttr for social media management and of course Google search console and analytics and Google trends.
@Lisapatb Currently, I am using an Excel spreadsheet to track my content plan, internal review dates, publication dates and post results! #vcbuzz

— Courtney Rogers (@CourtneyMRogers) July 19, 2022
A5 Google Analytics and Search Console, because they show me the effect of all the other tools.
Also, I started to like the multi-vendor and affiliate plugins on our site, because they allow a lot of creative freedom for users #vcbuzz

— HAGGLETHIS.COM (@hagglethis) July 19, 2022
Our previous blogging chats: