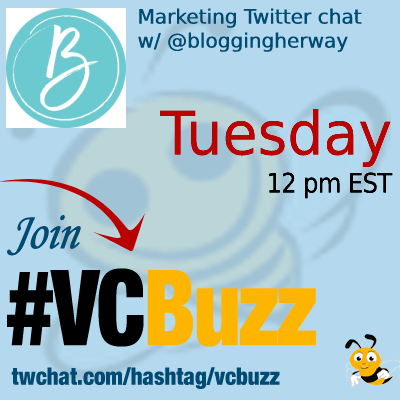 Creating an extra source of income is every blogger's dream.
Yet, monetization is never easy.
Obvious monetization tactics (like AdSense) no longer bring a huge income, even for high-traffic blogs.
Others methods require a lot of research and monetization.
***Add #VCBuzz chats to your calendar here.
***Please sign in here to follow the chat -> twchat.com/hashtag/vcbuzz
About Dale @bloggingherway
Dale is the founder of Blogging Her Way.
Dale started five successful blogs, four of which she later sold for a profit!
She is obsessed with all things blogging, and she loves sharing her best blogging tips and strategies with you.
Questions we discussed
Q1 How did you become a blogger? Please share your career story!
I started blogging during my final year of college. I had tried a number of other online business ideas including web design, before I finally landed on blogging.
Four and a half years later, I have now started and sold a number of blogs in different niches, and quit my corporate consulting job to become a full-time blogger.
A1: We use our blog to share tips related to virtual events, hybrid events, and ultimately our software! Most of our content is written by @SFerika our content marketing consultant and host of the #ContentChat Twitter chat on Mondays! #vcbuzz https://t.co/H0mX9Rp4i7

— Social hour (@socialhour_com) April 5, 2022
Q2 What's your most successful monetization method?
My most successful monetization method depends on the blog. For some of my blogs, it has been mainly display ads followed by affiliate marketing. For Blogging Her Way, it is evenly split between affiliate marketing and selling my own digital products.
#VCBuzz A2.

Selling "sponsorship" slots on sites (specifically "community sites"), and the same for Ads – but direct,
no platforms, no middle-person.

Reduces costs/increases profits and control.

— Lyndon NA (Darth Autocrat) (@darth_na) April 5, 2022
I think the best monetization method for a blog depends on the niche. For example, I had better success with ads/affiliate marketing in the travel and lifestyle niche, whereas digital products are better suited for the online business niche.
For me, I like to offer proof that I've been successful with multiple blogs that are NOT in the "make money blogging" niche. This helps build trust with my audience and shows that the advice I'm giving actually works. #vcbuzz

— Blogging Her Way (@bloggingherway) April 5, 2022
Typically members of the community, or their family, friends or associates.
Local businesses, larger employers in the area too.

It requires a bit of outreach and work, and relies on networks – but the control over pricing, content, schedule + relationships … worth it.#VCBuzz

— Lyndon NA (Darth Autocrat) (@darth_na) April 5, 2022
My thought is that someone who specializes in monetization should partner with established blogs for a % of the income generated.

That would make all the difference. Even if we gave them 33-50% of the income it would be worth it to me. #vcbuzz https://t.co/pFAKiHZ2Cv

— Gail Gardner (@GrowMap) April 5, 2022
Q3 When do you start? Do you start monetizing at the launch or when you see some traffic?
I start monetizing with affiliate marketing from the very beginning when I launch a new blog. I have found affiliate marketing to be the fastest and easiest way to start earning money from a new blog and it can offer good returns even with lower traffic.
For display ads, I wait until I have enough traffic to qualify for an ad network (with my preference being Mediavine.) And for digital products, I would wait until I had an email list with at least 1,000 subscribers before I launched anything. Absolutely awesome ad network! They do require 50,000 monthly sessions to join, but I've gotten the best RPMs with them (compared with AdSense and Monumetric) and they have amazing customer service and community.
I'm sorry to hear that! I'd focus more on increasing traffic first. It's good to already have ads and affiliate links in place, so that when you do start getting more traffic, you can start earning right away. #vcbuzz

— Blogging Her Way (@bloggingherway) April 5, 2022
If you are already getting enough traffic and earning from ads, then it would probably be a quick win to add some affiliate links to your most popular articles and add another income stream.
#VCBuzz A3.

I think that depends on the nature of the site and the original intent of it.

In some cases, you plan on the site providing revenue – and it makes sense to try to pre-acquire some ads/sponsors.

In others, it's a secondary – the focus is on audience first.

— Lyndon NA (Darth Autocrat) (@darth_na) April 5, 2022
Q4 Are there new monetization methods you tried or plan to try?
Recently I have done a few blog and newsletter sponsorships, so that is something I would like to do more of going forward.
I've noticed a big uptick in newsletter sponsorships from email lists I am subscribed to, and I could see that continuing to grows as a popular form of advertising. (And a great reason for bloggers to start an email list!)
#VCBuzz A4.2

There are sometimes new platforms/networks that come up, or you come across ones you've not used (or even heard of) before.
And then there are the "tools" and "claims" etc.,
but other than that – it's all pretty much standard.

— Lyndon NA (Darth Autocrat) (@darth_na) April 5, 2022
Q5 What are your favorite blogging and digital marketing tools?
ConvertKit is one of my favorite tools I use in my business for managing my email list. I've been using them since the beginning and I've been continually impressed by everything they offer.
A5 I use Viral Content Bee the most @VCBuzz followed by @BuzzSumo.

I really need to use @NinjasMarketing's Featured Snippet tool more often.

And finally, I should be using @SEMrush and @Serpstat and @Ahrefs. I just hate that gorilla with the ax. #vcbuzz https://t.co/K2HEaDDxcn

— Gail Gardner (@GrowMap) April 5, 2022
Recently I also discovered RankIQ and it has been a great tool for finding keyword ideas for my blogs. Also one of the most affordably priced SEO tools out there from what I have seen!
I started with Mailchimp as well, but switched after just a couple months and did not look back. I find @ConvertKit to be much better for setting up multiple opt-in forms, email sequences, and automations. #vcbuzz

— Blogging Her Way (@bloggingherway) April 5, 2022
Our previous content marketing chats: