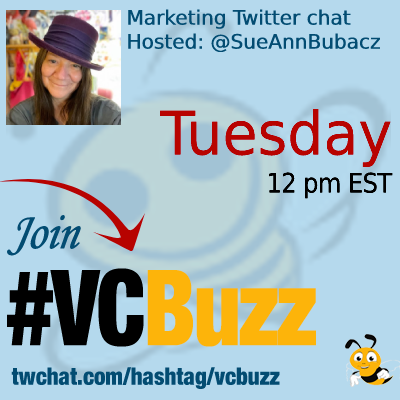 Blogs were an absolutely innovating idea once. Suddenly anyone could start a blog, become a writer and build a micro-community of like-minded people.
Businesses were using blogs to put their value proposition into a relevant non-commercial context, attract readers who would be ultimately converted into buyers and build niche authority and trust.
But a lot has changed since then. There are more channels and opportunities to get found and heard.
So is blogging still relevant?
***Add #VCBuzz chats to your calendar here.
***Please sign in here to follow the chat -> twchat.com/hashtag/vcbuzz
About @SueAnnBubacz
@SueAnnBubacz is a writer crafting creative business content to connect with people.
Sue already hosted one of #vcbuzz chats on using video and audio in social selling.
Check out Sue Ann's website: Write Mix For Business
Questions we discussed
Q1 Let's start with your story: When did you start blogging and why?
Owning/operating a high-energy, extremely physical business as a professional catering production & event design company for decades, my feet were hurting, so I started writing.
After studying the art/science of copywriting, I was drawn to web copy; the realization that a business website is today's EXPECTED "digital business card" drew me further into digital marketing and the role writing, and blogs, in particular, play.
Some of you already know I'm all about How to Bling Your Blog! 💎 But the thing is, your #blog has a BIG job, offering many benefits as the "Red Carpet" to your site, welcoming visitors to learn more about your business.
A1. Started blogging way back in 2003! It was fun, you can write something on the internet and others can read it from anywhere in the world. Very soon it became all about how many people had actually read it and what else can be done from these visits. #vcbuzz @SueAnnBubacz

— Uttoran Sen (@uttoransen) May 31, 2022
Here's a short video to explain why your business needs a #blog to attract & engage, with some voice-over help from @RyanBiddulph- the #blogging buddha!
A1. I started blogging in 2014 because of my film review site. Really wanted to start & share conversations about film. It was a great learning experience. I had to stop in 2018 due to work on other projects. #vcbuzz

— Dana Lemaster Author (@LemasterAuthor) May 31, 2022
Plus, your blog is the fuel for content & social media marketing, acting as the content hub for the valuable digital assets your market/audience craves. Not only is it the living, breathing part of your website, but your blog also helps build DA & SEO for you.
I started professionally by creating a corporate WordPress blog for my work to support our efforts in consumer advocacy, content marketing and branding. #vcbuzz

— Courtney Rogers (@CourtneyMRogers) May 31, 2022
Q2 For a business, is it still a good idea to start a blog?
A resounding YES, even though your #Blog is a Hog 🐽 it is a solid digital marketing tool. But remember, the blog of 2022 is a LOT different than 7 yrs ago at my start. And it's continually evolving.
A2. Absolutely – a self-hosted blog on your own domain is something that you own and control, not like Twitter profile or Youtube where all the control is with the platform owners. #vcbuzz @SueAnnBubacz

— Uttoran Sen (@uttoransen) May 31, 2022
For one big change, your core blog #content doesn't have to be written content anymore. It can predominantly be videos, audio, drawings, photography, or a mix of media. The important part is it connects site visitor needs with business goals.
A2 Business blogging took my clients to the next level. Quality blogging is still very relevant and can help take a client to the next level in marketing.#VCBuzz

— Debi Norton (@BRAVOMedia1) May 31, 2022
Some of your blog's jobs to enhance your digital footprint 🐾 include: creating awareness, attracting attention, gaining website traffic, answering questions/stimulating interest in your product/services, building credibility/authority, developing leads, and more.
Great points, @SueAnnBubacz. You're missing out on tons of opportunity to expand your footprint if you don't have a blog on your site. #vcbuzz

— Anthony Gaenzle (@AnthonyGaenzle) May 31, 2022
Yes, if it delivers on your business strategy. Important considerations include:

(1) Content is still king!

(2) The benefits of SEO

(3) Building trust, branding and your reputation

(4) Owning your own platform that is not subject to social media algorithms for reach #vcbuzz

— Courtney Rogers (@CourtneyMRogers) May 31, 2022
#VCBuzz A2.2
>>>

… including things like:
* increasing SEO term breadth
* showing knowledge/skill
* opportunities at each customer journey stage
* increasing internal links
* increasing topicality/relevance
* improving conversion opportunities
etc.

— Lyndon NA (Darth Autocrat) (@darth_na) May 31, 2022
A2: Your business still benefits from having a blog today! Creating fresh, original content invites visitors to join the conversation and visit your website, so they can learn more about what you do. Attract potential customers by delivering value! #vcbuzz

— Jaime Shine 💬 Marketer | Writer (@jaimeshine) May 31, 2022
Q3 Now that every other business and influencer has a blog, how not to get lost and stand out?
Standing out isn't easy. It takes time and work. But, your blog helps you shine by giving you your own publishing house to create and grow. It gives you an opportunity to show thought leadership and innovative thinking, capabilities, and helpful industry information.
A3) This may be hard, but I keep finding blogs that are underoptimised from. There may be an opportunity there #vcbuzz

— Montse Cano (@MontseCano) May 31, 2022
Part of standing out means just showing up. #Blogging is a long game but worth playing! Still, quality over quantity stands out, as does showing your brand's personality through your blog. Turn up UX, think value over flimsy, and maintain audience-first focus.
#VCBuzz A3.2
>>>

Each audience will have their own set of preferences regarding medium, format, topic and style/tone.

To stand out – it's not just breadth, depth and value.
It's timeliness, consistency, veracity, personality etc.

>>>

— Lyndon NA (Darth Autocrat) (@darth_na) May 31, 2022
A3. The main thing in blog is – consistency. If one can keep it going for months, years – people will follow you and wait for your next entry. #vcbuzz @SueAnnBubacz

— Uttoran Sen (@uttoransen) May 31, 2022
Writing bud, @HennekeD, brings extra UX/value-added concepts via images of alter-ego, #blogging sidekick, Henrietta, with hand-drawn mastery; @NevMed uses his #blog as the anchor to his cascading content process; @crestodina offers original research!
A3 How to keep your audience engaged in your blog.
⭐Keep it relevant to your target audience
⭐Create content that's Educational, Transactional or Entertaining
⭐Distribute your content everywhere your target audience resides
⭐Remember a clear Call – to Action#VCBuzz

— Debi Norton (@BRAVOMedia1) May 31, 2022
Transactional content refers to content that helps lead a a prospect further down the funnel to help reach the desired result/business goal.#VCBuzz

— Debi Norton (@BRAVOMedia1) May 31, 2022
Our leader, @SEOSmarty is super fab offering unique tools, a blog sharing platform, long-term experience, and an industry-backed reputation as an expert in SEO; talk about standout blog mastery. #linkbuilding through guest #blogging as well.
#VCBuzz A3.4
>>>

Producing content that ticks more boxes massively increases your chances of getting traction and having retention.
From there, you can leverage for business goals (one way or another :D)

— Lyndon NA (Darth Autocrat) (@darth_na) May 31, 2022
An example of original research via @crestodina https://t.co/N8SjdF71MK #vcbuzz

— Sue-Ann Bubacz (@SueAnnBubacz) May 31, 2022
A3. For a blog to stand out:

– Align with your audience's need
– Add value over other publications
– Stay top of mind
– Prove your niche expertise
– Be tightly themed and support topic hubs

#VCBuzz https://t.co/YqaehJsXDf

— Jeannie Hill (@essentialskill) May 31, 2022
Q4 What has changed since blogging started? What are new blogging tactics to embrace and what to leave behind?
I think the biggest change is the blog as a business and marketing tool vs. a personal journal of sorts at its inception. Truthfully, there's no single formula for a successful blog, but one common trait is that they often offer a unique voice in their space.
A4 Content creation that entices your target audience and helps them – remains the same.

The avenues for which to distribute your content have changed.

Meet your audience where they are at. That is also the same. 🙂#VCBuzz

— Debi Norton (@BRAVOMedia1) May 31, 2022
A4. Changes in Blogging for Success

– The proliferation of online content
– The need for more fact-based content
– The need for originality
– Diversification matters more
– A multi-modal approach
– Better team integration#vcbuzz https://t.co/7OrDCs5Lys

— Jeannie Hill (@essentialskill) May 31, 2022
Maybe easier to express than the changes is what's the same, IMO, like the need for your #blog content to be helpful, useable, relevant, and timely. Connecting with people via your blog's content floating out in the world is always the goal. Customers are people.
A4: Publish a mix of content types on your blog to attract your audience and maintain their interest! @SueAnnBubacz wrote an insightful guest post for me on how to grow your business with podcasts and audio assets: https://t.co/TP9Vu4J465 #vcbuzz #BloggingTips pic.twitter.com/OANL1CzMdi

— Jaime Shine 💬 Marketer | Writer (@jaimeshine) May 31, 2022
So, new tactics. I think things happening digitally now are a continuous spectrum of the evolution we've been experiencing. That's to say, extending or furthering content using mixed media formats, optimizing cross-platform strategy, expanding skills, etc., works.
#VCBuzz A4.

I think the biggest changes include the competition from social platforms for attention, consumption patterns/habits, and the quantity of other sites/blogs/authors etc.

There's also shifts in features of blog platforms
(web rings anyone? :D).

>>>

— Lyndon NA (Darth Autocrat) (@darth_na) May 31, 2022
But, digital marketing tactics today, including blogs, require a mixed marketing tactics toolbox that embraces visual content, (video, etc.), thought-provoking and leading pieces, new ideas/experimentation into UX, and #creativity. Also, #community wins.
#VCBuzz A4.3
>>>

Things like temporal links (recent posts being the main navigation method, followed by "next" and "previous", and "tags" etc.)

These sorts of things tended to result in poorer SE performance.

Now things are much smarter and smoother (finally).

— Lyndon NA (Darth Autocrat) (@darth_na) May 31, 2022
Q5 What are your favorite blogging tools?
@NeilPatel says, "Build Out Your Blog…Google controls more than 92 percent of the search market, which means if you want traffic, you need to invest in SEO. Investing in a blog and delivering valuable content is one of the best e-commerce tips I can offer."
"Let's get real. You should almost ALWAYS START WITH A BLOG." ~via @markwschaefer "…to become known, you need a blog because it can be seen, shared, commented on, and discovered by Mr. Google."
Blogging Tools. Hmm. ✍✍✍✍✍✍✍✍✍✍✍✍ Write. A lot. Think before you ink. Edit and edit a few more times. Think again. Refine. Improve each time. Don't phone it in, do the work! Play with learning, reading, and improving. Oops, not tips, tools!
a5(2) Another great tool when distributing your blog is providing easy Social Sharing options.#VCBuzz

— Debi Norton (@BRAVOMedia1) May 31, 2022
Blogging tips continued. Haha Writing and everything you create from your #writing is the biggest, brightest, best tool you have, IMO. I love "splashing around in words," and I think writing practice only improves everything, #blogging.
OK, Actual tools for blogging! I still 💛 @WordPress.org for blogs; I kinda 💕 @Grammarly 4ever, but override it with gusto often. Lol SEO tools/plugins help. (u know em all) An idea 💡 catcher is essential, so I triple love @Trello for organization of all kinds.
Make it easy for people to share your stuff by using a sharing plugin for your #blog posts. I know, 101, but you'd be surprised… #Canva is heavenly for design work, integrates with my fav Social Scheduling Tool, @Agorapulse, and does tricks for presentations!
I use #Camtasia for my video editing; scoop from @GordIsman on the next upgrade for more creative stuff than ever; @DepositPhotos for licensed images; and @YouTube for free video hosting; cheaters I'm playing with @InVideo, @Animatron, @Lumin5
Our previous content marketing chats: