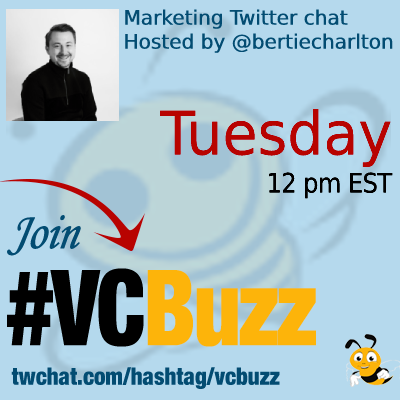 SEO is one of the most challenging tasks any website owner is going to face.
It is extremely scattered, evolves too fast to keep up and often technical.
This is why so many businesses are struggling with creating an actionable SEO strategy, i.e. the one they will actually be able to act upon.
Today's host has a new approach to SEO that is based on action and transparency.
Let's learn from the best
***Add #VCBuzz chats to your calendar here.
***Please sign in here to follow the chat -> twchat.com/hashtag/vcbuzz
About Andrew Charlton @bertiecharlton
Andrew Charlton @bertiecharlton is an independent SEO consultant and founder of Crawl.
With over 10 years experience in SEO, Andrew has evolved a unique strategic approach that will help you unlock growth opportunities in search.
Questions we discussed
Q1 How did you become an SEO? Please share your career story!
Weirdly my career in SEO got started over 10 years ago when I started a record label with my cousin. We had no budget, so I had to learn everything about web development and marketing from scratch. That included SEO.
Following that, my journey to now running my own SEO consultancy has went from freelancing as a WordPress developer, picking up a role as a digital marketing exec in a large software consultancy, to leading an agency SEO team as a Head of SEO
Q2 What is an SEO Strategy? Where to get started with creating one?
Let's start with what it's not – tactics. It's ironic, search for 'SEO strategy' on Google and you'll be presented with a set of top ranking results that only include tactics. Repeat the same tactics across every website and success will be rare.
To understand SEO strategy, you need to understand strategy. The best book I've ever read on strategy is 'good strategy, bad strategy' by Richard P. Rumelt
He states the kernel of a good strategy contains three elements:
Diagnosis: what problem are you trying to solve?
Guiding policy: what's your overall approach to solve the problems?
Coherent actions: how will you implement the guiding policy?
As a quick example: 1. D: "there's growing international demand for our product" 2. GP: "expand search visibility in X,Y,Z markets" 3. CA: "redevelop the website with int. subfolders, hreflang…"
A1 Strategy -> plans/actions. But need insights and research to create. Maybe SEO Strategy needs to be renamed to idk – SEO Research/Strategy or whatever. A plan based on what's in your head is doomed to fail. #vcbuzz

— Lisa Radin (@milguy23) March 1, 2022
A2 Not SEO strategy expert but know my marketing shit. Research. Where do your potential /current customers hang in SM. What are your competitors doing? Read their website copy w a fine tooth comb. Analyze to ad nauseam. Get smart b4 you act dumb. Invest time. #vcbuzz

— Lisa Radin (@milguy23) March 1, 2022
#VCBuzz A2.

An "SEO Strategy" is meant to be a plan (or collection of) of steps to take to achieve business goals via the organic search channel.

It's meant to go from research and analysis, through to execution of technical and content,
including ideation and promotion.

— Lyndon NA (Darth Autocrat) (@darth_na) March 1, 2022
Q3 How to make your SEO Strategy actionable?
Defining 'actionable steps' should be easy, but it's not because SEOs are rarely the 'implementers' If you want to make your strategy actionable, you need to convince people to take action
A3 To make any strategy actionable, be very clear and specific about not only WHAT to do but also HOW to do it.

For many audiences, it is best to give them only ONE action to work on at a time so you do not overwhelm them. #vcbuzz https://t.co/dG1nR1bpPA

— Gail Gardner (@GrowMap) March 1, 2022
Here's some tips for doing that:
Deliver less recommendations.
Speak your stakeholders lingo.
Align them with biz and personal objectives. SEO is selling. If you can't sell, you won't get action.
A3 Test, test and test. Then retest. Know they research/know thy plan. Be ready to change often based on data/insights. Not like a one and done. #vcbuzz

— Lisa Radin (@milguy23) March 1, 2022
#VCBuzz A3.

By breaking things down:
Goals > Objectives > Methods > Steps > Requirements.

By prioritisation:
* Cost/Difficulty/Time vs Value/Duration/Size
* Goal alignment
* Current state vs Competitor state

>>>

— Lyndon NA (Darth Autocrat) (@darth_na) March 1, 2022
#VCBuzz A3.3

Ideally, there should be several strategies,
serving different Goals (and different time-terms too).

And each should have primary and secondary plans, along with contingencies/fall-backs in case something changes.

But they are logical and obvious once you start.

— Lyndon NA (Darth Autocrat) (@darth_na) March 1, 2022
Q4 What are some common mistakes to avoid when creating your SEO Strategy?
SEOs don't understand the problem, or don't spend enough time breaking down the problem. What are you really trying to solve? If you don't know that, what's the purpose of your strategy?
A4 No outside research. Not understand the consumer/prospect. Not understanding marketing. Thinking one and done. Giving work to a junior w no responsibility. Not investing in SEO. #vcbuzz Not being open to change and shift. For starters.

— Lisa Radin (@milguy23) March 1, 2022
A4 Going straight to the strategy w/o 1st doing the homework. Do what you tell your kids -> by reading and thinking re your homework you'll get smarter. Somehow this basic instruction gets lost w age:( #vcbuzz

— Lisa Radin (@milguy23) March 1, 2022
#VCBuzz A4.2

Not communicating/working alongside other marketing teams.
Not tracking (at all/properly).
Not researching audience/prospects.
Not researching competitors.
Not analysing available data/information.
No utilising existing resources.
Focusing on BoF.

>>>

— Lyndon NA (Darth Autocrat) (@darth_na) March 1, 2022
#VCBuzz A4.4

Not defining Goal focused KPIs
Not defining Channel focused KPIs
Defaulting to Channel vanity metrics
Defaulting to Channel empty metrics

Lots of things 😀

— Lyndon NA (Darth Autocrat) (@darth_na) March 1, 2022
Q5 What are your favorite SEO tools?
Too many to mention:
Are core to what I do. Oh and Keywords in Sheets, which is coming soon (shameless plug 😅)
A5 Again, not SEO type, but my fav tools are learning from the best in the biz – find folks w expertise in SEO so you don't need to reinvent the wheel. A few $$'s spent upfront will save you $$$$'s for doing shitty work and more time to recover. #vcbuzz

— Lisa Radin (@milguy23) March 1, 2022
#VCBuzz A5

GSC, Bing tools etc.
Screamingfrog
Semrush
Google Analytics/Matomo
Spreadsheets
Scripts
Spreadsheets (again! :D)

— Lyndon NA (Darth Autocrat) (@darth_na) March 1, 2022
Our previous SEO chats: