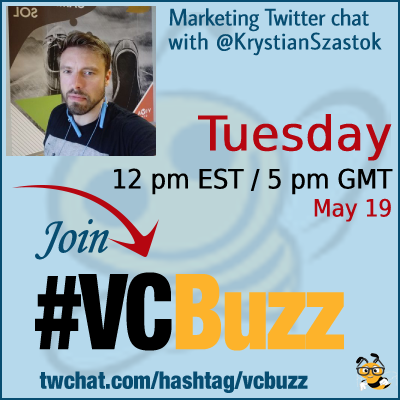 SEO has changed a lot over the years. Google has become much smarter at catching manipulations and telling real signals from fake ones.
Google has gone a long way from matching keywords to indexed pages to a powerful answer engine with its own map of the entities and underlying concepts.
Is there still a way to optimize your site for the new, smarter Google? Let's discuss!
***Add #VCBuzz chats to your calendar here.
***Please sign in here to follow the chat -> twchat.com/hashtag/vcbuzz
About @KrystianSzastok
Krystian Szastok is London-based strategic SEO consultant.
He has been managing successful SEO strategies and campaigns for leading brands, startups and rising stars for 14 years.
Follow Krystian Szastok on Linkedin
Questions we discussed
Q1 How did you become a digital marketer? Please share your career story!
Long story short, when I came to UK from Poland, at the tender age of 20, I didn't have many skills. Luckily friends suggested that 'web design is easy' so I should learn it. 🙂
Fast forward some time and my web design clients asked for SEO. I thought 'if I learned this, I can learn that' – a few years in various agencies, a few conference speaking gigs and a few years ago I finally decided to start my own SEO consultancy.
Q2 What is NLP and does it matter for SEO?
Natural Language Processing is huge these days. I sense that all long tail queries, or at least all the ones that I track, have heavily changed in the last year or so.
Gone are the days of just keyword stuffing, or hoping that some keyword density will save your ranking, if you don't have the relevancy and the expertise on the page, especially when it comes to 'deeper' queries.
By 'deeper' I mean queries that can't be just answered in a few words, or one sentence. Google wants to see an indepth understanding of a topic, they want to see that your content really delivers a result for an expecting 'surfer'.
Q3 When it comes to SEO entities, how should we change our SEO strategies to become part of Google's knowledge base?
For me, it's all about multiple points of proof. So – if you want to be 'an entity' or 'part of Google's Knowledge Base/graph' – it's all about proving how 'important' you are online. How many sources mention you / business and then what is the quality of these mentions. How authoritative are they. 10 years ago it was easy to just edit Freebase, nowadays Google locked the manual editing and of course, relies on multiple sources to verify every fact.
@vcbuzz Mention recognized sources in content #vcbuzz

— 24 Hour Translation (@24hrtranslation) May 19, 2020
If I was setting up a new brand, I'd go first all over the low hanging fruit – ie all social properties, then try to get featured locally in the press / even citations. Working up to a PR collaboration to piggy back of someone already known.
A3 Also linked mentions to other entities: Google needs to know where to place you on a map #vcbuzz

— Ann Smarty (@seosmarty) May 19, 2020
A3 #vcbuzz Study top posts to find gaps in the information to give that deeper understanding in your work.

— Sue-Ann Bubacz (@SueAnnBubacz) May 19, 2020
@krystianszastok Does content length help in for NLP SEO because normally i am seeing people prefer content up to 3000 or more? #vcbuzz

— Salman Saleem (@salmanlashkari) May 19, 2020
I try to take an avg of the first page of results for any query and really review what are they providing in terms of value to a user. Always try to go as deep as possible, but if everyone's ranking with 700 words, maybe you don't need 5000.
One of the strongest! It is crazy that Google is still so heavily relying on a single source of information #vcbuzz

— Ann Smarty (@seosmarty) May 19, 2020
Yes of course, it's a huge proof of trust.
Q4 As for off-site strategies, should we somehow try and adapt our link building strategies?
The things we should always do really, 1: check that the site ranks for a multitude of queries before posting on it. 2: Make sure that the article that's being written is actually covering many entities and goes deep on the topic.
Every post, every link placement, every guide placed offsite is an opportunity to rank for new queries, that maybe your client's or your own site isn't or can't rank for. So make the most of it and go deep into it, provide actionable insights.
New one to me!!! Wow 🤩

— Sue-Ann Bubacz (@SueAnnBubacz) May 19, 2020
Got to give Google as many signals as you can, and schema gives us an additional arsenal when it comes to doing exactly that. So yes, definitely, use anything and everything. They want to see named Authors.
Q5 What are your SEO and entity research tools?
Right, apart from just sharing the tools for specifically that, I'll share a few good reads on the recent Google changes and basically, a bit of my personal arsenal and what I use to 'get ahead' or 'get in line' with what Google is cooking for us.
Specifically for Tools I love @surfer_seo – but also always relevant Google Search Console queries, checking competitors with @semrush always helps too.
Some great reads by @Marie_Haynes and @glenngabe.
Lastly: to optimise for entities, include lots of questions and answers into your posts or guides, when it makes sense, I've developed this handy plugin for FAQ Schema (over 2000 users now) with @OMGDigitalalso make sure to always check relevant answers on Google and suggested questions, sections within your competitors pages. I also run a data structured tester from Google on competitors pages to see what Schema theyre using, that I may be missing out on. Google trends is also great.
Take a look at @InLinksNet – AWESOME entity research and optimization tool with the genius of @Dixon_Jones behind it! #vcbuzz

— Ann Smarty (@seosmarty) May 19, 2020
Our previous content marketing chats: