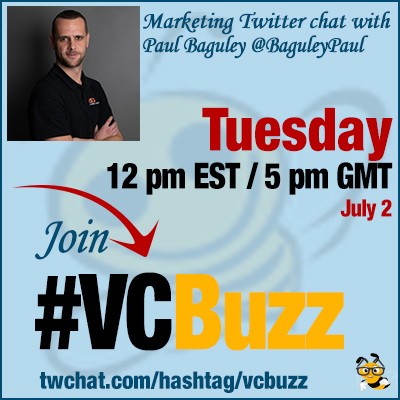 Google is said to be using around 2000 ranking signals when deciding which pages deserve to appear in top 10 and beyond.
Which of those SEO factors matter most? Which one should we be working on?
Let's discuss!
***Add #VCBuzz chats to your calendar here.
***Please sign in here to follow the chat -> twchat.com/hashtag/vcbuzz
About @BaguleyPaul
Paul Baguley @BaguleyPaul is Managing Director of Internet Sales Drive
Paul specializee in driving increased traffic to websites.
Follow Paul on Linkedin
Questions we discussed
Q1 How did you become a digital marketer? Please share your career story!
Started off working for a company in retail online and offline and then moved into web development. I enjoyed the marketing side of a website more and how people interacted with a site so this is how I got into SEO.
I am self-taught through books, podcasts, videos, conferences and blogs. Joined a web agency and worked with them and set up my own company called Internet Sales Drive in the UK and be doing this for 6 years.
I have spoken at SEO conferences and been in a digital marketing book being an SEO contributor.
A1 My first job out of college was at an SEO agency working specifically with local businesses. I fell in love with helping clients make their website content useful and unique. I'm super lucky to have found passion in my career early on! #vcbuzz

— Maile Waite (@mailewaite) July 2, 2019
Q2 What do you think are the most important SEO ranking factors?
Whenever I take on a new site my first point of call is the technical side. I think this can get overlooked and I feel that this is important as if Google is having issues crawling your site then why would they rank you.
Next steps is then creating great content that is unique and engaging to a user.
Could you also touch upon assessing the existing content performance? Do ever recommend doing content pruning or are you generally focusing on creating new content? #vcbuzz

— Jessy Troy (@jessytroy) July 2, 2019
@jessytroy @BaguleyPaul I just did an article on assessing content performance: https://t.co/20ZGrEQAjL #vcbuzz

— Ann Smarty (@seosmarty) July 2, 2019
Reviewing older content is important especially if this can be updated and kept current. Also, your market or audience can change so you may need to reuse the content done before and use it in a different way.
Links are still a major factor when it comes to a site ranking but doing this the right way is important. Creating a blog and building a network is great for a brand or company.
Not every site needs it. I don't think it's a signal at all. It is a powerful marketing channel but it needs a lot of time/money investment RT @24hrtranslation: How important is it for each site to have a YouTube video? #vcbuzz

— Ann Smarty (@seosmarty) July 2, 2019
This depends on your video strategy. Are you looking to bring audience to your website or to Youtube?
Video does help with time on site but you need to make sure that the user knows what steps to take after the video. What is the aim?
Q3 How have ranking factors changed over the years? What's the most welcome change in your opinion?
I got into SEO in 2010 properly and the tactics being used wasn't great so I welcomed the panda update in 2011 and penguin in 2012. It made the internet and websites better and did make you earn the right to appear number 1.
I generally support all Google's updates and believe they are making the web better. It's manual penalties I despise and consider a major wasted PR effort from Google's side RT @BaguleyPaul: I welcomed the panda update in 2011 #vcbuzz

— Ann Smarty (@seosmarty) July 2, 2019
I totally agree. Also, it's the time it takes google to maybe rectify after the penalty
Mercola got whopped by the June update. They say Google is using Wikipedia sentiment to rank sites. #vcbuzz

— Don Sturgill (@DonSturgill) July 2, 2019
That has been the rumour reported by the major SEO news sites
A3 #vcbuzz The basic ranking factors – content and links – have largely remained same, but Google is far better at assessing their quality now. That's awesome. https://t.co/WJQOw7oYRJ

— Rohan Ayyar (@searchrook) July 2, 2019
Q4 Can and should ranking signals be successfully manipulated for higher rankings?
We all know what you need to be doing to be successful but sometimes this can be time-consuming so people do try to manipulate the rankings.
I feel if you can have a good looking website with a good structure. Great content and a good blog to promote your site to earn those links back to your site then you are on the right track.
I feel that they could before 2011 with keyword spam and anchor rich links, but changes Google have made improve the internet and make it the right way to achieve top positions.
Q5 What are your favorite SEO tools?
I am a big fan of @semrush the detail you can go in to on a website and the competitors of that site is great insight. Also a big fan of @screamingfrog and @ahrefs.
Moz recently did a blog post on some free SEO tools that I would recommend for anyone wanting to try some tools to discover how your website is performing.
Speaking of screamingfrom, how important do you think it is to remove low performing web pages? #vcbuzz

— 24 Hour Translation (@24hrtranslation) July 2, 2019
If a page is not performing then why is it not. Is it the content, images or CTA? If a page hasn't got a point then removing this page and doing a 301 to a suitable page is the best tactic.
A5 I use @Majestic @Serpstat @Spyfu @NachoAnalytics #vcbuzz

— Ann Smarty (@seosmarty) July 2, 2019
Our previous SEO chats: