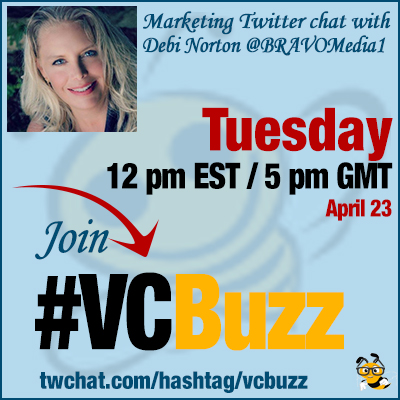 SEO is really one of the most exciting industries to watch.
From keyword matching and doing some technical stuff, it has now grown into an integrated industry focusing on analytics, audience research and optimizing for all kinds of SERP elements.
How to adapt? What is SEO these days? Let's discuss!
***Add #VCBuzz chats to your calendar here.
***Please sign in here to follow the chat -> twchat.com/hashtag/vcbuzz
About @BRAVOMedia1
Deborah Norton, dba BRAVO! Interactive Media consults with businesses on the creation and implantation of large-scale complex Internet projects, Internet strategy services, web development, content / online marketing.
As an Internet strategy consultant, Deborah possesses over 20 years of working on senior level search and online digital marketing.
Currently Debi is managing her consulting business. Connect to Deborah Norton on Linkedin.
Questions we discussed
Q1 How did you become a digital marketer? Please share your career story!
For me, Advertising & Marketing are in my blood. Starting with "Bewitched" & The Cool days of "Ogilvy on Advertising". Next Agency Side @JWTNewYork then onto Print Advertising, Cable TV & in 1995 Online Marketing on WWW
Q2 How has SEO changed over the years? What are the most essential SEO changes?
SEO has Evolved Plenty over the yrs. However, the CORE ESSENCE & SEO Best Practices Remain the Same. Art & Science Now vs. then Engines have become more tolerant w/ crawl errors than in the past. Getting #1 Organic Rank for YOUR Search Term in Google is Golden.
Q3 Viral Content Bee is primarily a content marketing platform, so let's highlight some content-related changes and tactics too. Which content creation and marketing tactics should we totally abandon these days and which ones should we start implementing?
Content Marketing is Marketing
Understand Business Goal
Identify Target Audience
Set Strategy in Alignment w/ Business Goals & Audience
Create Enchanting Content the Supports Strategy
Keep Content Consistent Across all Mediums
Q4 What's the future? What are some of the most essential SEO trends that are starting to show right now?
One significant trend is that SEO is no longer just on websites'. We are Optimizing across the spectrum, Videos, Mobile, Blogs, Social, Local Listings, Podcasts, Affiliates, etc. If it Nails it on the Engine's SERPs, it is Optimized.
Q5 What are your favorite SEO tools?
My Fav SEO Tools FREE.
Long Ago, I was Given Advice From An AMAZING SEO – Look At Data from Engine Itself – for results.
Server Side Stats (Google Search site: InURL)
So G-Analytics
GSC
G-Ads
BingWMT
@Screamingfrog
schema.org
Our previous SEO chats: