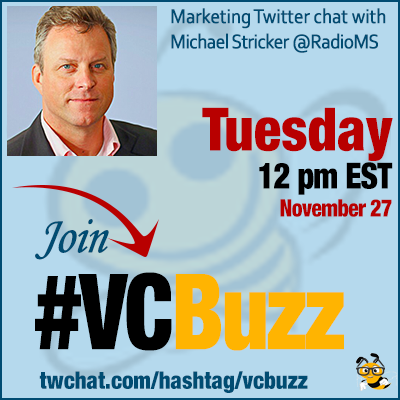 Google search has gone a long way since it was around. They are doing an amazing job satisfying the user's intent and giving them what they really need (which doesn't always mean more exposure to the publisher, let's be honest).
These days it's no longer about 10 blue links and top 10 organic listings that you should target. There are many more search features that can either give a publisher more exposure or pose a threat to your site visibility. How to adapt?
Let's discuss!
***Add #VCBuzz chats to your calendar here.
***Please sign in here to follow the chat -> twchat.com/hashtag/vcbuzz
About Michael Stricker @RadioMS
Michael Stricker @RadioMS is Digital Marketing Director, speaker, and author.
Michael has worked with reputable brands, such as SEMrush, AeroPostale, BET, Blue Cross Blue Shield, Dell, Doubletree, EPHenry, FAA, GolfSmith, HomeFirst, JGWentworth, Job.com, RE/MAX, Toshiba. Audubon, PBS, GE, Verizon, Sears.
Connect to Michael on Linkedin
Questions we discussed
Q1 How did you become a digital marketer? Please share your career story!
Creative advertising, Measured Success in Direct Marketing, Create and Market Custom Publishing, Website Research, Writing, Design, Photography, Illustration & Dev -If you build it, they will not come, so built iterative business with SEO and SEM consulting.
A1e @seosmarty Yes, build it, publish but always promote it, or risk your message dying on the vine. #vcbuzz

— Michael Stricker (@RadioMS) November 27, 2018
Agencies from Linkbuilding to Project Mgmt. to Strategy, Sales Support, Troubleshooting, Brands Digital Marketing transformative team leader and public speaking.
Oh, yeah, and a stint at a little company you may have heard of, called SEMrush. : )
a1 Jump into it!!!! Started in Print Advertising, then Cable TV Advertising & the Internet in 1995.

Wow, dating myself here. But started out working with the Best team in the digital sphere at that time. I'm certain you know of many of them! #VCBuzz

— Debi Norton (@BRAVOMedia1) November 27, 2018
Q2 What Google search result page (SERP) features are there? Must I occupy every kind of SERP Feature? What SERP Feature can be bought?
Prelude: SERPs with a Featured Snippet experience a median CTR -32% from 2015 to 2017 due to simple answers obviating the need to click. Go for questions with complex answers.
Moz/Jumpshot report a third of searches result in no clicks.
16 SERP Features:
Adwords (Bottom)
Adwords (Top)
Featured Snippet
Image Pack
In-Depth Article
Knowledge Card
Knowledge Panel
Local Pack
Local Teaser Pack
News Box
Related Questions
Reviews
Shopping Results
Site Links
Tweet
Video
Lots of variety… Google SERPs presentation is subject to lots of experimentation in Google's quest to keep Searchers happy and on the platform.
No, though there is likely a variety of suitable opportunities and more all the time, use your personas of searchers, their stage of buyer's journey, and your own marketing goals for SEO (e.g. lead-gen, or brand awareness) to help focus effort on the presentations of greatest benefit to your searchers that are achievable given your resources.
a2 Paid & Unpaid Results & the rest (i.e., maps, flight info, weather, etc) depend on the query! #VCBuzz

— Debi Norton (@BRAVOMedia1) November 27, 2018
TIP! ? Go for questions with complex answers. (c) @RadioMS #vcbuzz

— Ann Smarty (@seosmarty) November 27, 2018
Try to be selective about which questions you will try to gain visibility for. Choose those that highlight the compelling case for your product or service… throw into relief how your brand is indispensable inspire trust for your household name… position you as a trusted expert and open opportunities for outreach.
Ads Top and Bottom: Buy Google Ads. They may not earn the most SERP clicks in general, but the clicks that they do earn can have high motivation to purchase. Somewhat complex but manageable to set up strategically.
Easy to test tactically. Many options for targeting, budgeting, and additional features known as "Extensions". Extensions boost CTRs for Ads similarly to Snippets effect on organic listings, and have no cost but effort to deploy.
Q3 What makes "Position Zero" the new SERP Hero? What are useful activities to earn SERP Featured Snippets?
Dr. Pete Meyers of Moz: @dr_pete "Why is zero the new hero? Featured Snippets rank above traditional organic results in what we call position #0. Including a title and link, they drive real, organic clicks."
"..If you rank on page one (especially in the top five), getting a Featured Snippet may be easier than competing for the #1 position, which would take a lot of money, a lot of links, and a lot of authority. You could get from #5 to #0 simply by being a better answer."
9 General Plays for Featured Snippets:
Factual content
Plain English (spotless grammar, spelling, punctuation)
Instructive illustration or diagram
Concise, complete and necessary (all meat, no fat)
Appropriate HTML elements
Featured Snippet Hubs employ H tags to demarcate
For alternative data presentations about prices, employ data structure markup
On a page that ranks for subject (the higher, the better, page one preferred for P content presented as Answerbox)
Use Google resources (GMB, Structured Data Testing, GTM, etc.) 10.Consider "speakable" markup for new Voice Search (Siri, Google Assistant, Amazon Alexa) & Home Digital Assistants (Alexa/Echo/Dot + a growing list of compatible devices, Google Home, Apple Homepod)
A3 Featured snippets bring more traffic (you get two links within one SERP) and brand visibility (your page comes up on top of organic results in a box, sometimes with the image) #vcbuzz

— Ann Smarty (@seosmarty) November 27, 2018
Pages that answer questions — such as who, what, when, where, and how — tend to be great at earning Featured Snippets. Questions & Answerbox, Knowledge Graph, Achieve through Research, Amplification, Monitoring
A3 To rank in featured snippets: Use H2/H3 subheads and follow them immediately with the concise useful answer (elaborating further below if needed) #vcbuzz

— Ann Smarty (@seosmarty) November 27, 2018
a3 Keep the word count short (50 characters) & optimize by answering a question – that will help. #VCBuzz

— Debi Norton (@BRAVOMedia1) November 27, 2018
The first paragraph should include a very good and concise summary. #vcbuzz

— 24 Hour Translation (@24hrtranslation) November 27, 2018
A3 Give this tool a try: It will change your featured snippet optimization game forever! https://t.co/x08JwY3RW3 (made by @NinjasMarketing) #vcbuzz

— Ann Smarty (@seosmarty) November 27, 2018
Q4 What SERP Features resulted from recent political polarization and manipulation?
Fact Checks: Presented when a trusted source site fact checks a claim related to a search. Publishers should be aware that such checks are in place.
Learn about a News Publisher Knowledge Panel algorithmically produced from topics, awards and any significant reviewing by expert fact checkers. This is a Knowledge Graph resembling a Company Box, with corporate info, social profiles and competitors.
Disambiguation Boxes: "Auto-Suggestions" of related terms, synonymous or homonymous with an entered term. Used by Google to improve focus of results to suit searcher when the subject is ill-defined or confusing… in this age of "Fake News", the major tech players have become quite cautious… it's a good thing!
a4 The Knowledge Panel #vcbuzz

— Debi Norton (@BRAVOMedia1) November 27, 2018
Q5 What Google's SERP Features are best to enhance my current traditional positions? What can help me compete for clicks even if I am not #1?
Rich Snippets: By integrating with traditional "10-blue links", these "accessorize" listings and help increase CTR and increase organic clickthrough traffic from 7% to 20% when competition is fierce.
Google Reviews: 5-star Rating, taken from Google Reviews. Here is another area (Reviews) where Google jealously guards searchers from FAKEs. As part of an international organization to fight fake reviews, they have a reputation at stake.
Sitelinks: An array of Links to key categoric pages by topic, frequently presented in response to branded queries, not directly editable. Influenced by logical site architecture and well-themed metadata.
Price and Range: a form of structured data. (http://Schema.org ) Rich Snippets are deeply influenced by Schema and other structured data markup, well and logically implemented and thoroughly tested. More visibility!
Thumbnail: Image Rich Snippets often include a photo or image taken from the same page as the text. Such images are usually well-supported by alt text with a relevant filename, and are titled and captioned in proximity.
Publishers and creators will know which opportunity they are best-prepared to pursue, based on the assets that they routinely create, and have a library of.
a5 Rich Snippets. Try using Schema markup. Then there is buying G-Ads. That works! #VCBuzz

— Debi Norton (@BRAVOMedia1) November 27, 2018
Q6 What does the future hold for Mobile SERP Features?
Extended Knowledge Panel Answer plus related "next-step" questions/answers. Known as "People Also Ask" question results with drop-down answers. These features can appear up to ten at a time, and provide a link to the answer's source, making them very valuable for SEO.
Zero Blue Listings. Have you seen Search Results w/o Organic Search Listings? After some tests based on the simplest of queries ("what time is it?"), Google has rolled out SERPs with Zero Search Results for Time, Conversions & Math. No list of ten blue links here.
This is about helping folks in a hurry, possibly on Mobile devices or using voice search via Google Assistant. The more cynical among SEOs claim Google is becoming a Publisher, in efforts to keep Searchers on their SERPs, seeing Ads that create their revenue.
Focus on image SEO and try to drive the image to the top of image search. #vcbuzz

— 24 Hour Translation (@24hrtranslation) November 27, 2018
A6h If nothing else, this reveals why authors and publishers must keep any eye on the most valuable real estate on the web… Google page one.
Nov 26, 2018
by Barry Schwartzhttps://t.co/LrugrIoo3v
#vcbuzz

— Michael Stricker (@RadioMS) November 27, 2018
Answerbox Widgets: Created in response to math, conversion, definition and interpretation questions, Google prefers to show an interactive calculator, rather than a single definitive answer, affording searchers the ability to modify their search.
a6a To me, this sounds a lot like AMP – with G keeping you in the SERP page rather than clicking into a site. #VCBuzz

— Debi Norton (@BRAVOMedia1) November 27, 2018
Yes, Debi, nice comparison, but recall that Google is also meeting the NEW Searches, via Voice and maybe one day, head's up visual displays!
Widgets Entirely composed of Google tools. Tough, now, but watch out for emerging opportunities, especially if the answers can be spoken! Unit Converter preloaded with query parameters and answer Calculator Color Picker Dictionary Google Translate
New-ish way to improve my own personal profile in Google SERPs? Google Knowledge Panel Verification – get verified and control the info in your own Knowledge Graph! It feels somewhat akin to claiming and verifying a Google My Business account.
A6i2 Welcome to entity-ness! SERP Features FTW!
Get Google Knowledge Panel Verification
Jun 25, 2018
by Barry Schwartzhttps://t.co/X49wXWxo7x #vcbuzz

— Michael Stricker (@RadioMS) November 27, 2018
A6j Some Resources? https://t.co/lEyTdY7F17 https://t.co/Kp64C1cFWw #vcbuzz

— Michael Stricker (@RadioMS) November 27, 2018
Our previous SEO chats: