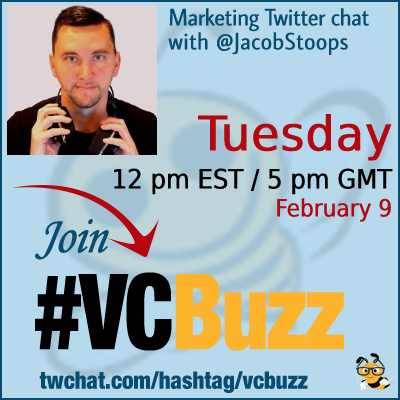 Most of us have started a few websites at some point or another.
This means we may have dealt with re-branding, migrating or merging our web properties at some point or another.
How to approach site migration properly? Let's discuss!
***Add #VCBuzz chats to your calendar here.
***Please sign in here to follow the chat -> twchat.com/hashtag/vcbuzz
About @JacobStoops
Jacob Stoops is senior SEO Manager at @SearchDiscovery. He has spent over a decade in SEO.
Jacob is host of @Page2Podcast which is a podcast about the people of SEO, their stories, and what life as an SEO is really like
Questions we are going to discuss
Q1 How did you become a digital marketer? Please share your career story!
About 16 years ago, I was a college dropout and working 2 jobs 7 days a week, when my friend got me a job at a small shop that did telemarketing, design, and local search marketing
After a few weeks, I was so bad at telemarketing that my friend moved me to the design and local search marketing side of the business. I'd gone to college for graphic design.
He said they were now building websites for clients and if I could teach myself to build websites and use my design background I could say. Otherwise, I'd be let go.
So I went to the book store that day and bought an HTML & CSS book and began teaching myself web design. Pretty soon, I was the company's lead designer.
On those days, we were churning out a lot of basic WordPress websites. The only problem was, they weren't getting much traffic. Enter digital marketing.
As I began to investigate ways to get traffic to those websites, I came across SEO. I spent every waking moment reading up on SEO and found my passion.
As a college drop-out at the time, I saw SEO as both interesting and a way I could differentiate my skill set without a degree (yet)
Shortly thereafter I landed my first role at a small digital marketing agency and the rest is history.
Q2 How to prepare your site for a site migration?
The logical first step to prepare for a migration as an SEO is to make sure there is organizational alignment. Communicate and begin planning with the development team.
From there, helping the development team define requirements and goals related to SEO is critical. This may involve platform, design, architecture, content, code, etc.
From there, helping the development team define requirements and goals related to SEO is critical. This may involve platform, design, architecture, content, code, etc.
Taking an inventory of all content that needs to be migrated is critical. If a page that drives significant traffic/value exists today, it should exist on the new site as well.
Additionally, content should be migrated as close to "as is" as possible unless there is an upgrade to design or copy. Any content changes are likely to cause rank fluctuations.
If URLs are changing, preparing a redirect strategy is absolutely critical. Work with your developers to implement 1-to-1 redirects and/or regex rules to pass SEO value.
Don't forget that migration isn't only focused on strictly on-page copy. You should also migrate Page Titles, Metadata, Images, ALT Text, Canonicals, etc.
As you get closer to launch, it's important to gather benchmarks for traffic, rankings, speed, as well as projections to guide what post-launch performance should look like.
Make sure you're working with your teams to prioritize the SEO items. Not every SEO reco will get in. Not everything will go right. Risk analysis is critical as is communication.
Make sure you're validating all SEO items before launching in a staging and/or development environment so there are no post-launch surprises.
On launch day (and a few days after), be ready for triage of any unexpected issues (this will happen 90% of the time). Monitor, communicate and be ready to take action.
Q3 What are the biggest SEO migration mistakes to avoid?
The biggest mistake would be a failure to communicate within the organization or leaving SEO to the end. Politics and/or internal silos can often leave SEO out.
Another mistake I've often seen is either not migrating top-performing content or choosing to consolidate pages or navigation architecture without taking data into consideration.
I've also seen situations where URLs have changed and the redirect strategy was half-baked that led to a huge performance decline. Get your redirects right!
Having overly aggressive or self-imposed launch date that isn't flexible. If all your ducks aren't in a row, being willing to push launch back can be critical to performance.
Trusting that something is "being handled" without validating. Example: I've had countless times where I've been told "speed will be much better" when it actually got worse.
Something not talked about as often in SEO circles, but doing a migration and forgetting to keep analytics configurations consistent. Breaking tracking means flying blind.
Q4 How to evaluate whether everything went as planned? How to quickly audit the new website?
The goal of any migration is risk mitigation. How can you migrate your site without hurting performance? In this situation, stable performance is the goal.
Understanding if post-launch performance is going well actually begins with pre-launch projections. Using historical data, how would you expect it to go w/o a migration?
Based on your projections, I always look at the lowest expected range and as long as things stay above that line, launch is typically going okay. Some volatility may occur though.
I always recommend monitoring rankings for the days and weeks after launch to look for noteworthy declines. Be ready to make adjustments on the fly as trends emerge.
Tactically speaking, if you've validated pre-launch, then there should be no post-launch surprises with SEO implementations. That said, be ready to triage.
Watching analytics data, Google Search Console data, as well as regularly crawling the site in the days after launch can help you identify issues that may arise.
You should also be working with your development team to prioritize and quickly address any SEO issues that were left on the cutting-room floor ahead of launch.
In the end, going "as planned" is relative. If SEO requirements were left out, then as planned may mean performance is not good. Raise the red flags often.
If all – or most – SEO requirements were met, then hopefully "as planned" means stable performance after launch with a long-term growth trajectory.
Q5 What are your favorite technical SEO marketing tools?
I like a lot of the well-known ones, like Screaming Frog, DeepCrawl, Site Bulb, Little Warden, Content King, and SEO Radar.
Other tools that I like from the outside looking in would be @RankSense, @RankSciene, and @SearchPilot.
For site speed, I prefer WebPageTest.org, Google PageSpeed Insights, Lighthouse, and Screaming Frog. Deep Crawl and Sitebulb are good there too.
For structured data, I still like to use Google's Structure Data Testing tool, but I'm also into Classy Schema
For Chrome plugins, I recommend @azarchick's SEO Pro Extension, Quick JS Switcher, Free Backlink Checker by LRT, Ayima Redirect Path and Redirect Link Checker.
And of course I can't forget my @Page2Podcast cohost @jefflouella's Chrome Plugin: The Tech SEO – Quick Click Website Audit
Honestly, there are just so many good tools that I know I'm not even scratching the surface here.
Our previous migration chats: