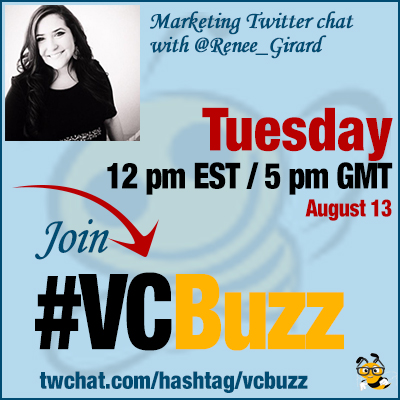 SEO migration can make or break your business. If you cannot avoid it, you need to plan it out very carefully
Where to start and how to move forward? How to avoid crucial mistakes?
Let's discuss SEO migration today!
***Add #VCBuzz chats to your calendar here.
***Please sign in here to follow the chat -> twchat.com/hashtag/vcbuzz
About @Renee_Girard
Renee Nicole Girard is a Senior Organic Search Strategist with 7+ years of agency experience at Perficient Digital.
She leads SEO strategy for SMB to Fortune 1000 and Global 2000 enterprise clients and speaks at local universities and conferences.
Connect to Renee on Linkedin
Questions we discussed
Q1 How did you become a digital marketer? Please share your career story!
When I was an undergrad business student at UWM, I was interested in digital marketing, but there were no classes offered at that time. Instead, I did an independent study and competed against other universities in the Collegiate ECHO Marketing Challenge.
I created a $10k multichannel digital marketing campaign to target college students for an NFP, @charitywater. The independent study allowed me to attend an Internet Marketing MBA lecture, where I heard my future boss, @RossMonaghan speak about SEO for the 1st time.
A1 #vcbuzz Started in 2008 when in corporate marketing helping the company brand themselves and their website. Then became a freelancer and continued…

— Julie Weishaar (@NewHorizons123) August 13, 2019
We connected after his SEO talk and two months after I graduated, he hired and mentored me as an SEO Specialist at the fastest growing company in Milwaukee (Zeon Solutions was acquired by @PRFTDigital).
Yes! Pretty amazing! #vcbuzz

— Anna Fox (@manifestcon) August 13, 2019
While drinking from the firehose, I moved up in the rankings (pun intended) from grasshopper to blogger & university/conference speaker. Within a year, I went from guest to guest lecturer for that same Internet Marketing MBA class. Talk about full circle.
A1 After brother made $80 w/affiliate link placed in college newspaper ad I wanted to figure out everything digital marketing, esp. how to get traffic from search engines.

I purchased Stomping the Search Engines, listened to 6 hours of CD's while painting my bathroom. #vcbuzz

— Boyd Norwood (@boydnorwood) August 13, 2019
Q2 How to prepare your site for an SEO migration?
My primary goals for site migrations are to protect what's already working and fix what's not. Here's my two-phase PLAN > BUILD approach to SEO migrations up until go-live.
Phase 1 > PLAN: Establish and document on-page & technical best practices/requirements
A2-2 Phase 1 Tasks: Discovery (questions https://t.co/WdWXMCNDLM), current state audit, URL inventory/priority, Search Visibility report (template https://t.co/RJEg5oduNI), benchmarking, wireframe/IA review, keyword research, on-page optimization & 301 redirect strategy
#vcbuzz

— Renee Nicole Girard (@renee_girard) August 13, 2019
Phase 2 > BUILD: Mitigate any traffic loss and implement on-page optimizations for future SEO growth.
Phase 2 Tasks: 301 redirect mapping/testing, on-page optimization implementation, Schema markup, robots.txt, sitemaps, technical SEO best practices for proper URL discovery > crawling > indexing > ranking, & SEO audit checklists before, during, and after go-live.
PRO tip: Crawl the staging site & 301s with @ScreamingFrog custom robots.txt configuration set to the new site's robots.txt file. This prevents you from accidentally blocking pages that should be crawled, especially the legacy pages that should be 301 redirecting.
@vcbuzz A2. I try my hardest to advocate for URLs to stay the same to prevent loss of authority and broken pages. Migrations are much easier that way. I also make sure that the new pages are optimized for site speed and TF-IDF findings. #vcbuzz

— Maile Waite (@mailewaite) August 13, 2019
Yes! If you can help it, keeping the meta data, content, and URL structures the same during migrations makes Google's job a lot easier.
A2 Part of preparing the site for migration is making sure key people at the company understand what's involved and that there might be a temporary drop in rankings and organic traffic.#vcbuzz

— Boyd Norwood (@boydnorwood) August 13, 2019
Q3 What are the biggest SEO migration mistakes to avoid?
Biggest mistake #1: Not involving SEOs at all or until it's too late. Unless SEO is already built into the dev process, we're often brought in too late which causes rework. SEOs must be integrated throughout the entire build as an extension of the dev team.
Biggest mistake #2: Not testing 301 redirects & sending HTTP response codes as different user agents. So much can go wrong with HTTP headers, especially if accidentally sending an incorrect response code for different user agents! It happens more than you think.
@vcbuzz A3. Redirecting high-value pages if not absolutely necessary, changing the URL if not absolutely necessary, and basically changing anything about the website structure and function if not absolutely necessary. #vcbuzz

— Maile Waite (@mailewaite) August 13, 2019
Quick story: During a recent platform migration, all bots received the correct HTTP status codes except for Googlebot Desktop. Crawling as Googlebot Smartphone & other user agents showed a 301 to a 200 status code, but Googlebot Desktop showed a 301 to a 404 error.
My client saw a 6-figure drop off in organic traffic as a result. It took weeks to identify the root cause which resulted from a strange page template error. If you think that Googlebot Desktop doesn't matter as much after already switching to MFI, you thought wrong!
TLDR: Test all pages and 301 redirects by crawling them as different user agents, different devices, and different crawl tools before AND after launch. CYA by saving the crawl exports and set up scheduled crawls for iterative auditing. PRO tip: analyze server logs.
A3 On WordPress, make sure the button that tells search engines to not crawl the site is not checked once you launch.

Once upon a horror story, I was part of a team that overlooked this for a couple of weeks. ?️?

Never again! #vcbuzz

— Boyd Norwood (@boydnorwood) August 13, 2019
Q4 How to evaluate whether everything went as planned? How to quickly audit the new website?
Determining site migration success is not that easy. I start with asking these questions then do a post-launch SEO audit followed by an internal and client discussion of the findings.
Questions to ask when determining post-launch success:
Can search engines properly discover, crawl, & index on both desktop & mobile?
Are 404s & crawl errors minimized?
Are critical rankings maintained?
Are 301s working without errors?
@vcbuzz A4. Closely monitor analytics to make sure there is not a drastic change in traffic or conversions. That will be the first sign that something was not done correctly (robots.txt issues, tracking issues, broken forms, site speed, etc.) #vcbuzz

— Maile Waite (@mailewaite) August 13, 2019
At @PRFTDigital, we also just started developing a KPI post-launch dashboard for my migration clients using Google Data Studio (free) and @SuperMetrics for Google Sheets (paid license but well worth the money).
Post-Launch SEO Dashboard KPIs:
Filters for mobile vs desktop performance
GSC Impressions & clicks
# of sitemap URLs submitted/indexed
Soft 404s (to find 301s to irrelevant pages)
Crawl issues
Blocked URLs
Ranking changes
Q5 What are your favorite SEO tools, especially those that can be used for SEO migration?
I keep an updated list of my favorite SEO tools and resources here.
My all-time favorite SEO tools are @SEMRush, @ScreamingFrog Spider and Log File Analyser. You don't need much else besides those IMO. For Chrome Extensions, I'm a fan of SEO Meta in 1 CLICK, Web Developer, & Ayima Redirect Path. What about everyone else?
A5 I can not give a big enough shout out to @Ahrefs! #vcbuzz pic.twitter.com/xaNsGGL9vP

— Dan Willis #SAIS2019 (@MLLNNLmotivator) August 13, 2019
A5
?Screaming frog: make sure all URL's are being accounted for in terms of redirects
? https://t.co/5EgsSgt7h8 (@nozzleio): one time ranking pull for thousands of keywords to cross reference w/another one time pull a month later to monitor the affects of the migration #vcbuzz

— Boyd Norwood (@boydnorwood) August 13, 2019
Our previous SEO chats: