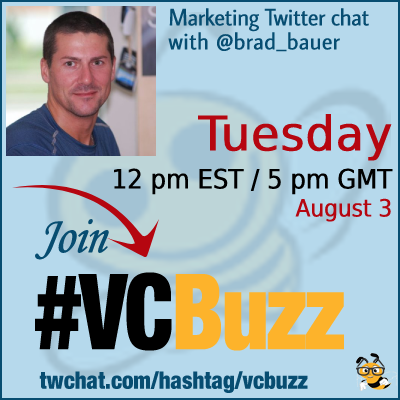 "Core Web Vitals" is a weird word combination we have heard a lot this year.
No, it is not a medical term, thankfully.
But what are Core Web Vitals and how will the related Google's search update impact the search industry? Let's discuss!
***Add #VCBuzz chats to your calendar here.
***Please sign in here to follow the chat -> twchat.com/hashtag/vcbuzz
About @Brad_Bauer
@Brad_Bauer is digital marketing leader with expert level knowledge of strategies & tactics in Programmatic, SEM, SEO, paid social, affiliate, content, and retail channels marketing.
Connect to Brad on Linkedin!
Questions we discussed
Q1 How (and when) did you become a digital marketer? Please share your career story!
I started very early – 1995/1996. I remember when Netscape Launched and when 14.4KBPS was as fast as your connection could be. Yep, I'm super old.
I saw a lot in those days & was in the thick of the run-up to the first dot-com explosion and ultimate implosion.
We had a front-row seat to a lot of really cool things (which seem mundane now), having spent my formative years at USWeb, which later became marchFirst before spectacularly imploding – a lot of those people are still friends today.
I learned a lot from people like @vkellen & @LorenMcDonald – watched @jason become well…whatever he is now, through his Silicon Alley email newsletter antics and so much more
That experience plus working with people like @phixed, @sspencer and so many others over the years really provided a rich experience professionally & helped me get to where I am today, leading the digital marketing team @IAA_Auctions
Q2 Is there a way to explain "core web vitals" in a way everyone can understand? And why should we care?
I talk to Sr Exec's about topics like this all the time so being able to break it down to "everyone can understand" is a key part of my job
Google scores each web page according to how well it performs in offering a delightful experience to site visitors. The Core Web Vitals report details how web pages perform based on real-world usage data, also known as field data. #vcbuzz

— Jeannie Hill (@essentialskill) August 3, 2021
Core web vitals about providing outstanding user experience – fast page loads, ease of user interactions, and stability of a page, visually – that last one is a bit more challenging than the others for a lot of companies, given today's technical environments.
A2) Part of the on-page signals related to the way users experience their interaction with a page #vcbuzz

— Montse Cano (@MontseCano) August 3, 2021
100% tools are nothing without people to interpret the results
More on that stability thing – web personalization (as ONE example) has been around for a long time but, its still not great when it comes to "stable" user experiences so our friends at Google are pushing on that – its not the only reason or example though.
#VCBuzz A2.2

Then, to explain how it may impact rankings …
you can use two race analogies.

Race 1 : tortoise, hare and car.
Race 2 : 3 of the same.

In the first, there's a clear winner.
In the second, the difference is too small.

— Lyndon NA (Darth Autocrat) (@darth_na) August 3, 2021
A2. Making your web content easy and fast to find, access, and offers a great user experience. #vcbuzz

— Jeannie Hill (@essentialskill) August 3, 2021
Q3 How to check your site core web vitals?
There are a TON of tools out there that claim to help measure CWV but I trust Google's view
Search Console and smart humans doing analysis is always more valuable IMHO than 3rd party tools. If you need or want a tool, Google's Lighthouse is free and does the job.
Humans know your technical environments and business environments – tools don't necessarily know the intricacies of the org
All needs to be put in context to understand how important they are for a specific business. For example, some of these elements may need to be prioritised or deprioritised against other aspects not to do with CWV #vcbuzz

— Montse Cano (@MontseCano) August 3, 2021
If you need or want a tool, Google's Lighthouse is free and does the job – in conjunction with GSC, you're pretty close to good, tools wise
A3: Quick check in Google pagespeed insights + lighthouse report can be helpful. Addition to that, check page experience report in Google search console as well. #vcbuzz

— Hiren vaghela (@hirendream) August 3, 2021
Agreeing with @brad_bauer – To make your #WebCoreVitals optimization effort worthwhile, you have to know what really matters to your audience and Google. #vcbuzzhttps://t.co/1OBw5H1xtd https://t.co/ZavWcy2aMh pic.twitter.com/KTqsQJU4ex

— Jeannie Hill (@essentialskill) August 3, 2021
#VCBuzz A3.2

LightHouse is for testing – and may be the least accurate (think of it as a lab test – sterile, clean, controlled).

PageSpeed Insights is more realistic, based on Chrome users – and does page and site.

Google Search Console shows an aggregate of actual users.

— Lyndon NA (Darth Autocrat) (@darth_na) August 3, 2021
#VCBuzz A3.4

By using Developer Tools, you can alter display to mobile, and throttle network and CPU (emulate lower end devices, poorer connections etc.).

This can give you a real insight into how your site will likely be seen by users (and it can be very different to PC)

— Lyndon NA (Darth Autocrat) (@darth_na) August 3, 2021
This is a valuable point for authors like myself. Most people don't buy books on PCs these days. It's far more likely to be on mobile, so knowing how your page looks there is essential. #vcbuzz

— Dana Lemaster Author (@LemasterAuthor) August 3, 2021
A3. The chrome devtools performance panel can help you analysing a few of the core web vitals metrics..#vcbuzz

— Amal Ghosh (@AmalGhosh3) August 3, 2021
Q4 Is there a way to improve your core web vitals without turning to a developer?
Of course there are ways to improve without investing in dev time. However, if you have an enterprise-scale transactional website, like we do @IAA_Auctions you're going to have to engage your development teams, design teams and likely infrastructure teams too.
If you're using WordPress, SquareSpace or Shopify you're going to need to stay on top of a wide variety of things.
#VCBuzz A4.2

Personally, though I honestly feel that a % of these optimisations shouldn't be needed.
Designers should be making better sites.
Developers should be making lighter/faster code.
Hosts should be auto-compressing.

— Lyndon NA (Darth Autocrat) (@darth_na) August 3, 2021
Q5 What are your favorite technical SEO tools?
My favorite technical SEO tools are actually not tools at all – rather, smart humans that have been solving sticky technical & business problems for a LONG time.
We rely on @jillkocher and her team @JumpFly to help. We also use @screamingfrog, @semrush, and a few others [beyond our GA360 data and Google Search Console Data] but, tools are highly personal to a lot of marketers and there really is no one-size-fits-all.
Our previous technical SEO chats: