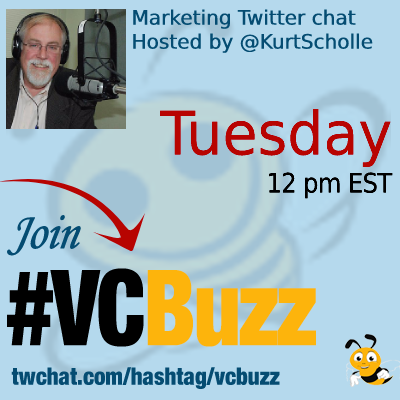 Search Engine Optimization is one of the fastest-moving tactics out there.
While the fundamentals remain the same – You need to create a well-structured website that solves people's problems – steps to achieve this goal are absolutely different from what they were 10 years ago.
This is why it is so easy to make mistakes and actually hurt your website's organic visibility when optimizing your website.
What are the most common SEO mistakes and how to avoid them? Let's discuss!
***Add #VCBuzz chats to your calendar here.
***Please sign in here to follow the chat -> twchat.com/hashtag/vcbuzz
About @KurtScholle
@KurtScholle is a website development strategist focusing on ROI, Online Marketing. He is a speaker and workshop leader.
Please check out Kurt's blog at Website Success Guy.
Questions we discussed
Q1 How did you become a digital marketer? Please share your career story!
I was in radio for some time and one of the guys I knew, Ron, introduced me to the Internet and said, "This is going to be like radio 70 years ago. It will evolve." And boy did it!
We developed a small agency to build websites. I interacted with clients. He built the sites in notepad of all things.
We joined a local Chamber of Commerce and began looking for business. This was very early and most people did not know how to surf the web or send email. So we taught them!
Around 1994, I did a presentation at the local Barnes and Noble explaining how the internet and email worked.

The top question we got at an ISP back then was what happens to my email if my computer is turned off. #vcbuzz https://t.co/4CX9Ty7Toh

— Gail Gardner (@GrowMap) July 12, 2022
We hosted a monthly pizza party at the chamber's offices and pushed 4 of their computers together and each went online using a 1200 or 2400 baud modem! LOL Those were the days.
Our first clients actually subscribed to a local directory we developed called Suburba.Net. There was a men's store, a restaurant and HVAV company, etc.
We also built the chamber's first website and introduced it at a monthly event saying, "We all know that for online success, a website needs to have dirty pictures." So we showed the About page featuring a picture of 2 chamber leaders on the dusty & dirty construction site for their new offices. Rubble everywhere!
As we grew the business, we learned that websites needed to be marketed after launch.
Q2 What is #1 SEO mistake you see business owners make when trying to improve their rankings?
It's like the assumption that successful websites need dirty pictures, most small businesses think it isn't all that hard. As one client once told me, "It's not so hard! All you're doing is slapping some keywords up."
#VCBuzz A2.2

But other common ones include:
* Copying competitors blindly
* Using plugins and thinking SEO is done
* Following "advice" without verifying
* Not defining goals/objectives and metrics/KPIs
* Relying on tools without understanding them
* Building/buying bad links
🙁

— Lyndon NA (Darth Autocrat) (@darth_na) July 12, 2022
With all due respect, they don't know what they don't know. And if you're in the SEO biz and you want their business, you need to demonstrate that there is much more to it than that.
A2 It may not matter today; however, it used to be listening to those tools that said:

"You only have two keywords; you can add 98 more".

I still think that was a trick perpetrated by the SEO who created the most popular tool to keep most people's sites from ranking! #vcbuzz https://t.co/G3FX2Msisr

— Gail Gardner (@GrowMap) July 12, 2022
Before you even begin "slapping some keywords up," you need to know what keywords you want to rank for and how they relate to the overall plan.
You need to research who is ranking for those keywords and what their content looks like. How long is it? What are their headings? What sort of internal and external links are they getting?
#Vcbuzz A2: Many new business owners jump the gun and hire backlink builders from Fiverr to boost their websites authority. However, a spammy link campaign will only hurt their future success online.

— Joey Trend (@joeytrend) July 12, 2022
Lately, more SEOs are siloing content using tags. Effectively creating websites within websites.
I agree. Many newbies have never even considered the idea of technical SEO.
Q3 When a website owner is new to SEO, how can they avoid making mistakes?
Like anything else, they need to know what they know and don't know. Don't make assumptions. And don't cut corners. Try and get objective advice from knowledgeable people,
A3 The easiest way would be to hire a really great SEO. But the problem is how do they find one if they can't adequately vet them?

The DIY way would be to start taking the free SEO courses available from sites like @MOz. #vcbuzz https://t.co/jpjvuOOwxp

— Gail Gardner (@GrowMap) July 12, 2022
A business owner wouldn't replace windows in their store if they've never done it before. A business owner would not set up a Local Area Network in their office without experience and expertise.
You can do your homework; read books and blogs. You can watch videos or take courses. Spending 25 bucks on a book or a Udemy course can be money well spent and not be a time suck. Just to get started.
#vcbuzz A3: Try to learn as much as possible and find a mentor. Having an experienced person to help you along the way is essential to avoiding mistakes in the beginning.

— Joey Trend (@joeytrend) July 12, 2022
Just TALK with someone! Meet someone from the chamber for coffee. You may begin a list of things you hadn't thought of that will lead to more discovery.
And by all means, follow @seosmarty on the Tweeter!
#VCBuzz A3.2
>>>

Things tend to go wrong when people look for short cuts, magic bullets, cheats …
… they focus on "SEO Wins" rather than business ones,
… and people stop thinking.

Common sense and logic are just as important as knowledge/research.

— Lyndon NA (Darth Autocrat) (@darth_na) July 12, 2022
Q4 What are some common SEO myths that lead to SEO mistakes?
In addition to just 'slapping up some keywords,' understand that SEO is constantly evolving. Google changes their algorithm 500 times a year. You probably don't know what you don't know unless you know what you don't know.
What worked 10 years ago, probably will not work today. It might even hurt you. Heck, what worked 10 weeks ago may not be a good tactic today.
If you have the time and interest, it can be fun to follow along and even experiment a little bit. Learn by doing.
Another mistake I see is people thinking that they are a good writer, so they will succeed at writing content. I had a client who was excellent at writing corporate reports. Not so much websites, let alone SEO content.
Another client wrote great textbooks. But direct-response copywriting or search optimized content was not a talent. (Don't tell her I said that.) 🙂
I once had a newly graduated volunteer come to 'improve our SEO', but they found our consistency in our niche, basic web improvement, and organic reach over time had already provided what they wanted to improve.

But a regular review and update is invaluable!#vcbuzz

— Amy.M.Anderson (@snippetsbyAmy) July 12, 2022
Links are really important for SEO. Before creating ANY content, you should ask yourself, "Who is going to amplify this?" Who will link to or use my infographic?
#VCBuzz A4.2
>>>

* That all instances of certain things should be noindexed (such as internal-site-search pages, all faceted nav pages, all variants of products etc.)

But things like LSI, Longform Content etc. don't generally do anyone any favours (wastage/loss of focus)

— Lyndon NA (Darth Autocrat) (@darth_na) July 12, 2022
Q5 What are your favorite SEO tools?
I've used a lot of them and some are better for some things than others. It would be great to afford to use a couple, but they can be expensive. I'm actually writing an article on tools as we speak.
You need the tools AND know how to use them. For a #smallbusiness, you might be better off hiring a firm to do keyword research or link analysis for you.
#VCBuzz A5.

Google search
Chrome
Semrush
Google Drive/Sheets
PHP/MySQL

— Lyndon NA (Darth Autocrat) (@darth_na) July 12, 2022
I've used Ahrefs, MOZ and SEMRUSH. We have a client on an inexpensive Ubersuggest plan. I'm not sure if it's still available. Ahrefs had an inexpensive starter package you could try for a week, but they don't offer it anymore.
We've been playing with Keyword Atlas and Keywords Everywhere. They're affordable for small business.
It's nice if you can get an idea of the number of monthly queries and the competitiveness of the term, but I know people who are getting more monthly visits than the total estimated traffic of some tools.
It seems many don't understand the meaning of the word "estimate".

Traffic estimates are often 1/10th of actual traffic (on a site according to Google Analytics) because they only track high volume keywords. #vcbuzz https://t.co/iegOx6RUHw

— Gail Gardner (@GrowMap) July 12, 2022
I think one of the best freebie options, and a simple way to get started, is AnswerThePublic.
Understand that SEO takes time. People give up after writing 3 articles. It might take 100 to move the needle.
And links. Several won't cut it. You might need 200.
And "The G" will not fully rank content for 6-8 months. Don't give up! Keep cranking.
And finally, get you one of those apps that will help you post some dirty pictures. (I'm kidding) Talk about SEO mistakes!
And finally, get you one of those apps that will help you post some dirty pictures. (I'm kidding) Talk about SEO mistakes!
Our previous SEO chats: