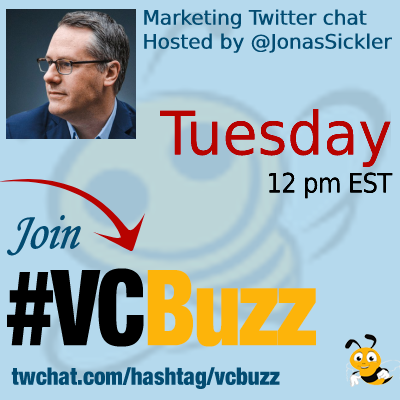 Keyword research and optimization processes have changed a lot over the past decade.
To keep up with ever changing and maturing search algorithms, SEOs have come up with new and better ways to identify and group keywords and implement them in the content creation and optimization strategy.
This is where topic clusters are coming from, and here's how to use them in your SEO strategy.
Let's discuss!
***Add #VCBuzz chats to your calendar here.
***Please sign in here to follow the chat -> twchat.com/hashtag/vcbuzz
About Jonas Sickler @JonasSickler
Jonas Sickler @JonasSickler is SEO manager for multiple Terakeet web properties.
His work has led to widespread media visibility, and he has appeared in Forbes, The Washington Post, CNBC, Jim Cramer's TheStreet, U.S. News, and Business News Daily.
Jonas is also an accomplished children's book author and illustrator.
Questions we discussed
Q1 How did you become a digital marketer? Please share your career story!
My first experience with digital marketing was as a children's book illustrator. I used to have a website where I promoted my Indestructible baby books and blogged about how to start an illustration business.
That experience introduced me to SEO. In 2014 I took my first official SEO job at @Terakeet, which has been an absolute dream job. I've experienced every corner of SEO and digital marketing. Now I oversee content and SEO strategy for the Terakeet website.
Q2 What are content clusters? What are the benefits of topic clusters?
Topic clusters are a fairly simple content strategy framework. They're just groups of interlinked related pieces of content. They consist of one high-level pillar page and a bunch of in-depth cluster pages that address subtopics.
In terms of benefits, let's break them down into 3 categories. Good for Users. Good for Brands. Good for search engines.
Users: Content clusters are great for users because each page in a cluster directly satisfies search intent and offers clear next steps. That's because you plan them out in advance and link to related content.
Brands: They're great for brands because they allow you to more efficiently plan your content calendar and reduce friction as you move users through the conversion funnel by linking to related content.
Search Engines: Clusters help search engines understand what each piece of content is about and how it relates to other pages on your site so Google can serve the most relevant content for each search query.
BONUS: Topic clusters are also amazing for SEO because they pass signals of context and relevance between pages, and they also share backlink value through internal links.
#VCBuzz A2.2

So depending on which perspective/definition you prefer,
you could look at something like a section on an E-commerce site, and see all the Kettles in the Kettle section as being a Content Cluster (all kettles, linking to a parent category page for kettles).

— Lyndon NA (Darth Autocrat) (@darth_na) March 22, 2022
#VCBuzz A2.4

But regardless of the specific architecture/reach,
the benefits tend to be along the same lines:
1) Internal links
. a) passing link value/flow
. b) relevance/topicality
2) Better UX
3) Broader term coverage
4) More inbound link opportunities
5) Greater relevance

— Lyndon NA (Darth Autocrat) (@darth_na) March 22, 2022
Q3 How to implement content clusters in your SEO strategy?
Do keyword research to identify all the queries within a vertical. Then, group terms into blog posts and topic clusters using keyword clustering software or manual Google searches (which I prefer).
#VCBuzz A3

There are multiple approaches you can/should take.

1) Research
2) Creation
3) Internal Linking

Research:
A) Typical/standard keyword research for main term
B) Question research
C) Issue research
D) Standard framing by term type (product/service/entity etc.)

— Lyndon NA (Darth Autocrat) (@darth_na) March 22, 2022
Write your in-depth cluster pages first, adding internal links as you publish new pages. Then create the higher-level pillar page for the cluster, and link out to appropriate cluster pages from the most relevant subheadings.
Which keyword clustering software do you recommend? Can this be done in Excel? #vcbuzz https://t.co/FYFIpVaXNC

— Jessy Troy (@jessytroy) March 22, 2022
I prefer to manually group because I'm a control freak. But Serpstat is an option, as is Keyword Insights
Grouping keywords is the hardest thing to do. Always defer to Google to verify if a keyword belongs in a group with other terms, or by itself. Look at competing content to see if others have separate posts, or if they have one large guide.
Adding internal links while doing this is a great way to enhance your internal linking. You already know the content and the pages #vcbuzz

— Montse Cano (@MontseCano) March 22, 2022
#VCBuzz A3.3

Focus in on terms that actually pertain to what you want to achieve (sales, branding etc.), and for the audience you want to appeal to/attract.

This may vary by the nature of the business, geo etc.

It may include answering questions, presenting solutions etc.

— Lyndon NA (Darth Autocrat) (@darth_na) March 22, 2022
#VCBuzz A3.5

The more you cover,
and properly interlink, the more benefit you will see.

And, with a little thought and planning,
you can even do it across audience types (such as Peer content for Links benefiting Consumer content for Sales).

— Lyndon NA (Darth Autocrat) (@darth_na) March 22, 2022
Q4 What are some huge mistakes brands make with topic clusters?
The big mistakes fall into 3 categories: keyword targeting/grouping, and internal linking, and content depth.
Keyword Targeting: Not targeting keywords. Targeting the same keyword multiple times. Creating separate articles for terms that should have been grouped into one post.
#VCBuzz A4

Not just "brands" – but sites in general…

1) Wasted internal link opportunities
2) Lack of content-types
3) Low quality content
4) Focus on pages for variants, rather than inclusive content.

— Lyndon NA (Darth Autocrat) (@darth_na) March 22, 2022
Internal Linking: Not linking to key pages in a cluster. Linking randomly without considering intent. Linking to different pages with the same anchor text. Using nondescript anchor text.
Content Depth: Creating pillar pages that are too in-depth so Google doesn't rank the cluster page. Creating cluster pages that are too thin and don't provide value.
#VCBuzz A4.3

You should go back through older content, and (when/where relevant!) link to newer pieces.
This not only helps push more value to them straight away, but helps visitors finding older pages get to newer stuff.

You should also be linking to Siblings and Cousins.

— Lyndon NA (Darth Autocrat) (@darth_na) March 22, 2022
#VCBuzz A4.5

But the content shouldn't just be thrown together.
If the content doesn't serve a purpose (for the business and the viewer!), then it shouldn't be produced!

When you have that mindset, you tend to reduce fluff/garbage – such as cookie-cutter content.

— Lyndon NA (Darth Autocrat) (@darth_na) March 22, 2022
Q5 What are your favorite SEO and keyword research tools?
For general keyword research, I really like @Semrush. It has so many features that you can really customize it to your preferred workflows.
For grouping keywords, I've used automated software, but I still prefer to manually search each keyword in Google and group it with other keywords based on what Google returns in the top 10 results.
Although it's time consuming, it's not as time consuming as rewriting all of your content if an automated tool gets something wrong. If you want to win in Google, look at Google.
A5 both @Serpstat and @SEranking provide powerful keyword clustering solutions. #vcbuzz

— Ann Smarty (@seosmarty) March 22, 2022
BONUS: You can learn more about building clusters and grab my personal topic cluster keyword grouping template from my article here.
#VCBuzz A5.2

Spreadsheets or Scripts are invaluable too!
If you look carefully across several different "keywords" (be they products or services),
you should see a pattern for types of query.

Those are "frames".

Copy, blank the "keyword", then auto-fill with Keywords.
😀

— Lyndon NA (Darth Autocrat) (@darth_na) March 22, 2022
Make sure you understand how tools group terms, and try to find one that groups keywords by ranking URLs You'll also need to account for competitor content breadth – do they have one page, or many, and do each of them rank for unique terms?
Since there's so much that can go wrong with internal linking, I wrote a full article about it. How to link clusters, anchor text, value of different types of links, etc… https://t.co/163sy422eD #vcbuzz

— Jonas Sickler (@JonasSickler) March 22, 2022
Our previous keyword research and SEO chats: