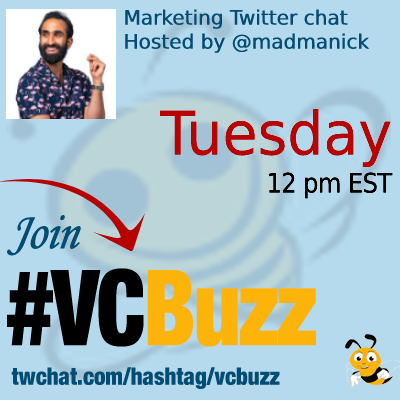 Content SEO has changed a lot over the past decade, yet many marketers have hard time letting the old optimization tactics go.
How should we optimize our content these days?
Which tactics are too outdated and may do more harm than good?
Let's discuss!
***Add #VCBuzz chats to your calendar here.
***Please sign in here to follow the chat -> twchat.com/hashtag/vcbuzz
About Manick Bhan @madmanick
Manick Bhan @madmanick is co-founder of @linkgraphio, cutting-edge SEO software.
Manick is also contributor at @sejournal, @wordstream and @G2dotcom
Questions we discussed
Q1 How did you become a digital marketer? Please share your career story!
I've been doing #SEO for about a decade now. I first cut my teeth in the SEO arena when I was trying to grow my first tech company which was in the live entertainment and ticketing space. We were competing with companies that spent $6 million on Superbowl ads.
We had to be really savvy and careful– trying to get to page 1 of #Google. The SEO strategies we implemented had a real economic impact, so I quickly learned the basics of SEO, and also what worked vs. what didn't.
I had so much fun working with our team and for me, it was a watershed moment in my career. It sparked this fascination with wanting to learn and understand how #Google's algorithm works.
Q2 How should we optimize our content these days? How can SEO content assistant tool help?
Google doesn't just look for #keywords on web pages anymore. Their crawlers look for related terms, subtopics, answers to common questions, expert sourcing, and in-depth explorations of a given topic.
So, optimizing content is much more time and resource-intensive than it once was. If you want your content to rank, you have to improve all of those content quality signals on your web pages in order for #Google to promote it more often to searchers.
#VCBuzz A2.

Ideally – the same way you should have been optimising it in 2020, 2015, 2010…
… by focusing on content that:
1) focuses on a specific topic
2) focuses on a specific user goal
3) provides breadth and/or depth, and value
4) using language that suits

>>>

— Lyndon NA (Darth Autocrat) (@darth_na) March 8, 2022
Our SEO Content Assistant simplifies the process by providing the "cheat codes." By adding the tools suggested Focus Terms, questions, and links to your web content, you can elevate your ranking potential for relevant keywords and rank in organic search more often.
#VCBuzz A2.3

Content that provides value (and gets in front of the right people), earns links (over time etc.).

Botox Content tends to slowly fade away 😀

— Lyndon NA (Darth Autocrat) (@darth_na) March 8, 2022
For those interested in trying the #SearchAtlas SEO content tools
Q3 Do keywords still matter? Where does keyword research fit into modern content optimization strategy?
Yes, keywords matter, but keyword research is a much more granular process. At @Linkgraphio, #Google ranks our web pages for hundreds to thousands of relevant keywords, because when we optimize, we don't just aim for a single keyword target.
A3.2 Our content is also optimized for all the short-tail and long-tail variants that exist within the same keyword cluster. Keyword clusters are a more advanced strategy, but our SCA tool simplifies that process too by automating keyword clustering. @vcbuzz #vcbuzz pic.twitter.com/3NFJkP9Hfo

— Manick Bhan (@madmanick) March 8, 2022
If a single web page on your site could rank for 10 keywords versus 1000 keywords, which would you prefer? It's about working smarter and harder.
A3 Keywords still matter but exact keyword matching does NOT! #vcbuzz

— Ann Smarty (@seosmarty) March 8, 2022
Ann, please explain. Exact keyword match doesn't matter? Are you talking about the URL? #vcbuzz

— Don Sturgill (@DonSturgill) March 8, 2022
@DonSturgill I am talking about trying to optimize for each keyword verbatim… word for word… We optimize for the group of keywords and the underlying intent behind the group these days #vcbuzz

— Ann Smarty (@seosmarty) March 8, 2022
#VCBuzz A3.

As far as I'm concerned – yes.

But… people need to be looking at it in a newer light,
rather than the established and mostly outmoded old way.

G invested massive resources into synonym systems,
and then into semantic systems.

— Lyndon NA (Darth Autocrat) (@darth_na) March 8, 2022
#VCBuzz A3.2

So it's not just things like Synonyms (and Antonyms),
but also things like:
* Holonyms
* Meronyms
* Hypernyms
* Hyponyms

as well as Related and Associated (co-occurring) words and phrases.

The things that help disambiguate topics also help show focus.

— Lyndon NA (Darth Autocrat) (@darth_na) March 8, 2022
#VCBuzz A3.4

So it's not a case of:
* Usage of X at 2%
* Synonym of X at 1%
* Parent of X at 0.4%
* Child of X at 0 to 0.6%
etc.

Though G may still pay attention to occurrence counts,
what's more important is that it makes sense and provides value to the user!

— Lyndon NA (Darth Autocrat) (@darth_na) March 8, 2022
Q4 Which content optimization tactics are too outdated and may do more harm than good?
Keyword stuffing doesn't work. ❌ SEOs can't trick Google into thinking their content is relevant when it's not. Instead, you have to do the work of creating relevant, in-depth, high-quality content.
The role of meta tags is also changing, as Google now rewrites page titles and meta descriptions when it sees fit, but it's still important to include keywords in title tags and meta descriptions.
A4 This is a very good question. The only thing I can think of is over-optimization? Using a keyword phrase way too many times would probably do more harm than good. #vcbuzz https://t.co/Hwr4BBjleV

— Gail Gardner (@GrowMap) March 8, 2022
Exactly. This is why in the #SearchAtlas SEO Content Assistant, our tool provides 'Focus Terms' which are related keywords and phrases that you can optimize for. 
Definitely! Google is more likely to rewrite title tags and meta descriptions for web pages with un-optimized meta tags. Rewrites only happen about 20% of the time, so it's best to still follow SEO fundamentals. #vcbuzz @vcbuzz

— Manick Bhan (@madmanick) March 8, 2022
#VCBuzz A4.

Basically, any that are overly simplistic and/or rely on "volume".

That's not just keyword stuffing,
but things like treating category pages like info pages.

G attempts to serve content to match queries – make the type of content ambiguous, and it may backfire.

— Lyndon NA (Darth Autocrat) (@darth_na) March 8, 2022
Q5 What is the future of on-page SEO? How will people optimize their content in the next decade
If you're not using SEO software tools, you need to be. Tools like the #SearchAtlas SEO Content Assistant help content teams optimize more effectively and have a direct relationship with improved SEO performance.
A5: Onpage SEO will always remain crucial as it has more controllable to change various elements. There will be more advance feature snippet surely introduce to answer/help user. So solution based, to the point content will be the key. #vcbuzz

— Hiren vaghela (@hirendream) March 8, 2022
Smaller or newer websites in particular (who haven't built up their site authority via backlinks) can leverage #content optimization software to better compete with larger and incumbent brands.
Content quality is becoming more important in #Google's ranking algorithm, meaning smaller sites that leverage content optimization can rank in top positions. 📈
Plus, content optimization is way more affordable than other digital strategies, like #PPC.
#VCBuzz A5

It will likely become as important as G have pretended it is for the past 10 years 😉

As G have more capacity for real NLP,
they can do more in regards to both feature extraction/usage and parsing.

Rather than favouring "closest match",
they may favour "split match"

— Lyndon NA (Darth Autocrat) (@darth_na) March 8, 2022
We're also going to see a lot of marketing teams leverage the power of #AI. AI-generated copy isn't perfect, but it can speed up the processes of ideation, rough drafts, and meta tag generation. Content teams can scale the amount of content they produce more quickly.
Our previous content SEO chats: