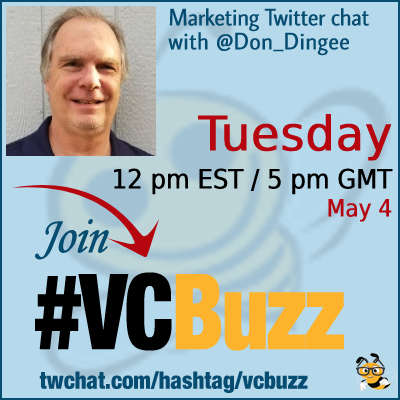 Content marketing is an on-going process. You are never done.
But how to keep your content flowing in a strategic way? Here comes a new concept that may be helpful: content strategy loops.
***Add #VCBuzz chats to your calendar here.
***Please sign in here to follow the chat -> twchat.com/hashtag/vcbuzz
About @Don_Dingee
Don Dingee @Don_Dingee founded STRATISET in October 2018 to share his B2B marketing experience.
Early in his career Don headed a product marketing team and implemented one of the first e-business strategies at Motorola.
He's co-author of "Mobile Unleashed", a history of Arm chips in mobile devices. Follow Don on Linkedin
Questions we discussed
Q1 How did you become a digital marketer? Please share your career story!
My journey has taken me from electronics engineering to product marketing, to web development, and to freelance writing. I've been freelancing for 16 years now, with short stints at a magazine and a digital agency.
Today, I do work mentoring digital marketing apprentices here in Austin and San Antonio on the nuances of content strategy.
A1. It was really an outgrowth of my becoming a novelist and screenwriter. Doing content writing helps a writer build a reader base and also promote interest in upcoming projects. #vcbuzz

— Dana Lemaster Author (@LemasterAuthor) May 4, 2021
Q2 What are content marketing loops?
Content strategy isn't poured in concrete; it should evolve over time. Pounding the same topics over and over doesn't work. Strategy loops use SEO, social, and analytics in discovering intent and expanding topics.
Each pass around a content strategy loop reveals more data about what people find valuable. As the loop expands, it gets easier to find new topics to write about that are likely to have an impact with audiences.
I discovered the idea of loops working for an agency, where monthly reporting including next steps was a necessity to keeping clients interested (and paying).
How would strategy loops relate to content scheduling? #vcbuzz

— Dana Lemaster Author (@LemasterAuthor) May 4, 2021
Scheduling is tough at first, because you have no idea what's actually going to work. Stay flexible until data comes in. For instance, you can schedule A/B tests of social content to get going. Run with what works, then schedule similar stuff.
Q3 How to start creating content marketing loops? What's the foundation?
Branding, objectives, positioning, and value drivers are the foundation. I see too many people try to jump into "lead gen" when they aren't clear on their foundation and haven't created the right awareness.
Branding is obvious, let's take the others. Objectives are really in two pieces: What's the business goal? What's the campaign objective in stage (awareness, consideration, decision) and KPIs? Understand the objective before writing!
Positioning isn't as difficult as advertised, it can be written in one page. 3 questions must be answered somewhere: 1) What benefits are people evaluating? 2) What risks do they see? 3) What's a breakthrough for them?
Value drivers are the things people would cite as reasons they do business with you, or your competitors. Every key message in your content strategy needs to tie to one or more value drivers.
So, the "loop" is: build a strategy, create a piece of content, capture it in SEO, drive it with social media, measure results and compare it to the strategy, and repeat.
Please explain how to "capture it in SEO"? #vcbuzz https://t.co/WI7vvnBJyX

— Gail Gardner (@GrowMap) May 4, 2021
Every key phrase you're after should have one, and only one, piece of content associated with it. Other pieces of content may have similar phrases, but not exactly the same, and they can internally link to support the main topic.
And I'll emphasize we don't "write for SEO" – that comes off robotic. It is easy for a writer to follow a few very basic guidelines, though, and there's a few tools to help with that.
Yes, content clusters are important, too. So much more to #contentcreation than many #writers realize. #vcbuzz https://t.co/L2poGjpchL

— Gail Gardner (@GrowMap) May 4, 2021
Clusters definitely help in two aspects. They help you clarify internal linking. And, for some topics, you need more than one shot to rank, but you don't want to cannibalize the keyword, you create supporting pages.
Q4 Where does SEO and social media come into play here?
Great content always needs to be found. Organic search and social drive are crucial when building an audience. Do more with less. Define your audience as narrowly as possible at first, then expand strategically.
There are two big SEO struggles: unnatural-sounding content, and basic optimization misses (like no or multiple H1s, no keyword in title/desc, no keyword in alt tags). Write what you would write naturally, then make a few edits for SEO.
A4
Social media and SEO are part of the loop. When the loop runs a cycle or several cycles, the metrics will help fine tune the strategy.
Makes sense?#vcbuzz#vcbuzz

— Zen Ameer (@Zen_Ameer) May 4, 2021
Yes, exactly, and they point to what your next steps should be.
Content pillars are a great way to define topics. Winning a head topic ("mountain bikes") may be tough, but core topics ("mountain bike pedals") and subtopics ("what are the best mountain bike pedals?") are winnable.
Social media ignites conversations. You can drive content, tap into trending topics, and curate friendly ideas from others on the topics you're after. Social is the place to experiment with new core topics and subtopics.
Q5 What are your favorite content marketing tools?
I'm a big @semrush fan, and I use WordPress with the @yoast plug-in to help with optimization. I also use the Hemingway Editor for long-form writing. One pro tip for quick SEO auditing is the Blue Button extension in Chrome.
I'd recommend @Majestic #vcbuzz

— Montse Cano (@MontseCano) May 4, 2021
A5. If any of you want to peruse just under 50k SEO related questions pulled from the Google's People Also Ask boxes for SEO-related content ideas, here you go: https://t.co/CwNjjKAspn #vcbuzz

— Boyd Norwood – nozzle.io (@boydnorwood) May 4, 2021
Our previous content marketing chats: