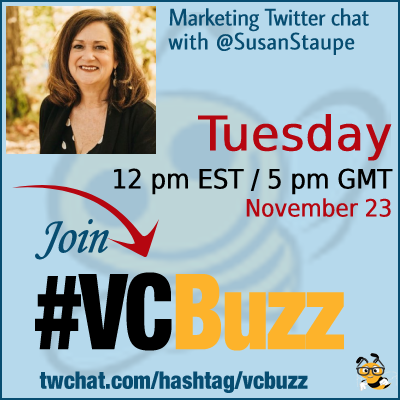 Search engine optimization is key to digital visibility in just about any niche.
Yet, all niches are not created equal: What works in some industries don't make sense in other industries.
Let's try to find out which specific SEO tactics work for organic visibility in the legal niche!
***Add #VCBuzz chats to your calendar here.
***Please sign in here to follow the chat -> twchat.com/hashtag/vcbuzz
About @SusanStaupe
@SusanStaupe has been living and breathing digital marketing for over 15 years.
For the majority of Susan's career, her expertise has been in online marketing for attorneys and law firms. She also has extensive experience in many other industries and can adapt digital strategies accordingly.
Susan is Director of SEO @jurisdigital.com
She currently serves on the Board of Directors for MnSearch.org as the Sponsorship Director, volunteering for the board since 2013.
Susan also served on the MOZ CAB advisory board in 2012 for Moz Local.
Questions we discussed
Q1 How did you become a digital marketer? Please share your career story!
My Aunt had an SEO Agency, she taught me everything I needed to know to get started. Then she lost her biggest client and had to lay me off. From there I worked my way up through various SEO positions and am completely self taught.
Fast forward 15 years later and I'm a Director of SEO!!
My entire career has been focused on Legal Marketing
Q2 How is SEO different in the legal niche?
It's not that it's different per se, but it is an extremely competitive industry, you have to think outside the box and have clients that trust you to test new things and pivot strategies as needed.
You must be willing to test anything and everything that makes sense for specific markets and practice areas.
Q3 In such a competitive niche, how can one compete with huge budgets?
Unfortunately in legal you do have to have a decent budget to compete, this depends of course on the specific market and practice areas. There are several things you can do for free, but to seriously compete, you need a budget, crazy-great content, quality links and to utilize multiple channels, such as Google Business Profile, (aka: GMB), PPC, LSAs, Next Door ads (for B2C) etc.
For example a $1,500 a month client is not going to be successful in a larger market.
@SusanStaupe So does PPC helps to overcome SEO issues initially for generating revenue? #vcbuzz

— Salman Saleem (@salmanlashkari) November 23, 2021
It can, I actually recommend LSA's (local Service Ads) over Google Ads for Law Firms. They offer more qualified leads and you get charged per lead not per click. 🙂
So which monthly budget are we talking about here? :))) #vcbuzz

— Anna Fox (@manifestcon) November 23, 2021
I'm a huge proponent of organic and local SEO for law firms. it's ultimately has THE BEST roi.
So how do you combine the two for higher effectiveness? I keep struggling with the need to use different landing pages for PPC and organic campaigns, for example. #vcbuzz

— Jessy Troy (@jessytroy) November 23, 2021
I believe it possible to use a practice area page for a ppc campaign without creating a separate landing page – dependent on the PA and GEO market. My ppc director is going to kill me for that one. 🙂 I think an effective LP can work well for both organic and ppc. ;). dare I say.
My problem is that organic LP needs much – much more content #vcbuzz

— Jessy Troy (@jessytroy) November 23, 2021
Technically yes, to rank you need much more content. However, if you can get creative with the layout and CTAs and driving people to take an action early on in the page, it can still be effective in ppc. My niche is definitely local and organic
Q4 How has SEO for law firms changed over the years? Have any SERP features (People Also Ask, featured snippets, etc.) effected that sector and how were businesses coping?
So many things have affected the legal sector. Law Firms have had to evolve and adjust accordingly. Google is constantly changing the game, so you have to have an SEO Partner that is willing to stay up to date on the latest and greatest implement and pivot as needed, and TEST EVERYTHING! LSA's have been a great channel to drive qualified leads, way more than Google Ads for the moment.
I also think using several tools help you to determine where your leads are coming from, which channel that is.
Susan, what are your thoughts on optimum keyword density per page/article these days? #vcbuzz

— Don Sturgill (@DonSturgill) November 23, 2021
I believe the average is 1-2% per page, however, I believe if you use the main kw and then topical kws throughout naturally, can will be just fine.
Q5 What are your favorite SEO tools?
One of my favorite questions . . . .SEMRush, Sitebulb, Ahrefs, for Local SEO it's Whitespark.ca all the way!
My favorite local seo tool is definitely Whitespark and Places scout..
A5 For local: @brightlocal ! #vcbuzz

— Ann Smarty (@seosmarty) November 23, 2021
Our previous niche SEO chats: