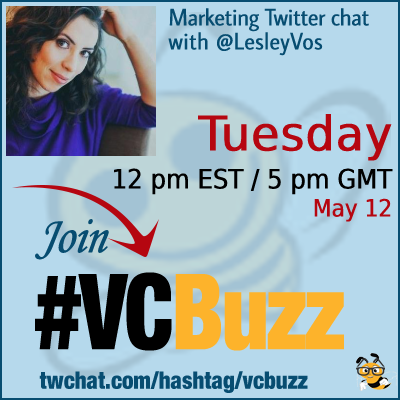 Writing is one of those industries which was dramatically changed thanks to the Internet.
If in pre-Internet era writers were struggling to become known, these days everyone has a voice.
One of the best ways for a writer to build a personal brand is by becoming a contributing columnist at niche blogs and media outlets.
But how to do that and where to start? Let's discuss?
***Add #VCBuzz chats to your calendar here.
***Please sign in here to follow the chat -> twchat.com/hashtag/vcbuzz
About @LesleyVos
Lesley J. Vos @LesleyVos is a contributing writer to publications on content marketing, social media, and digital marketing in general.
@LesleyVos contributes to @Moz, @SMExaminer, @CoSchedule, @SEMrush, @HuffPost, and more.
Lesley is a private educator and seasoned web writer from Chicago. In love with books, coffee, and foxes, she can't imagine pastime without travels.
Questions we discussed
Q1 How did you become a digital marketer? Please share your career story!
I had spent two years working as a teacher of the French language for high-school students. Later, I've given up teaching for copywriting. Learned web writing and content marketing.
Now I'm freelancing as a content creator, blogging at Bid4Papers.com, and contributing articles to many publications as a guest author.
I do data research, content writing, repurposing, and distribution. Build network and backlinks for promoting my clients and myself as a writer of compelling articles. 🙂
Q2 Assuming one is not really known yet in a niche, how would they start contributing to blogs? How to secure high-profile columns at established blogs?
You need some proof that you can write. Before pitching big dogs, work a bit on your portfolio: start a blog and post some works there, contribute to open platforms like Medium, Thrive Global, and others; write a few posts for LinkedIn, etc.
A2 A great place to create your #writing portfolio (free) is @Contently.

You get a page like mine https://t.co/7EkSl816Ga and you can also add creative videos, SlideShares and infographics as well as content.

They might even recommend you to work with their clients. #vcbuzz https://t.co/hyTkVAP0l0

— Gail Gardner (@GrowMap) May 12, 2020
At the same time, start building your network. Join some communities, Facebook groups, forums in your niche; be an active user there, ask and answer questions, tell about what you do and what you write. Quora is a great option too.
A2 Two great communities for #writers are #copywriter @lyndoman 's Content Creative Sketch Pad https://t.co/7ZLNMU5nX7 and for #influencers and writers who aspire to contribute on major sites @MPToothman's Amplifier https://t.co/kQRuGRSCHp #vcbuzz https://t.co/9YnQLZvT8e

— Gail Gardner (@GrowMap) May 12, 2020
The point is that you can't simply come out of nowhere and start getting published at high-profile niche blogs at once. It takes time. Unless you write like God and you're "going to make them an offer they can't refuse." 🙂
So, once you've got a few published works in a pocket (Medium, your own blogs, some small niche websites, whatever), you can use them when contributing to a high-profile blog so they could see your content is worth publishing.
Q3 How do you find blogs to contribute to?
First, you can go to Google for content such as "Top X Websites Accepting Guest Posts." Examine them and choose the most relevant for you and your niche. Outreach them with topics or ready content.
A3 Expect this to take some time. Many list creators simply copy sites off of other lists without doing new research. So they can be full of sites that no longer accept guest content or that are even gone.

Search the site to find current information, blogging guidelines #vcbuzz https://t.co/Mvwhs9kuxU

— Gail Gardner (@GrowMap) May 12, 2020
Agree with you here. You'll need to check all those websites for the latest updates on their guest post policy
Also, if you know your top competitors, you can check their backlink profiles to see the blogs they contribute to. Ahrefs or any other site explorer can help here.
A tactic I use, to avoid those lists of sites that are so big they don't take contributors, is to search for topics that I think the sites I want to write for would cover. I.E. when looking for wellness sites, I might search, "a guide to choosing the best supplements." #vcbuzz

— Jessica Thiefels (@JThiefels) May 12, 2020
Good point, Jessica! And here we're trying to come up with the ideas on how to find those places 🙂 So, lists in Google + competitors backlink profiles… Then…
Plus, I bet you read and follow tons of content from top-notch contrubutors in your niche. Check their profiles and portfolios to see where they post. Try outreaching those publications too. 🙂
Totally! And if you know anyone, ask for an intro to the editor they work with. A warm connection is ALWAYS the fastest way to contributing somewhere for the first time. #vcbuzz

— Jessica Thiefels (@JThiefels) May 12, 2020
Amen to that! I practice it from time to time, and such intros do wonders. Warn and personalized connection is a must. 🙂
Many guides on guest blogging recommend using Google search strings such as "your keyword" + "write for us," "guest post by," "submit post," etc. It may be a good option, but I don't use it because it takes tons of time and often brings irrelevant results.
Use images of passionate guest authors in your niche to find the websites where they've got published. For that, grab the URL of headshots in their author bios and paste it into Google image search. Viola!
Twitter search also works sometimes: use #guestpost + #yourkeyword tags to see relevant tweets and check them for writing opportunities. But again: takes time. time. time and time again.
There are also some great Facebook groups such as B2B Bloggers Boost for example. It's the community of marketers who share guest post opportunities or ask for them, do reciprocsl marketing, relevant link exchange, etc. Such groups can help too. 🙂
Q4 How to write an article pitch to get accepted? How do you approach editors?
First: personalization. Show them you know them and their audience. Say no to all those same-looking outreach templates from the web. Forget the "hi, I saw your article, it's cool, I wrote on the same topic, here it goes, publish it for your audience" bulls**t.
Contact a person responsible for content on your target website. Try to avoid general emails such as info@, support@, etc. And never outreach them via contact forms — 98% is that they don't read. If you follow up, do it only once! Okay, twice maximum. 🙂
A4 What #writing pitches should include:

Your full name and LinkedIn profile so I can verify who you are and what you do.

2-3 examples of published work or a link to your portfolio.

1-3 suggested topics you feel will be relevant on my site.

Do read guidelines! #vcbuzz https://t.co/cR9L1bZQNT

— Gail Gardner (@GrowMap) May 12, 2020
Focus on what you have for THEIR audience and WHY they need it. Put yourself in editors' place and answer "So what?" question. Would you accept your pitch?
A4. Short, simple and clear: 1-2 sentences explaining who you are (your unique sell), 1-2 sentences explaining what you want to write about and what you bring to the topic, and a simple "Thank you!" to close. The key is following up 7 days later to show your commitment. #vcbuzz

— Jessica Thiefels (@JThiefels) May 12, 2020
Don't speak about marketing, sales, and backlinks in your pitch: It's not about what YOU need, it's about benefits THEY will get working with you.
A4 THIS is absolutely true. Some sites will remove links, nofollow links or reject your content if they feel you have included a client in it.

Other sites do not allow contributors to link to anything they have written anywhere else. #vcbuzz https://t.co/4JVafRmpkF

— Gail Gardner (@GrowMap) May 12, 2020
So, the recipe: intriguing but relevant subject line + personalization + keep it short, sweet, and clear (5-6 lines are more than enough: salutation, who you are, why you contact, what you have, why they need it, P.S. if necessary).
A4. You can also find the correct emails using tools like Hunter and Clearbit (I use both and highly recommend them). #vcbuzz

— Jessica Thiefels (@JThiefels) May 12, 2020
Q5 What are your favorite digital marketing tools?
Ahrefs — to review websites metrics, check backlinks, explore keywords and content; Hunter.io — to find emails of webmasters or editors to contact them with my pitch directly.
As far as I write a lot, I use Grammarly to craft my drafts. Trello is for to-do lists and managing the status of every writing project.
Oldy-moldy Google Docs and Spreadsheets go for writing and sending my works as well as keeping all my targets, their contacts, and all the details about our collaboration in one place.
Our previous content marketing chats: