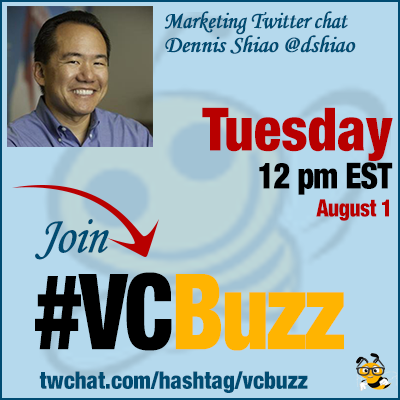 With all the current technological advances that allow people to build relationships without borders, offline networking is still the most powerful way to build long-lasting friendships and partnerships.
How to organize and market a meetup in your industry to build connections and leads? Let's talk about that today!
***Add #VCBuzz chats to your calendar here.
***Please sign in here to follow the chat -> twchat.com/hashtag/vcbuzz
About Dennis
Dennis Shiao @dshiao is content marketing at @DNNCorp and organizer of @Content_Meetup. Dennis writes a monthly column at CMSWire about content marketing. He has been published at MarketingProfs, Marketo, Oracle Eloqua, Website Magazine and Demand Gen Report.
Connect to Dennis on Linkedin
If you wouldn't mind: when sending a LinkedIn connection request, mention that we were on the chat together. Thanks! #vcbuzz

— Dennis Shiao ✍️ (@dshiao) August 1, 2017
Questions we discussed
Q1 How did you become a content marketer? What's your career story?
I evolved into content marketing by way of software development 🙂 Full story here. Since high school, I loved to write. I wrote for the school newspaper. I use those same skills today for B2B content.
As a marketer for a B2B software company, my computer science degree gives me a strong foundation to write from.
Conclusion: I'm far better at writing content than I am at writing code.
@seosmarty Actually, I do manage websites, so my programming background helps a lot when updating HTML 🙂 #vcbuzz

— Dennis Shiao ✍️ (@dshiao) August 1, 2017
@dshiao I am sure it does! I wish I had any! 🙁 #vcbuzz

— Ann Smarty (@seosmarty) August 1, 2017
Q2 How did come up with the idea of @Content_Meetup? How can a blogger join one of your events?
I met @Greencognito at one of his Meetups, and was inspired to organize a related one closer to home.
The @Content_Meetup group meets once a month in San Mateo, CA. Anyone can join us. We provide food and usually charge just $5.
Folks who are outside of the Bay Area ask if we do live streaming. Not yet, but perhaps some day.
We're close to 300 members. We've had some great presentations! See the list here.
Q3 How to organize an event? Please describe all the specifics and steps it takes for someone who is very new to the business!
Our Meetups are single speaker events, so my first step is to recruit a speaker/presenter. Choice of presenter is so important, as they ultimately determine the success of the Meetup.
Once I have a presenter, we pick out an available date. Then, I publish it to our Meetup page. From there, promotions begin! I use Meetup to email our members. Also promote across Twitter, Facebook, LinkedIn.
I'm also a member of a neighborhood site called Nextdoor. I'll promote the event to my neighbors 🙂
Finally, I ask presenters to promote the event to their social networks. That can help drive attendance.
Meetup allows mass emailing? RT @dshiao: A3d I use Meetup to email our members. Also promote across Twitter, Facebook, LinkedIn #vcbuzz

— Jessy Troy (@jessytroy) August 1, 2017
Yes, you can send email to the members of your group. Members can opt out of emails, if they so choose.
If you're in the Bay Area, our next Meetup is later this month, featuring Marketo: https://t.co/Lo2hxs9Ie8 #vcbuzz

— Dennis Shiao ✍️ (@dshiao) August 1, 2017
Q4 How to market an event? And by this I mean both (1) Promoting an event to get the word out and (2) Monetizing an event you organize
One of the first things I did was create a Twitter handle, @Content_Meetup
I then started sharing articles about content marketing, to gain a nice following.
Once you reach a certain number of followers, Twitter allows you to run Twitter Ads 🙂
Since our events are local, I'd advertise to Twitter users in certain zip codes here in the Bay Area. I also use other promotional channels: personal profiles on LinkedIn and Facebook. And ask presenters to do the same.
Re: monetization, we charge $5 mainly as a way to gain higher attendance rates. Too easy to do a free RSVP, then not show.
We're thinking of raising the price, then letting members pick their individualized food option 🙂
Dennis @dshiao how do you find/choose your presenters? What do you expect from them? #vcbuzz

— Sana Knightly (@SanaKnightly) August 1, 2017
I try to find people who are really knowledgeable about content marketing. Presenters who share insights from hands-on experience get a strong audience response.
Q5 What are your favorite event hosting and marketing tools?
We were formed via @Meetup, so that's my number one tool. Love how we can gain new members through the site.
A5. I really like @eventbrite for occasional events and like Facebook events and Meet Ups depending on the event. #vcbuzz

— Kristin Huntley (@seekristintweet) August 1, 2017
Via a suggestion from co-organizer @totheweb, we also started dual-listing our event on Eventbrite.
At a recent event, we had attendees join us from Asia. They found the event on Eventbrite. That was neat!
@dshiao they flew down from there to participate? #vcbuzz

— Hire Bloggers (@hireblogger) August 1, 2017
They were already in town, then used the site to find events happening that day. We also had attendees who were visiting from Kazakhstan. So wonderful to meet people from all over the world.
A5. @eventbrite has a great search features so you can reach others who might not have a direct connection #vcbuzz

— Kristin Huntley (@seekristintweet) August 1, 2017
For marketing, my go-to's are Twitter, LinkedIn and Facebook.
Featured tools for event hosting: Eventbrite, @Meetup, social media ads, Google Calendar (or any other calendar app), FB events, … #vcbuzz

— Ann Smarty (@seosmarty) August 1, 2017
You can find your event and connect with the people attending @bizzabo. It's not as widespread as @evenbrite #vcbuzz

— Janette Speyer (@JanetteSpeyer) August 1, 2017
Bookmark! -> RT @MarkRRobertson Also – must follow @EventMB IMO #eventmarketing #vcbuzz

— Ann Smarty (@seosmarty) August 1, 2017
Our previous event marketing chats: