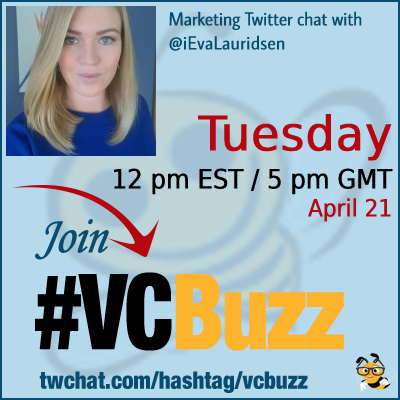 Figuring out Google's ranking algorithm has always been a next-to-impossible task, and it has become more challenging over the years, as Google has been adding personalization and machine learning to its search algorithm.
Yet without analyzing your organic competitors and figuring out what brought them on top, how can you improve your site's organic search presence?
Here's a step-by-step guide to analyzing your target search engine result pages and identifying key ranking factors.

***Add #VCBuzz chats to your calendar here.
***Please sign in here to follow the chat -> twchat.com/hashtag/vcbuzz
About @iEvaLauridsen
@iEvaLauridsen is Head of Partnerships at @AccuRanker, a fast-growing SaaS company based in Aarhus, Denmark.
iEva excels in creating synergies and partnerships, internal and external communication, process development and optimization, branding and brand management.
iEva is a global citizen as her career has taken her to 5 different countries: Latvia, UK, France, USA and Denmark.
Please follow iEva on Linkedin
Questions we discussed
Q1 How did you become a digital marketer? Please share your career story!
I did a tourism management degree with a focus on marketing, PR and advertising. I have studied at Southampton Solent University in UK, SKEMA Business School in France and Aalborg University in Denmark.
I started my career in marketing straight out of the university. My first job was: Marketing Assistant at a marketing office for B2B travel in New York – at MCIntl owned by @M_Couturier.
Almost a decade ago I moved back to Denmark and have had various marketing roles across different industries like SaaS, Tourism and Sportswear. For the past 2 years, I have made the move to #SEO world which is super exciting!
As for many digital marketers, my role has slowly transitioned from a hands-on to a more strategic level role. I am now Head of Partnerships at @AccuRanker working with integration partners, as well as influencer & affiliate management.
Q2 What are key steps to understanding your niche organic ranking factors?
Start by analyzing what kind of sites and URLs are appearing in your SERPs. What kind of pages users see for a search query you want to rank for? Check the number of backlinks the top results have to see how much links matter with tools like Ahrefs.
Examine the snippets (title, meta description, and URL-address) of the pages in the SERP. Also check how your competitors perform in terms of site speed and mobile friendliness.
A2 (3/6): See how rankings differ for each location: Checking SERP results for various locations and devices can be a difficult task so I use a free SERP checker to see live SERP for any keyword in any specific location on a mobile or a desktop https://t.co/NyocIYLs6y #vcbuzz

— iEva Laurisden (@ievalauridsen) April 21, 2020
SERPs vary a lot for each niche so check which SERP features are available for your target keywords. If you want to own SERP features you need to know what shows for your keywords: e.g. Featured snippet, image pack..
A2 (5/6): I use @AccuRanker to see which SERP features are available for my target keywords, which ones I already own and which ones I could optimize for.
#vcbuzz pic.twitter.com/b3XFnpGSdL

— iEva Laurisden (@ievalauridsen) April 21, 2020
Follow the presence and growth of different SERP features to spot opportunities. @Jasonmbarnard did a study with @accuranker and discovered that PAA boxes had a growth of over 20% year on year.
Fundamentals haven't changed much: You need target landing pages and backlinks to get a chance to rank… #vcbuzz

— Ann Smarty (@seosmarty) April 21, 2020
Q3 How to identify which competitors' tactics helped them rank?
First you need to find out who are your competitors on the SERP. Do you know which sites are the most visible in the rankings for your keywords? Which sites are ranking high for your target keywords and stealing organic traffic from you?
I use AccuRanker's aggregated competitor list to see which sites are top competitors for all my keywords. Then I select the ones I want to take a closer look..
I add competitors in the Competitors tab to see which have moved up in rankings for my keywords. Note that country-level and geo-specific competition could be very different (you might have different competitors in the UK vs in a specific city).
This depends on a niche but local competition might be full of neighbourhood businesses with a strong marketing position that only operates in a very particular area. Again I use the free SERP checker to compare SERP results for specific locations.
Analyze your competitors' content to find their weaknesses and strengths. See what works best for them, and do it better.
Still helpful. Competitor backlink research is a great way to brainstorm your own ideas and know what to avoid! #vcbzz

— SEO Chat (@DevSEOChat) April 21, 2020
I agree! I can easily spend the whole day looking into links and data! #vcbuzz

— Ann Smarty (@seosmarty) April 21, 2020
Q4 How has search position tracking changed over the years and what should marketers be doing differently from how they were monitoring rankings ~7 years ago?
So much has changed in recent years in #SEO! Google is adding more and more features in the SERPs and it is completely changing the game. The traditional position 1 (blue link) is not position 1 anymore.
Until recently we used to have 10 blue links in SERPs but now SERP features take up more and more space and in some niches there are only few blue links on page 1. Besides, Google released an important update on Featured Snippets in January…
A4 (3/5): Featured Snippet now eliminates the ability of a result to be elsewhere on page one
so you have to choose if you want to go for the blue link or Featured Snippet as you can no longer have both. https://t.co/ocH1y8EgIt
#vcbuzz

— iEva Laurisden (@ievalauridsen) April 21, 2020
Monitoring rankings is exciting as SEO is constantly changing and evolving. The only fact that has remained the same – you need to be on page 1 to matter (and of course above the fold). SERP features are the hot opportunity to get on top now.
Follow SEO experts to keep up with the latest news as SEO is evolving daily. Here are some great minds to follow: @aleyda @Marie_Haynes@kevgibbo@paddymoogan@GregGifford@jonoalderson
Q5 What are your favorite digital marketing tools?
Last year @clockworkTalent published a list of my favourite digital marketing tools but since then I have changed 2 of them:
I switched to @Agorapulse for social media management. It's easy to use and schedule posts. It also has a good listening feature in case people forget to tag the company name, so it finds the posts about the keywords you follow.
I switched to @ActiveCampaign for email automation. It's easy to set up automation flows once you learn their system. There are still some flaws but working with an account manager has been great.
yeah, it can take some time and a few tweaks (they also have a Slack group and other resources where you gen get a lot of great ideas).

— iEva Laurisden (@ievalauridsen) April 21, 2020
I use @AccuRanker for YouTube rank tracking. It allows me to monitor the performance of the entire #YouTube channel in YouTube search results in as well as in Google search results.
It's super easy – you can see more info here and let me know if you have any questions – I'll be happy to help https://t.co/Y9pGgDlkkH

— iEva Laurisden (@ievalauridsen) April 21, 2020
To keep up to date with ranking fluctuations I get free #GoogleGrump alerts. I use location filters (e.g. UK, US and Denmark) and global updates to get an idea if another Google core algorithm update is on the way.
As mentioned in A2, I use free SERP checker to see SERP results for various locations and devices: self-promotion here but it's an awesome free tool.
Our previous organic search optimization chats: