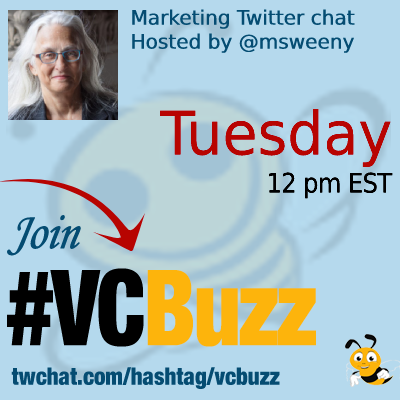 With artificial intelligence making its way into search results and discovering new ways for people to find information, search engine optimization is not going to stay the same.
How are we supposed to optimize our website for this new reality?
Let's discuss!
***Add #VCBuzz chats to your calendar here.
***Please sign in here to follow the chat -> twchat.com/hashtag/vcbuzz
About @msweeny
Marianne Sweeny @msweeny is an information architect that specializes in SEO, content strategy and user experience.
Marianne is passionate about dissolving the silos between information architecture, content strategy and Web development to create a more unified approach to solving user needs for an optimal user experience.
The mission of Marianne's project, Daedalus Information Systems, is to bring you a strategy that produces structure, user experience, technical SEO and deep, rich content that engages both search engine machine intelligence and human visitors
Follow Marianne Sweeny on LinkedIn!
Questions we discussed
Q1 How did you become a digital marketer? Please share your career story!
I started out in digital marketing at Microsoft as Web producer for the SQL Server website. I remember the delight at having banners at SEATAC… Wowsers we've come a long way since then. It was there that I discovered the connection between IA and SEO.
I moved to a digital marketing agency and started the SEO practice there. I evangelized SEO at IA and UX conferences and IA and UX at SEO conferences in hopes of getting us all on the same page.
As the Grateful Dead would say: "what a long strange trip it's been." Technology is my second career. My first was in the entertainment industry where I was a Director of Development. That meant I found projects to make into movies. This was my first introduction to marketing that was reinforced during my time as a Web producer for the SQL Server marketing site. I left Microsoft to work for a digital marketing agency where I created the SEO department. Here I discovered search engine marketing in all forms, optimization for organic rank and paid search advertising.
Q2 What is Large Language Model Optimization (LLMO)?
An LLM is a, artificially intelligent application that is has a neural network with parameters that govern applied to how the model processes its data training set made up of text documents that are deconstructed and transformed into machine readable text that the module uses to distill statistically relevant relationships. The model is often trained using supervised learning (labeled data) or unsupervised learning (unlabeled data) where specific goals (outcomes) are programmed. When the system performs correctly and achieves its goal, it gets a reward. The system learns from its experience, failures and successes, and applies this learning to process inputs and outputs independent of instruction from the programmers.
The difference between an LLM and other algorithmic programs is that the LLM is capable of learn from processing the data set and apply those learnings to in ways not specifically programmed.
Machine learning = programs that act independently. AI = programs that act intelligent. (wired magazine). Google hummingbird is machine learning, app trained on dataset to recognize relationships between topics w/o specificity (e.g., proximity to each other on page, synonyms by use). Google DeepRank, that utilizes deep neural network along with huge datasets of search behavior to predict success, act on prediction and learn from outcome.
That's the shortest answer I could muster. Large Language Models are how search engines understand the content that they encounter and predict what content they know about will answer the question. The challenge for marketers will be to understand how the systems work
Not the kind we're used to. 🙂 The reward the system receives if validation that it made the right decision or choice. Take a cleaning robot…the reward would be to use all of the cleaning fluid. However, be careful to stipulate using up the fluid on cleaning or the system will just pour the fluid out. This is a good reminder that these systems are brilliant smart only in certain context and with strict parameters.
Q3 What are some other ways to optimize for AI?
The trick is shift focus from what we cannot control to what we can control. We cannot control position in SERP. The engineers at Google cannot control position in search because neural networks are black box technology. We know their architecture and not how they make decisions, the inner "thought" processes.
So, I use the output. I use client rank landscape to show me where DeepRank sees client authority by where IT puts client content in top position for what queries. I categorize the queries (using client site architecture if not too lame) and start seeing patterns of what topics or subtopics lose authority, where content may need copy edit or meta data enhancement to make topicality resonate more with the system (remember, it is learning as it goes).
How they work from the inside. SEO Has been fairly successful at outside in optimization. The new challenge is to refocus from optimizing for SERP to optimizing content and connections for conversions.
We cannot control all aspects of the technology. We can use the technology outcomes to reverse engineer its process and optimize what it learns from. This is what I mean by inside out instead of outside in.
Yes, search engines learn from data, user behavior data as well as their training data. What the SERPs represent is the best effort to present the most authoritative relevant answers. So, your 1-5 rankings are where your content authority lies.
I see a ranking landscape as an SEO content audit. What content is working? What content needs a bit of help (in positions 6 through 15) and those content items that need new content or better internal linking to get into customer journey.
Q4 What is the future of AI when it comes to buying journeys and SEO?
Actually, the question should be what is the future of SEO when it comes to AI and the customer journey. I am constantly amazed by the focus on SERP position over conversion. Conversion Rate Optimization is SEO's new bestie. Getting position will be a short-term realized dream if customers do not progress to conversion, either micro-conversion (the small steps towards purchase) or macro-conversion (the ones that make clients money). Strong recommend for Content Trap
I use the same reverse engineering to the rank landscape by adding customer journey stage labels to the ranking keyword data. This produces a journey view that can show content gaps in the journey, too much consideration content (comparison/review) without sufficient product detail content (awareness/interest) and, all to often, neglect of post-purchase stage ("how the heck do I set this thing up?"
Right and work within the conditions of its parameters/prompts. The neural networks using language models have millions/billions of layers with each layer performing a discrete task…take this…process…output that fires the next layer to take this…
And last, never least, no dead ends. Map out your customer journey and make sure that each piece of content or conversion along the way has a "next step" for the customer to take down the road, related content, supporting long form or useful support. Keeping the customer on the road from awareness to loyalty is what will keep them coming back.
The foundation of this technology has been around for some time. The first chatbot was introduced in the 1960s. Neural networks were discussed in the 1980's. It is the collection and consumption of user data that propelled them forward today.
Q5 What are your favorite digital marketing tools?
The SEO platform of your choice: e.g., BrightEdge, SEMrush for pulling rank data, competitive information, keyword research.
Ranks.nl is a tool set that always amazes me. It has text deconstruction features that show term usage within content from single work to multi-term phrases. I think that it is the most reasonably priced SEO software available.
Excel (or your favorite spreadsheet application) for manipulating and visualizing data.
Google: I use search operators to find content on client sites that Google thinks is relevant to high-volume, high-value search queries, search engine webmaster tools for crawl and technical infrastructure reporting, Google Developer tools chrome extension to show clients how much of that JS and CSS is not being used :
I second the notion that Bing webmaster tools provides great insights into performance
Our previous content marketing chats: