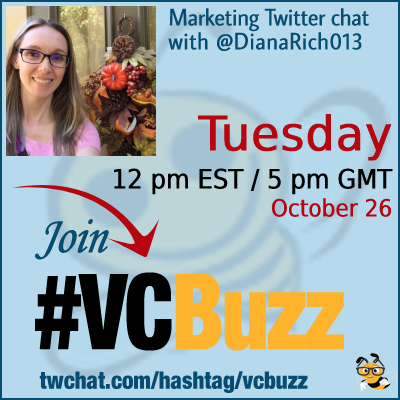 Community building has long become an integral part of an effective digital marketing strategy.
Brands have been investing in community building for years now, so it is not a new tactic.
But has it changed and how? Let's talk about community building and management trends!
***Add #VCBuzz chats to your calendar here.
***Please sign in here to follow the chat -> twchat.com/hashtag/vcbuzz
About Diana Richardson
Diana Richardson @DianaRich013 is social media and community manager for @Semrush.
She has more than 15 years of experience in digital marketing.
Connect to Diana on Linkedin
Questions we discussed
Q1 How did you become a digital marketer? Please share your career story!
Oh my gosh, this story goes waay back to 2006 when I answered an ad in the paper. The position was for a 'marketing specialist' b/c a 'digital marketer' wasn't quite a thing yet. I was hired for a new SEO/SEM division for a company moving from print to digital.
After several years, I ended up leading the search marketing team & becoming more involved with the business at a higher level. I hired a very strong team, many of whom are still at this company today.
But from there I wanted to learn & do more, so I left & found a home at an incredibly talented branding agency where I was the Director of Digital Marketing for a 1 ½ years.
Then I decided I to move & I wasn't able to keep that job & work remote. It's then that I found a position with @semrush.
The job is perfect for me. I get to be social & talk to people all day, every day about SEO & digital marketing, talking about what I've learned along the way.
Q2 What is community management? What does it entail?
A community manager is someone who loves to interact with others on behalf of a brand or company. Oftentimes, this happens on social media, because in 2021, that's where a lot of the community is. But that's not always the only place communities are.
Your first task as a Community Manager is to find where your community is. And then be present & active in that location. If that's on Twitter – cool – if that's at your local rec center – cool.
I like my cozy private FB groups best. THere is a great balance between being connected and getting easily overwhelmed! #vcbuzz

— Jessy Troy (@jessytroy) October 26, 2021
"Managing" a community sounds very official & technical, but it's really the task of being present for those who interact with your brand or company. You want to be a resource to them, you want to get to know them & build a bond
A2 Community management is what I do for the BizSugar Small Business Mastermind Community and our Skype Blogger Mastermind Community.

Basically, you build relationships and help people. #vcbuzz

And you're all invited to join us https://t.co/safAhVARoU https://t.co/ufI019XtFm

— Gail Gardner (@GrowMap) October 26, 2021
>>>

From there, I'd say things may change a lot.
In some cases, it's the role of moderator.
In others, organising events.
For some it's onboarding.
Sometimes there's feedback sessions/focus groups.
There's also the liaison aspect (bridging between public/private/biz) etc.

>>>

— Lyndon NA (Darth Autocrat) (@darth_na) October 26, 2021
Q3 How has community management changed over the years?
I'll tell you what, back in 2006 when I first started as a digital marketer, it wasn't even a thing. The evolution of a community manager stems from networking.
A3: With the explosion of social media, community management has largely moved online—allowing for massive and widespread communities. But don't forget about offline interaction, which can be powerful! #VCBuzz https://t.co/Zb3vx1NUOo

— Jaime Shine 🖋️ (@jaimeshine) October 26, 2021
Community managers are people who like to be & talk to other people & before we did that on social media, we did that in-person. I still like in-person events & hope to expand the community engagement back in that direction soon.
A3 Community management online has changed exponentially with social media marketing.

Before we could reach our "target audience" w/ messaging – now we have the ability to reach our TA individually.#VCBuzz

— Debi Norton (@BRAVOMedia1) October 26, 2021
A3 One thing that has changed for community managers is which platforms are most popular and how many there are.

Facebook groups are the most populated places communities exist.

But many private communities are thriving, too. #vcbuzz #CommunityManager https://t.co/X9Qoqn99kU

— Gail Gardner (@GrowMap) October 26, 2021
#VCBuzz A3.

I'd say the biggest changes are:
1) The volume/quantity of members
2) The shift from private platforms to public 3rd parties
3) The speed of interactions

Consider that people might wait literally days on a forum,
to almost instant replies today?

>>>

— Lyndon NA (Darth Autocrat) (@darth_na) October 26, 2021
I love the acknowledgment aspect. It's so true. Feeling seen and heard is so important to us as people that I love that we can do that as community managers to build others up #vcbuzz

— Diana Richardson🍷 (@DianaRich013) October 26, 2021
Well, I love our Skype Blogger Mastermind (ask to join) and BizSugar Small Business Mastermind, of course. (Free to join.)

But I also love many Facebook groups run by brands I buy regularly. Most have groups, but some successfully run a community on their business page. #vcbuzz https://t.co/k3ZWstIB1c

— Gail Gardner (@GrowMap) October 26, 2021
>>>

We've gone from email boards to forums,
to live video!

Images, gifs, memes are everywhere.
Emoji's (what was wrong with emoticons?) all over the place too!

So you need to be more than just "IT literate",
but platform literate and comms too!

— Lyndon NA (Darth Autocrat) (@darth_na) October 26, 2021
Q4 What are some old community management tactics that need to be changed (or gone)?
Starting a conversation & not revisiting it.
Assuming people will come to you (they will NOT)
Inconsistency. "I'll be online whenever" isn't going to cut it.
A4 I don't know about "old" but some community managers have too many rules and let's just say they're not nice.

That isn't so much a problem in brand communities as they typically treat their customers better. #vcbuzz https://t.co/PRVNsuUboS

— Gail Gardner (@GrowMap) October 26, 2021
A4: Communities thrive when regular, respectful engagement occurs. Only acknowledging "top members" or responding to certain people is a turnoff for everyone else. Also, requiring respectful interactions is important to make people feel welcome. #VCBuzz https://t.co/QZU1blbbR6

— Jaime Shine 🖋️ (@jaimeshine) October 26, 2021
A4 Interesting Question! Presently I am working with an old school organization to try and bring them into the digital world.

They are stuck in the pre-internet world of community management & it's not working well.

This one is a challenge.#VCBuzz

— Debi Norton (@BRAVOMedia1) October 26, 2021
Many "old school" businesses drag their feet to go digital but once they do, it's a whole new (bigger) world!! As a long time biz owner I can see both sides though… sometimes you do well without digital for so long, you don't "get it." #vcbuzz

— Sue-Ann Bubacz (@SueAnnBubacz) October 26, 2021
Yes. Broadcasting instead of interacting is still probably the #1 mistake #brands make online.

And the #1 thing I do is spend time coaching members on why pasting links or ads never works. Who wants to read an ad?

And sharing what DOES work. #vcbuzz https://t.co/Y5kDMhvJrw

— Gail Gardner (@GrowMap) October 26, 2021
Q5 What are your favorite community management tools?
I'm old school. I log into each platform manually & check for comments. If I need to, I'll keep an old fashioned spreadsheet with notes or data, but really, I find that being physically in the social platforms keeps me the most connected to the community & audience.
A5 I do use tools for scheduling tasks and growing my community. These include @buzzsumo @trello @todoist #vcbuzz

— Ann Smarty (@seosmarty) October 26, 2021
Our previous social media marketing chats: