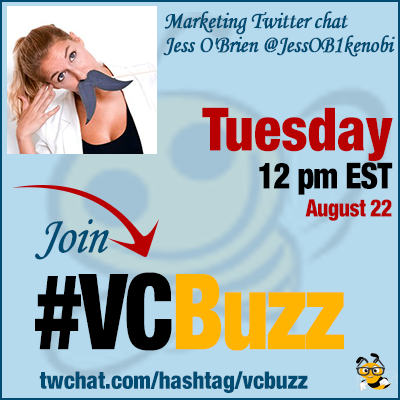 Visual marketing is one of the fast changing digital marketing fields. There's a variety of tools and platforms that pop up monthly.
Let's talk about visual marketing trends and its future this week.
***Add #VCBuzz chats to your calendar here.
***Please sign in here to follow the chat -> twchat.com/hashtag/vcbuzz
About Jess
Jess O'Brien @JessOB1kenobi does social marketing and video editing for @ovrdrv.
Follow Jess on Twitter
Questions we discussed
Q1 How did you become a digital marketer? What's your career story?
I went to school for Marketing, with a concentration in video editing. I hustled through internships, until I was finally hired.
Then I was laid off. My awesome ex-boss gave my resume to @WeAreBerman, where I was for 5+ yrs until absorbed by @ovrdrv.
The path to success is paved with failure. Mine had plenty (like, so many), but I never gave up.
Q2 What are recent visual marketing trends you were most excited about?
I'm mildly obsessed with Instagram Stories. I love functionality influencing design. I frequently stalk other brands stories.
A2: Anything with well-executed interactivity. As in, not easily broken and also simple to understand/use/customize. #vcbuzz

— Andrew Martin (@Andrew_J_Martin) August 22, 2017
For example, the tap photo feature used to show the same photo slightly altered each time to tell a quick story.
A2. The recent trends is live video because people are looking for the human element of social media #vcbuzz

— Cheval John (@chevd80) August 22, 2017
A2: This is such a broad topic! Hard to choose, but I dig Instagram ads a lot. #VCBuzz

— Brittany NWE (@DangerinaSkirt) August 22, 2017
A2: I love anything interactive that allows the user to be creative (not going to shout out any particular brands here, though). #vcbuzz

— Andrew Martin (@Andrew_J_Martin) August 22, 2017
A2: Instagram Stories. I like that often I don't notice it's branded content until prompted (+quality is better vs. Snapchat). #vcbuzz

— Mariana Weber (@m_lweber) August 22, 2017
A2: @Instagram, @Snapchat, @Twitter, @Flipboard all work for my visual inclination #vcbuzz

— Janette Speyer (@JanetteSpeyer) August 22, 2017
Q3 Your tweets are amazingly visual! Where do you find all those images, animated GIFs and visual tweets to retweet?
I waste a lot of my life on @imgur and online, tbh. I'm also a very visual person. I wish I could use gifs IRL instead of words.
I also attach the embedded images if posting an article, as image posts perform better. ALWAYS attribute if you do this.
A3: Giphy, where I'll make my own or find a good one that's already been created. #vcbuzz

— Andrew Martin (@Andrew_J_Martin) August 22, 2017
— Roslyn Wertheimer ? (@RE_Wertheimer) August 22, 2017
A3: I actually need some more visual knowledge. Tried @Adobe After Effects but would like a simple GIFF makers other than Photoshop #vcbuzz

— Janette Speyer (@JanetteSpeyer) August 22, 2017
A3b. Also, when it comes to creating visuals, @canva is my best friend. I have no design talent, and Canva makes it SO easy #VCBuzz

— Nick Martin (@NickAtHootsuite) August 22, 2017
Editor's note: Don't forget visual quotes! Tweeting visual quotes can boost your engagement and bring new followers. Use tools like Quote of the Day (for inspiration) and Quotescover.com to design beautiful visual quotes.
Q4 What's the future of visual and video marketing?
I hear FB is looking for brands to develop 6-sec video ads. Visually faster, authentic, social video is where it's all going.
A4: I believe the obvious path is #ar and #vr

I'm a big fan of AR, as everyone has a smartphone now. It's ad potential is huge! #vcbuzz

— J. Pablo H3 (@HinoIII) August 22, 2017
A4b. What I'm trying to say is less selling, more storytelling. Like with this @BaileyNelson_CA video – https://t.co/0oTlpjN0pK #VCBuzz

— Nick Martin (@NickAtHootsuite) August 22, 2017
If you have an iPhone iMovie is pretty great and easy #VCBuzz

— Tianna Winters (@socialbytw) August 22, 2017
https://twitter.com/JessOB1kenobi/status/900033889716117507/
A4 gifs is the present and future but also smaller videos especially ads. People are going to skip after 5 seconds so make it count. #VCBuzz pic.twitter.com/38TlgRGaZL

— Tony Stephan (@OmnipoTony) August 22, 2017
A4 The importance & necessity of both continue to rise. Finding talented people on your team to focus on creating them will be vital #VCBuzz

— Farmore Marketing (@FarmoreInc) August 22, 2017
Q5 What are your favorite visual marketing tools?
The video editor in me says @AdobeAE, the social marketer says @Giphy. Depends entirely on project.
A4) I expect to see more video producers hired to marketing teams. #VCBuzz pic.twitter.com/lr4UqwKQgG

— Jeff Reno(e) ? (@Renoe) August 22, 2017
Also, I still love #FCPX (although I also use Premiere). Don't @ me. Actually, @ me. That's the whole point of this, right?
The interface is relatively simple to figure out and we do our interactive ads in Hype too. Check them out –> @hypeapp #VCBuzz

— Kerry-Ann (@kerryanntweet) August 22, 2017
A5 I don't know that many since most of the time I only use phone apps to edit images. #VCBuzz pic.twitter.com/uGNE3nBxQ9

— Tony Stephan (@OmnipoTony) August 22, 2017
A5) I mean – this is a cop out, but my mind? Years of working at Blockbuster armed me with way too much pop culture knowledge. #VCBuzz pic.twitter.com/jRYUaeJZMY

— Jeff Reno(e) ? (@Renoe) August 22, 2017
Our previous visual marketing chats: