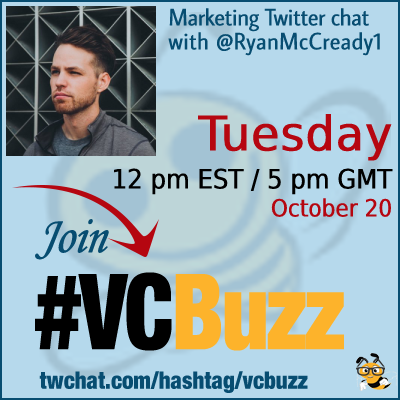 I don't know about you but personally I am getting tired of this year. The good news is, we are approaching the New Year!
This is a good time that we start preparing for making a fresh start and revamp our visual identity.
Let's find out what's trending in graphic design these days!
***Add #VCBuzz chats to your calendar here.
***Please sign in here to follow the chat -> twchat.com/hashtag/vcbuzz
About @RyanMcCready1
@RyanMcCready1 is no stranger to #vcbuzz chats. He already hosted our chat on visual marketing and content repurposing.
Ryan McCready is content editor, social lead manager and sometimes designer @Venngage
Questions we discussed
Q1 How do you keep your brand up-to-date with graphic design trends?
One of the best ways to stay in the loop is to just take a step back while you're on social media & observe what some of the biggest brands in your niche are sharing. I first noticed that Muted Colors were starting to become very popular by using this tactic.
Additionally, some brands will test new design ideas or even tease a rebrand on social media first. I believe @LinkedIn actually did this when they rebranded. So you can really track where the graphic design world is headed just by being VERY observant on social media.
A1. It takes a great team relationship between the lead search marketer and the design team. With sharp people who stay up on the latest in consumer preferences and search image guidelines and continual communication, we stay up on brand graphics and owned media. #vcbuzz

— Jeannie Hill (@essentialskill) October 20, 2020
Now just because a big player in your industry has made the shift to something new, that doesn't mean your brand should automatically follow. Make sure that those trends actually fit your brand voice & mission.
A1. #vcbuzz By watching others in your niche and paying attention to overall trends. Usually, there will be a relationship of some sort between the two.

— Dana Lemaster (@DanaLemaster) October 20, 2020
SEO tools can really go a long way to achieve considerable success. It is possible to implement those tools in order to accomplish a display advertising campaign which will yield strong results, armed with both historical information and competitive analysis. #vcbuzz

— Christophe Selvais (@Chris_Selvais) October 20, 2020
Watch startups and redesigned, smaller websites. They are often in front of things even before they become trends. #vcbuzz

— Carrie Cousins (@carriecousins) October 20, 2020
Q2 What are some graphic design trends you find particularly exciting?
I mean there are so many! Muted colors are one of my favorites because almost any brand can use them, without abandoning their own brand color palette.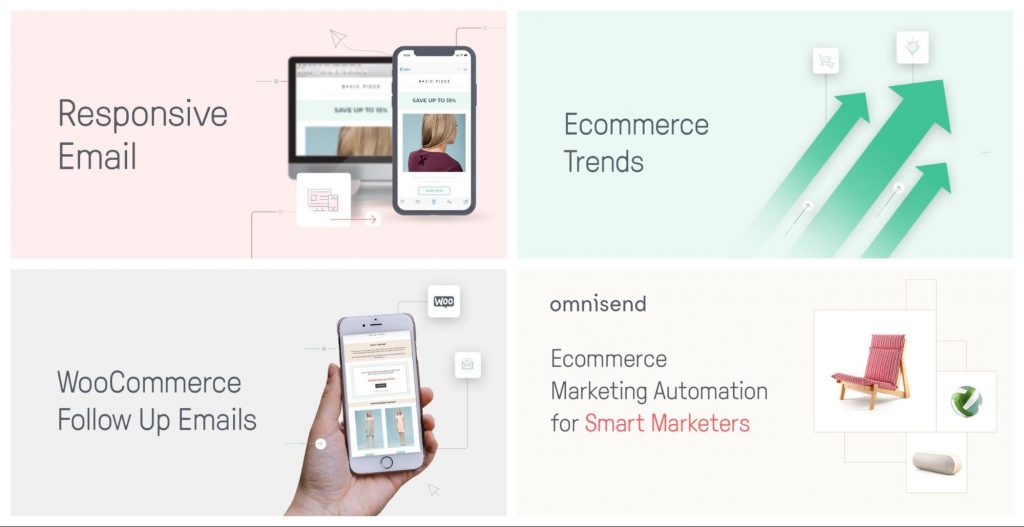 Also very excited to see people moving towards very simple data visualizations. The goal of any data viz should be to make the complex data easier to understand, but for a while designers were chasing style over substance.
#vcbuzz That was an issue when I worked in accounting. You'd hear, "We spent all this money & we got these charts anybody could draw?" What matters is that they effectively communicate the financial info, but it's a tough sell at times.

— Dana Lemaster (@DanaLemaster) October 20, 2020
Yes! We have a ton of new templates, but these social slide decks are some of my favorite!

That also is another big trend this year! #vcbuzz https://t.co/gPuL3ZMbc6

— Ryan McCready (@RyanMcCready1) October 20, 2020
And finally, I love that serif fonts are back because they work so well with muted colors. Both can be used to make your graphic feel more genuine or trustworthy.
OH! How could I forget my favorite trend, social slide decks!

If you follow @Venngage you have seen me share these over the past year on LinkedIn.

But they seem to be blowing up outside of the marketing world too.

Check out some of my favorites here: https://t.co/hoGbKWdLSQ

— Ryan McCready (@RyanMcCready1) October 20, 2020
A2. The topic of graphic design trends has new twists following Google's #SearchOn event. We have fun new ways to use #googlelens and augmented reality that will help shoppers find products faster. #vcbuzz

It's key to stay up on Visual Search trends.https://t.co/j4wREDJEpD https://t.co/bsr2znSL6e pic.twitter.com/e2nWSgseMh

— Jeannie Hill (@essentialskill) October 20, 2020
Q3 What are some brands that rock at following graphic design trends?
There are sooo many brands killing it this year, but some of my favorites are: @LinkedIn @Ellevest @mixpanel @hinge @Mailchimp @Zendesk @G2dotcom @omnisend @classpass
A3. As I see it, Coke and BMW come up at first blush for mazimizing the following:

1. 3D depth and realism
2. Going monochrome
3. Shiny metals
4. Typography craze #vcbuzz pic.twitter.com/2wokCpe6rX

— Jeannie Hill (@essentialskill) October 20, 2020
Only problem I have with promoting these trends is you need to be a legit designer to use them. For this edition of graphic design trends I made the conscious effort to include a lot of trends anyone could use, no matter their design level. Ya know?
Again, you can see a ton of good examples here.
Q4 What are some social media graphic design trends?
The best thing about most of the design trends this year is basically anyone can use them as well. You don't need a design degree to use muted colors, a simple data viz or serif fonts.
Simple social slide decks are taking over Instagram & LinkedIn. Not only are they a great way to summarize info, the algorithms seems to promote these decks a lot more than a simple image. However, the content STILL needs to still be engaging to get eyeballs.
Simple data visualizations are also very popular on social media lately. People have been dealing with tons of data lately. So don't make them work to understand your data viz. Because they won't…they will just keep scrolling.
A4. "Social Slide Decks" are trendy. They have appeal & expand a company's use of imagery. To align them with your web media assest for traffic gains, think of:

📈authenticity
📈how they build stories
📈sizes that work for JSON image markuphttps://t.co/8bygyx3ke7 #vcbuzz

— Jeannie Hill (@essentialskill) October 20, 2020
Check this thread out too.
AND finally, as people will likely continue to work remotely well into 2021, shooting new video content is going to be very difficult. So I think that text heavy videos are going to be all over social media for the next year or so.
Q5 What are some graphic design trends for video content?
Expect to see a lot of text heavy videos for the next year or so. At some point, people are going to get tired of seeing someone talk directly to their computer.e. So I think that brands are gonna lean on text heavy videos.
A5. We anticipate seeing video and it's image work more for:

👉convery text in video
👉business transactions
👉viritual meetings to share ideas
👉short clips to tell stories#vcbuzz

— Jeannie Hill (@essentialskill) October 20, 2020
Our previous visual content marketing chats: