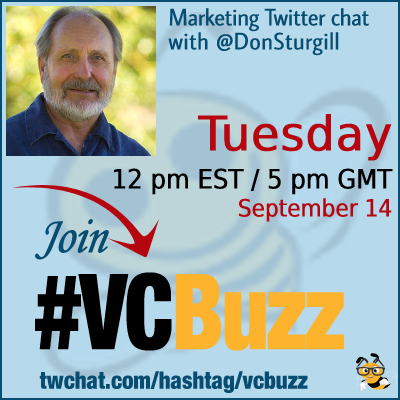 Email remains the main and the most effective method of online communication.
But it is also getting harder and harder to get your email opened or read. As more and more businesses are utilizing email marketing, consumers' email fatigue is ever growing.
One of the best ways to ensure your email will attract attention and get read is to come up with a great email subject. But how to do that?
Let's discuss!
***Add #VCBuzz chats to your calendar here.
***Please sign in here to follow the chat -> twchat.com/hashtag/vcbuzz
About Don
@DonSturgill is no stranger to #vcbuzz. Apart from making sure to join us almost weekly for years now, Don also hosted his own chat on impressive writing and another one on claiming your knowledge graph.
Don is a professional writer who can turn your content marketing around and make it finally work! For a no-obligation, no-cost review of your writing needs, Contact Don
Questions we discussed
Q1 How did you become a digital marketer? Please share your career story!
My career is entirely the fault of @seosmarty
Ann Smarty's success encouraged me to seek my own. Not to mention, I had for years been encouraging others to launch their own businesses.
I left the corporate world on May 13, 2013 … scared spitless. But we have survived the transition, and I love the freelance life. God is good.
Monday morning, I was close to calling to see if I could get my job back 🙂 Fear tried to shipwreck me.
Wow. I've written recently about my 10 years freelancing. It felt odd around that time that people would ditch security for freedom https://t.co/JTIUvs82x1 #vcbuzz

— Montse Cano (@MontseCano) September 14, 2021
Q2 In your opinion, what are the important components of email subjects?
The most important component in email marketing is …. the recipient, the reader.
You can get people to open messages, but that doesn't mean they will want to ever open your mail again.
Same in social media. People don't have to read what you publish, nor follow you #vcbuzz

— Montse Cano (@MontseCano) September 14, 2021
Those who buy followers on social media are missing the point.
Same with articles. I hate it when the focus is on open rate, rather than on "Did I deliver on the promise?"
A2 Email Subject Line MUST contain a WOW! statement – that inspires your audience to open it.#VCBuzz

— Debi Norton (@BRAVOMedia1) September 14, 2021
A2. Email subject lines should focus on the goal: why that email was sent and why it was sent to me from all people. #VCBuzz

— Teodora Ema Pirciu (@EmaPirciu) September 14, 2021
A2: It all goes back to understanding your audience and what they want from you. Deliver the value of your email in a concise, personalized manner without being dishonest or spammy. A targeted list is crucial! #vcbuzz https://t.co/BORNjtbQFS

— Jaime Shine 🖋️ (@jaimeshine) September 14, 2021
Q3 Have you seen great results from newer hacks like using emojis or special characters in email subjects?
An emoji or cute trick might get them to open an email … but you had better give them something of real value inside.
A3) When I worked in the fashion industry, users liked them.

#vcbuzz

— Montse Cano (@MontseCano) September 14, 2021
Here's the premise: We scan our email inbox to see what we want to open or save and want we want to get rid of.
Do you ever look at the hundreds of emails you receive and KNOW that 90 percent aren't of interest to you?
Problem is, you don't know which 10 percent (high end) to keep …. so you HAVE to scan.
A3 🌟Boom! 🌟 Emoji's are just plain fun! 🌟Yes use them in your subject and sparsely thru your content🌟#VCBuzz

— Debi Norton (@BRAVOMedia1) September 14, 2021
There is plenty of talk about how to WRITE email campaigns, but how often do we consider the reader?
Let's look at some real-life examples from my email swipe file. But hang on until the end of this Chat because I'm going to show you a simple tactic that will turn the lights on.
A3. It depends on the audience.

Emojis work sometimes, but I try to avoid them.
It's not that I don't like them; I use them a lot on social media.

However, my client's audiences aren't necessarily the emoji type. #VCBuzz

— Teodora Ema Pirciu (@EmaPirciu) September 14, 2021
A. I'm scanning for either client related, industry related info, or for branded sales.

Content is either, informational, educational or transactional – same with email.#VCBuzz

— Debi Norton (@BRAVOMedia1) September 14, 2021
Great question, @DonSturgill . There are a couple of scenarios, right? One is we look for people we trust on a frequency, like weekly. Another is we're looking for something of interest *now*, a more transactional need.#VCBuzz

— Don Dingee (@don_dingee) September 14, 2021
Q4 What should marketers stay away from using in the email subject?
My points today: Deliver on your promises. If you make big promises, make big deliveries.
Make sure people know WHO your email is from. Consider how they scan. But what if there was a way to capture the attention of both types of email scanning procedures?
The focus is almost always on flashy subject lines. But email readers want more than empty promises. 
Be a sender worth reading …. and a writer worth sharing. #vcbuzz

— Don Sturgill (@DonSturgill) September 14, 2021
Our previous email marketing chats: