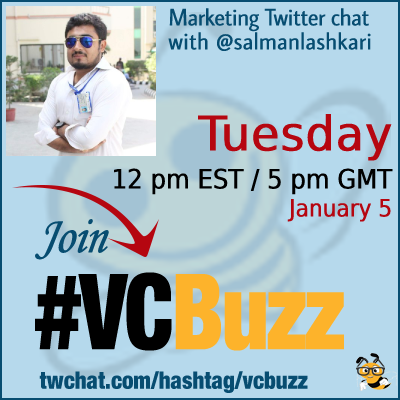 B2B (business-to-business) marketing can be tough.
You have to deal with multi-layered companies with two many decision marketers in charge of them.
How to acquire high-quality leads and, more importantly, turn them into actual clients?
Account-based marketing may be your answer.
The majority of B2B marketers describe account-based marketing as delivering higher ROI.
***Add #VCBuzz chats to your calendar here.
***Please sign in here to follow the chat -> twchat.com/hashtag/vcbuzz
About Salman Saleem @salmanlashkari
Salman Saleem @salmanlashkari is no stranger to #vcbuzz Twitter chats. He has already hosted a chat on promoting your project in a very competitive niche.
Salman Saleem @salmanlashkari is is digital marketing strategist and contributing author @RWW, @TDataScience, and @Medium
Questions we discussed
Q1 What is account-based marketing and which niches does it best apply to?
As marketers, we feel bad for delivering mass marketing ads to prospects and consumers. And yet, we know that the more personalized and targeted our campaign is, the better they do it.
A1. Account-based digital marketing is much like key account marketing. It's a strategic approach to
business marketing with foundational account awareness when a company considers & communicates w/ individual prospective clients & consumer accounts as markets of one. #vcbuzz

— Jeannie Hill (@essentialskill) January 5, 2021
In its simplest form, ABM is a technique that directs resources to a particular collection of target accounts and then creating relevant content to drive them to a lead generation funnel.
For those that haven't worked with such,
it's very similar to outbound sales via a semi-qualified list (MQ/SQ),
enhanced with additional data
(such as contact name/position/role, known competitor pricing/offerings etc.)#VCBuzz

— Lyndon NA (Darth Autocrat) (@darth_na) January 5, 2021
From my experience, account-based marketing suite B2B niche the best where the potential leads are the decision making (high-level account)of an organisation such as CFO, CEO, CTO, CMO, etc.
True, but it can also be used for offering a specific service (even if not high-ticket) when combined with a solution like @bigin by @ZohoCRM which makes sending follow-up emails via template fast and easy. Or @ZohoCampaigns could be used for mass mailings #VCbuzz https://t.co/K6j52icNuk

— Gail Gardner (@GrowMap) January 5, 2021
Q2 How to identify those high-profile leads to target?
Typically speaking, a successful ABM campaign generally requires a multi-channel approach. For example, a key decision-maker who is rarely in the office is probably not the best choice for direct mail marketing.
Then you have to whittle through and look for correlating facets, such as company size (smaller companies may be less likely to have internalised exchange systems).#VCBuzz

— Lyndon NA (Darth Autocrat) (@darth_na) January 5, 2021
While someone who is likely to be in the office is. LinkedIn Ads and webinars will cater to both, in particular to the traveling executive.
A2: Look at your current ideal customer(s) based on their ROI and fit with your company. Search for more customers who fit that specific criteria. Then, you can devote the resources to develop these relationships and grow these accounts. #vcbuzz #ABM https://t.co/p44L5nF1eg

— Jaime Shine 🖋️ (@jaimeshine) January 5, 2021
Quite often, the data obtainment/cleansing can be time-consuming, even costly (some lists are not cheap!).

But by removing irrelevant, improbable and in some cases, low-value prospects – you are left with a higher-probability list … often leading to higher conversions#VCBuzz

— Lyndon NA (Darth Autocrat) (@darth_na) January 5, 2021
A2 I can offer a real-life example. In the @BizSugar Mastermind Community, I poll members to determine interest. For high interest topics, I can do a Campaign to all members.

But better to email details to specific members who are interested. #vcbuzz https://t.co/j57GNRirVd

— Gail Gardner (@GrowMap) January 5, 2021
Q3 How to research your target leads? How to identify and research decision makers within each of those companies?
So this is how it works. There is a research analyst who does research digging and hunting out potential companies that can be the best lead for a business. Those leads are sent further to a sales expert.
Sales Expert then filters the leads matching to organisations potential lead criteria with metrics defined which could be but not limited to Annual Revenue > $1,000,000, number of employees > 5000, etc.
A3. How to use marketing research to qualify leads"

🚩Know precisely who your audience is
🚩Know what they respond best to From your existing
🚩Rely on trusted data that applies to your scenario
🚩Be current on your search strategies

More here: https://t.co/YrvCgHxt9Q #vcbuzz https://t.co/UlLG8nJjKW pic.twitter.com/LNWAtC9Ve5

— Jeannie Hill (@essentialskill) January 5, 2021
The sales team then hunts the key decision-makers of the companies that are classified as leads and discusses with the marketing team, how to draw them into the lead funnel to turn them as potential clients.
Some companies invest a little time/effort in the cleansing process – even pretending to be a different company, and will literally phone and ask to confirm if X is still the Y.

This not only helps validate data,
but shields the company,
and warns of gatekeepers.#VCBuzz

— Lyndon NA (Darth Autocrat) (@darth_na) January 5, 2021
Q4 How do you reach out to those identified decision makers? How many touchpoints does it usually take and which outreach methods are the most effective?
In a recent ABM Workshop i took, The Marketer created a blog based on his target personas and their industry. "5 key trends that will impact the directors of finance at the bank of America".
A4. Creative ways to reach and identify decision-makers:
– leverage custom schema markup
– research in the SERPs
– develop and check personal knowledge panels
– leverage QandA datasets#vcbuzz

— Jeannie Hill (@essentialskill) January 5, 2021
It was directed at 5 people at a single business. And apparently worked to get them in a funnel and open up more conversation.
Add personalized touch when you outreach and do not be formal. Just convey your aim in simple manner. If you want long lasting relationship with them than you will get high chance to get a positive response. #vcbuzz

— Hiren vaghela (@hirendream) January 5, 2021
Marketing team stalks high profile account and create relevant contents and executes paid campaigns to lower the decision-maker of lead companies to the marketing funnel.
A4.

I don't think there's a single approach that works for everything.
Over time, people have gotten quite intolerant of cold-calls/unsolicited emails etc.

But, typically, the methods include:
1) Visits
2) Calls
3) Emails
4) Online Networks
5) Live events#VCBuzz

— Lyndon NA (Darth Autocrat) (@darth_na) January 5, 2021
Once the lead is MQL (Marketing qualified lead), it gets passed to the sale team to turn it into SQL (Sales Qualified Lead)
What does tend to stand out with ABM is the lower burn-rate.
In many cases, those doing ABM aren't as willing to burn bridges/offend/stalk as typical out-bound/targeted sales.
This is often due to reputational risk/damage,
and the chance of later-closes.#VCBuzz

— Lyndon NA (Darth Autocrat) (@darth_na) January 5, 2021
A4: Create content specifically geared to your targeted decision makers. Engage with them on social media, invite them on your podcast, or network with them at an industry event. Learn as much about them as possible, so you understand their connection preferences. #vcbuzz #ABM https://t.co/dlrd0hmh9k

— Jaime Shine 🖋️ (@jaimeshine) January 5, 2021
A4. It depends. There's no one-size-fits-all recipe here.
You need to research, get to know what they need and think they need, and only then you can open a conversation that leads somewhere.
Many touchpoints. I don't think there's an exact number, but multiple. #vcbuzz

— Teodora Ema Pirciu (@emapirciu) January 5, 2021
So if a prospect says
"cheers, but no – we've got enough to last us 6 months"
you'll see someone schedule a call for 3-4 months, and try to get in a pre-order 😀#VCBuzz

— Lyndon NA (Darth Autocrat) (@darth_na) January 5, 2021
So did they send exactly the same message / information to all 5 people at once? #vcbuzz https://t.co/nktZqv5GHc

— Gail Gardner (@GrowMap) January 5, 2021
Yes, they have share their information and are now MQL, To make it SQL Sales team outreach to ensure if the deal could be closed now or later in the upcoming days or could be outreach later since now is not the best time.
Whenever I interact with someone, I ask what the best ways to reach them are and then I note that in my #CRM.

I'm using the very inexpensive ($84/yr) and super easy to use @bigin and customized it so that I have fields for all potential places I interact with people. #vcbuzz https://t.co/ybc9iXiecN

— Gail Gardner (@GrowMap) January 5, 2021
Q5 What are your favorite account-based marketing tools?
Linkedin for Research, executing paid campaigns, and Hubspot for CRM.
4) Professional network sites
5) Business data sites (tax returns etc.)
6) Spreadsheets
7) The telephone (still my fav. research tool :D)#VCBuzz

— Lyndon NA (Darth Autocrat) (@darth_na) January 5, 2021
A5 I LOVE Linkedin for this type of research! Best tool to find decision makers and how you are connected to them! RT @salmanlashkari: @vcbuzz A5:) Linkedin for Research, executing paid campaigns, and Hubspot for CRM. #vcbuzz

— Ann Smarty (@seosmarty) January 5, 2021
Our previous B2B marketing and lead generation chats: